Here's a silly scarecrow drawing game, perfect for a rainy autumn afternoon. In this game, you will create scarecrows using only 6 different shapes. Roll the die, add a shape, repeat – we had lots of laughs as our crazy scarecrows took shape!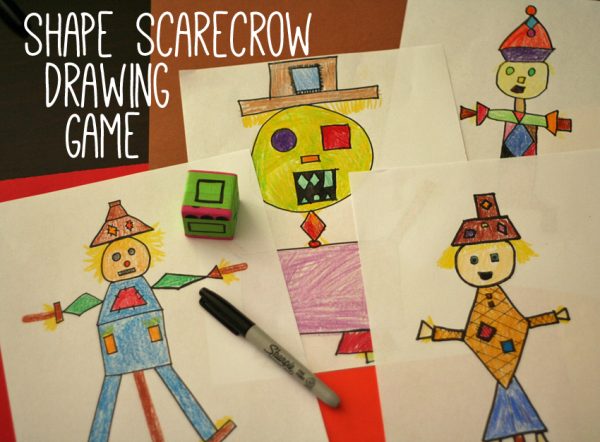 In addition to paper and black markers, you'll need a shape die to play this drawing game. I covered a jumbo foam die with masking tape, and drew a different shape on each face (circle, square, triangle, rectangle, diamond, and trapezoid).
If you don't have any dice around the house, here's a printable cube template you could use (via A to Z Teacher Stuff).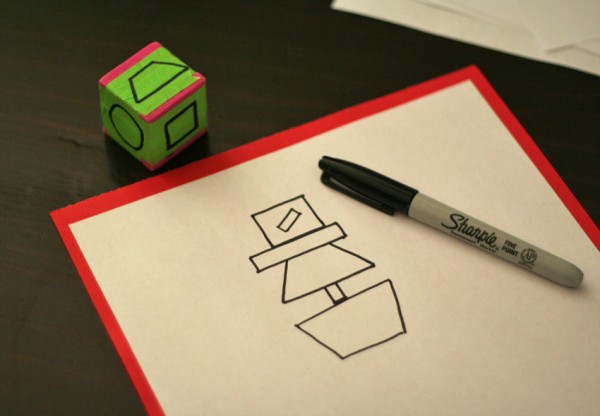 Take turns rolling the shape die and adding shapes to your scarecrow. The shapes can be any size and orientation. Our basic game rules were:
You can start with any part of the scarecrow.
Each shape added had to be on or touching another already-drawn shape.
If the kids rolled a shape they weren't sure what to do with, others could offer suggestions. Our scarecrows also ended up with a lot of patches while waiting for just the right shape!
Since we drew with Sharpies, there was no erasing. This was good practice for going with the flow and making things work!
When you've had enough turns rolling the shape die to complete your scarecrow, add more details, if you like. We added things like stitches around the patches and wood posts, then colored our silly shape scarecrows with crayons.
I love how our shape scarecrows turned out – each one is definitely unique! Once you teach your kids how to play this game, you might find them drawing all kinds of shape pictures. My girls even made their own game creating shape haunted houses. Happy drawing!