I am amazed at the technological advances we have today. Yes, sometimes they can be a total time suck (did someone say "scramble with friends"?), but ultimately they are tools that can help us stay in touch with those we love. Especially since my family recently moved to Seattle, we're no longer a quick car ride to Grandma's house.
We're a pretty techy family and definitely use it to our benefit. Here are just a few ways where the tech world is helping us feel closer to family and friends.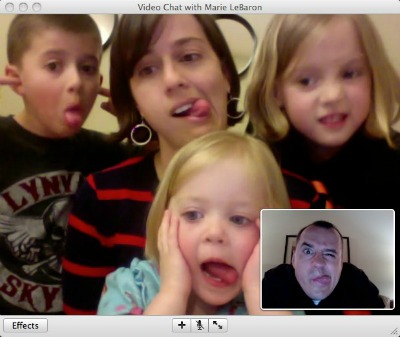 1. Video Chat: This is one of our favorites with Skype or iChat. We love to video chat with Grandma. There is something about seeing the person on the other line that doesn't make them feel so far away. Or we do this with cousins where the kids make faces at each other for 15 mintues straight. But hey, that's actually what they do when they see each other in person too.
We also do this with my husband when he's been out of town. Here's a funny photo of all of us on video chat. It makes it seem like he's right there in the room with us!
2. Facebook: This was probably one of the first ways for me to connect with long lost friends. All the way back to grade school and high school. I've even found college roommates, being able to see what they are all up to now. Without this cool tool there would be no way to see how everyone is doing so easily, only every 10 years at the reunion! So I love to check in and get their daily or weekly updates.
Facebook is also a great way to share photos of my kids. Grandmas can see pictures of my son, who placed second in the Pine Wood Derby at scouts, or they can see we recently went sea glass hunting at our local beach. My family and friends can feel connected to me.
3. Twitter & Pinterest: I love both of these outlets for staying in touch with online friends. With Twitter I get to say a quick note in 140 characters to someone who I've connected with at a conference or with crafting. There is actually a lot that can be said in a tweet or two. Or it's fun to jump on Pinterest and see what fun things my friends are pinning and what they are interested in. Even my mother-in-law is on Pinterest, with some pretty popular pins I might add, so it's fun to keep up with her in there.
4. Mobile phones: I'm a texter. I love to send a quick text to someone letting them know something important or to ask them a question. Or even just a simple "thinking of you :)" to stay connected – I'm big on the smiley faces ;)  With texting, it's quick and simple, perfect for when you don't have extra time to make a phone call to your sister when you know it's going to take more than 20 minutes to get everything said. When I've got the kids around, it's hard to carry on a solid conversation with anyone. So it's great to send a quick text to stay connected.
Even a photo sent through text is great. I get self portrait photos sent to me through text from my friend Allison all the time and it makes my day! (I'd share one here, but then she'd probably stop sending them!)
What about you? How are you staying connected to your family and friends? Is it hand written letters through snail mail or a quick video chat on Skype? Either way, it's good to stay connected.


This post is sponsored by Chase – a strong supporter of The King Center Imaging Project.