Whether you are planning a party, preparing lunch ideas, or after-school snacks for the kids, then you'll want to include a lot of yummy finger foods. One that we usually include is hummus. We'll show you how to make a quick and easy sundried tomato hummus using pantry and refrigerator staples.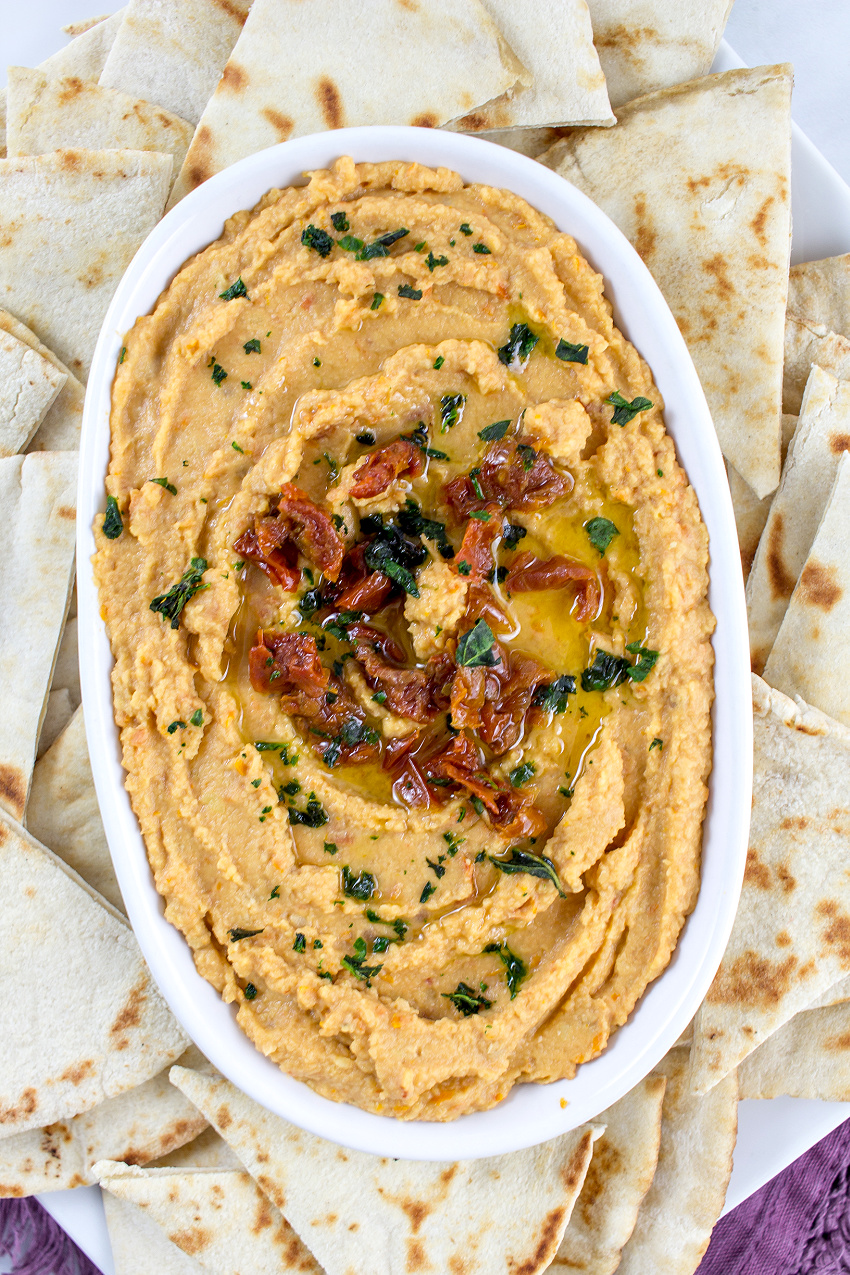 We live in a small country town and do a large food shop to stock up so that we don't have to drive to the store too often. We keep a lot of canned goods and have an extra freezer and refrigerator in our garage, but occasionally we run low on fresh produce while we wait for the local farmer's market to set up.
This means I have to get creative sometimes and use up some of those pantry and refrigerator cans and bottles. One of those recipes that you can make is hummus.
Hummus flavors
I'm showing you how to make sundried tomato hummus (below), but there are many other options too if you have fresh, canned, or frozen vegetables to use.
Roasted red pepper
Pumpkin
White or black bean
Artichoke
Avocado
Pine nut
Spinach
Edamame
Sundried tomato hummus
This sundried tomato hummus only uses 5 ingredients and is quick and easy to make. You can even spread it on sandwiches or rolls for lunch.
Ingredients:
Garbanzo beans
Sundried tomatoes (in olive oil)
Lemon
Tahini
Minced garlic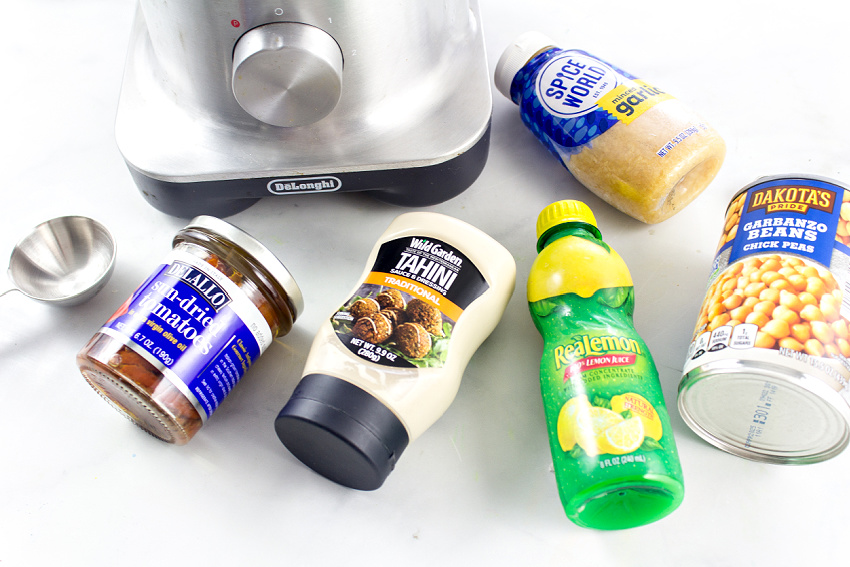 Instructions:
You can print the full recipe by scrolling down to the recipe card at the bottom of this post but here are some of my tips.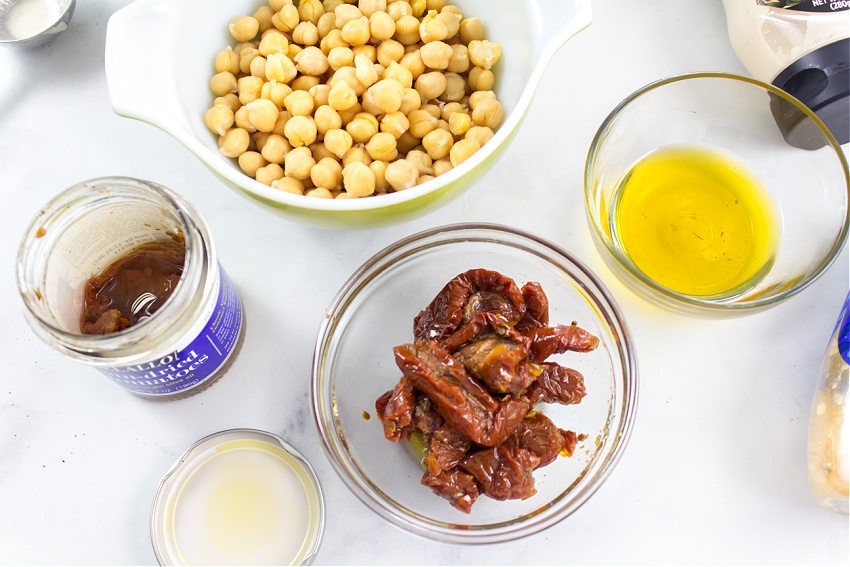 When draining and rinsing your garbanzo means, make sure to reserve the liquid in a bowl. You can use this to thin down the hummus as you are blending it if it's too thick and grainy.
You will also need to reserve the olive oil from the sundried tomato jar so that you can drizzle it on top of your hummus before serving.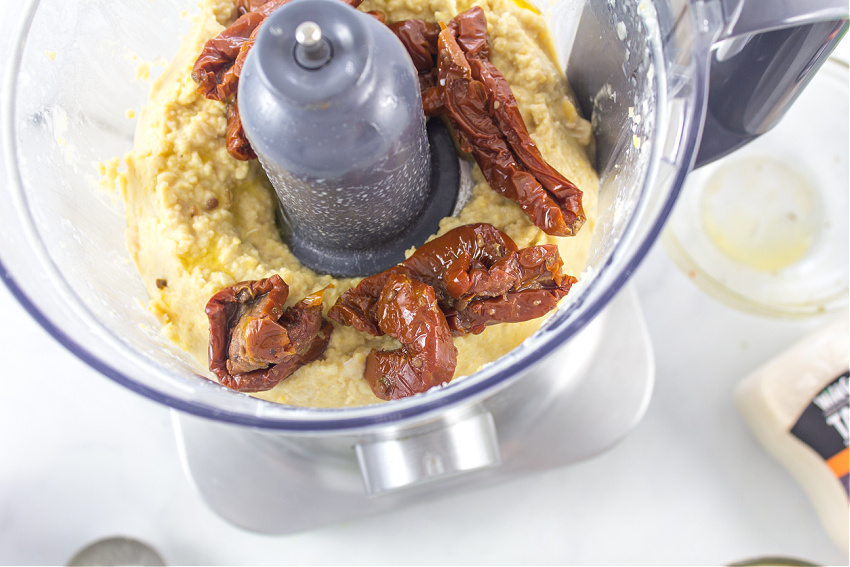 Keep aside one of your sundried tomatoes before adding the rest to the food processor. You will chop it into small pieces to add to the top of your hummus with the oil. We also sprinkled semi-dried basil on top too, but it's up to you if you want to add this step. We buy refrigerator tubs of these at the grocery store that we can use if you don't have fresh herbs.
What to eat with hummus
There are so many delicious options to dip in your favorite hummus recipe. Here are a few you should try:
Warm pita pockets (cut into triangles as we did for this recipe)
Crackers
Fresh crunchy vegetables including bell peppers, carrots, cucumber, celery, sugar snap peas
Warm naan bread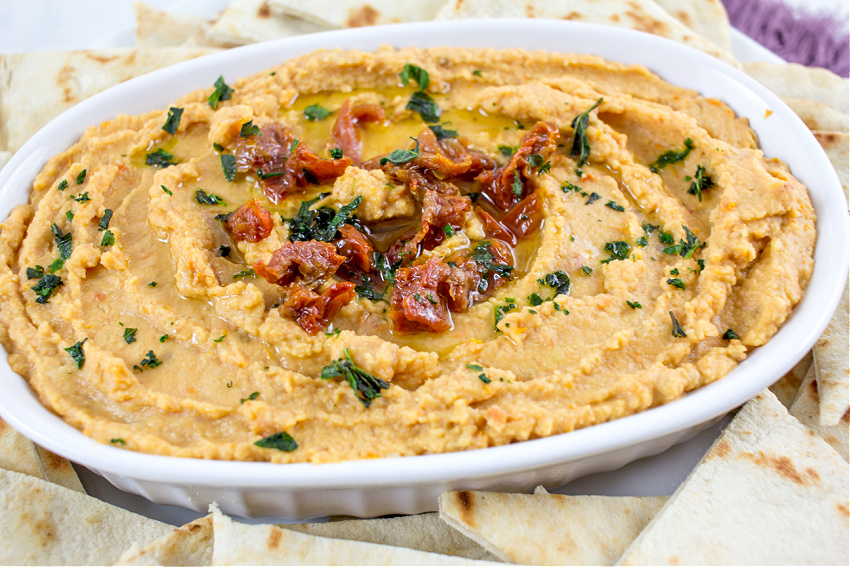 Please pin this post for later: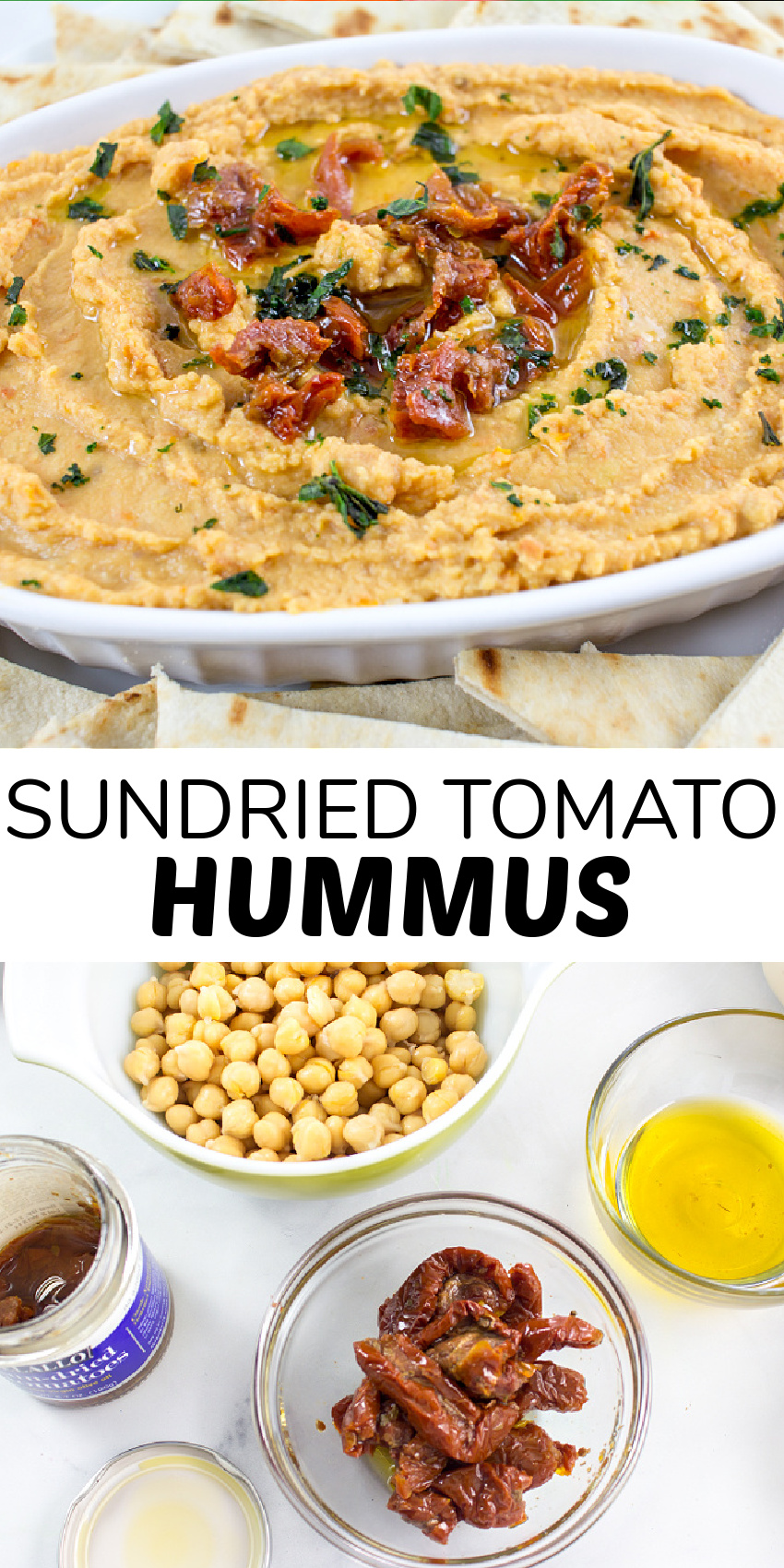 Sundried Tomato Hummus
Make our delicious sundried tomato hummus and serve it with bread or crackers.
Keyword:
hummus recipe, sundried tomato recipe
Ingredients
3

tbs

Tahini

2

tbs

lemon juice

1 can

16 oz

Garbanzo beans

1 jar

6.7 oz

Sundried tomatoes in olive oil

3

tsp

Minced garlic

semi-dried basil

for garnish, optional
Instructions
Drain and rinse the garbanzo beans, making sure to reserve the liquid.

Separate the sundried tomatoes from the olive oil.

Add the tahini, lemon juice, and minced garlic to the food processor and blend together.

Add the garbanzo beans and blend. If the hummus is too thick and chunky, add a teaspoon at a time of the reserved liquid (from the garbanzo beans can). Continue blending until smooth.

Add the sundried tomatoes to the food processor (keeping one sundried tomato aside) and blend.

Transfer your hummus to a serving bowl. Drizzle the reserved olive oil from the sundried tomatoes jar over the top, and chop up the last sundried tomato to garnish.