I love the craft foam hats that are available for kids these days. There are so many fun things you can make and create with them. Today, we made some super silly spider hats that are almost too creepy to wear!
Supplies for Crafty Spider Hats:
black craft foam hat
paper hole punch
4 black pipe cleaners/chenille stems
glue dots
googley eyes
1. With your hole punch, make 4 holes on each side of the hat. Make sure they are evenly spaced on both sides.
2. From the inside of the hat, thread the pipe cleaner through one hole and out the other, then back through to the top again. If you thread it this way, the legs won't move and they will stay secure. Do this for all 8 holes, using 2 holes for one pipe cleaners.
3. Bend each pipe cleaner to form a bent creepy leg.
4. Now it's time for the eyes. Decide if you want 2 or 8 spider eyes. Add a glue dot to the back of each eye and then attach the eye to the center of the foam hat.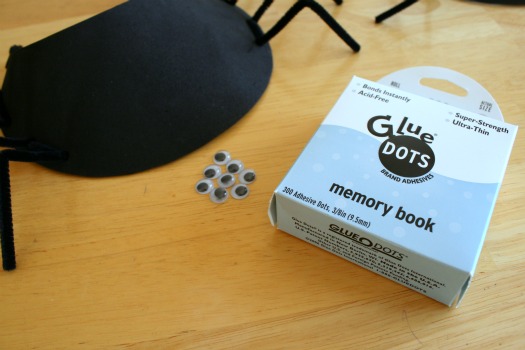 Here's my son sporting the spider hat with 8 eyes (of course he chose the 8 eyed spider as it's more creepy!)
And here's a couple of foam hats we turned into pumpkins and ghosts too. Happy Halloween!