As Earth Day is tomorrow, it's a great time to think of ways in which we can recycle, helping keep our Earth clean. I've come a long way toward recycling in my own home. I've always recycled pop cans or milk jugs, but until recently, I didn't realize how many things can be recycled.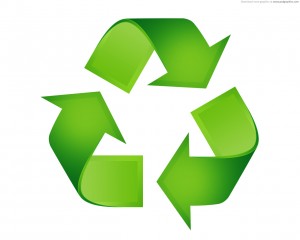 Here's a few tips I've learned that help me Take the Time to Recycle:
Rinse it out. By washing out your cans and containers, items like yogurt, soup, baby food, applesauce, and even Lean Cuisine containers (I love these and only 300 calories for lunch!) it gets them ready to be recycled. I tend to get lazy and not want to recycle simply because I don't take the time to wash out the food from the cans or containers. But by easily rinsing them out, taking only a few seconds, these little items add up in the recycle bin.
Making something new. There's many ways to recreate something from items you've already had. Either using your recyclable items in these fun Kid's Crafts or see Ecologue's great Home Projects. Get creative with items that need recycling.
Look for the sign. On plastic items, there's usually a recycle logo with a number in the middle. Most recycle bins will take plastics with the numbers 1-7. But check your with your city as to what they will allow.
Paper Junk mail. It's pretty crazy how much junk mail I get each day, almost all of it going into the recycle bin, grocery ads, envelopes from your bills, coupon mailers. I'll even admit that I recycle my kid's school work that's not needed anymore, am I horrible for not saving it all?
Get organized. This Recycling 101 article from Petit Elefant has a great idea for staying organized while you recycle. Or I have a few neighbors who have these type of trash cans below, making it even easier to recycle, one for trash and one for recycling. Take the time to find what works for you and your family.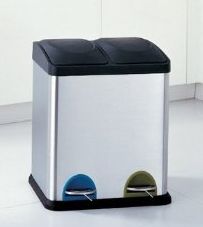 I'm amazed at how full my recycle bin gets in just two weeks and how my daily garbage has decreased. It really feels good to recycle, helping do my part, even if it's just a little. And for ways to go beyond recycling, check out Simple Mom's article on how to Go Green, Besides Just Recycling.
What tips and tricks do you have for Taking the Time to Recycle?