I'm always late for the party. And I was really late coming to the brown butter party. I thought, "Meh. It's just melted butter."  Then I made this cake…and it changed my life. I never exaggerate about these types of things. If you haven't tried brown butter, you're missing out.
If you have never heard of brown butter, let me bring a little joy to your world.
It is essentially nothing more than caramelized butter.  If you'd made clarified butter, you've gone 3/4 of the way to making this butter.
I like to make this in a skillet.  If you have a stainless steel skillet (I don't), it will be easier to determine when the butter has browned sufficiently.  I like to take it a little darker than most people, so you'll notice in the picture mine is a deep, dark brown.
Melt the butter over medium heat and let it bubble.  The milk solids will start to really separate from the liquid butter and as they cook they will turn golden and then a darker brown.  You won't need to stir it much–just don't answer the door or the phone while the butter is cooking.  Like caramelized sugar, it can go from perfect to burnt in a matter of seconds.
The pound cake recipe below calls for letting the melted brown butter set up, or congeal, before using it.  If you have a lot of time, let it sit at room temperature in a clean bowl.  If you're in a hurry, you can speed things up by putting it into the freezer or fridge just until it sets up.
Other recipes have your proceed while the butter is still liquid.  Once the brown butter solidifies, you can use it as you would softened butter.  It creams up nicely.  Try substituting brown butter in chocolate chip cookies or frosting.  We like to toss steamed cauliflower with a little brown butter.  It's perfection.
We like this cake warm from the pan with fresh peaches, berries, or other seasonal fruit.
Brown Butter Pound Cake
From Gourmet Magazine, October 2009
Yields 1 (8 1/2″ by 4 1/2″) loaf or 1 9″ round
Ingredients:
2 1/4 sticks unsalted butter
2 cups sifted cake flour (not self-rising; sift before measuring)
1 teaspoon baking powder
1/2 teaspoon salt
1/2 cup packed light brown sugar
1/2 cup granulated sugar
4 large eggs
1/2 teaspoon pure vanilla extract
Method:
Preheat oven to 325°F with rack in middle. Butter and lightly flour an 8 1/2- by 4 1/2-inch loaf pan.
Heat butter in a 10-inch heavy skillet over medium heat until milk solids on bottom are a dark chocolate brown. Transfer to a shallow bowl and chill in freezer until just congealed, about 15 minutes.
Whisk together flour, baking powder, and salt.
Beat together butter and sugars with an electric mixer until fluffy, about 2 minutes. Add eggs 1 at a time, beating well after each addition. Beat in vanilla. At low speed, mix in flour mixture until just incorporated.
Transfer batter to pan, smoothing top, then rap pan on counter to settle batter. Bake until golden-brown and a wooden pick inserted into center comes out clean, 1 to 1 1/4 hours. Cool in pan 30 minutes, then invert cake onto a rack and cool completely, right side up, 1 hour.
Pin this recipe for later!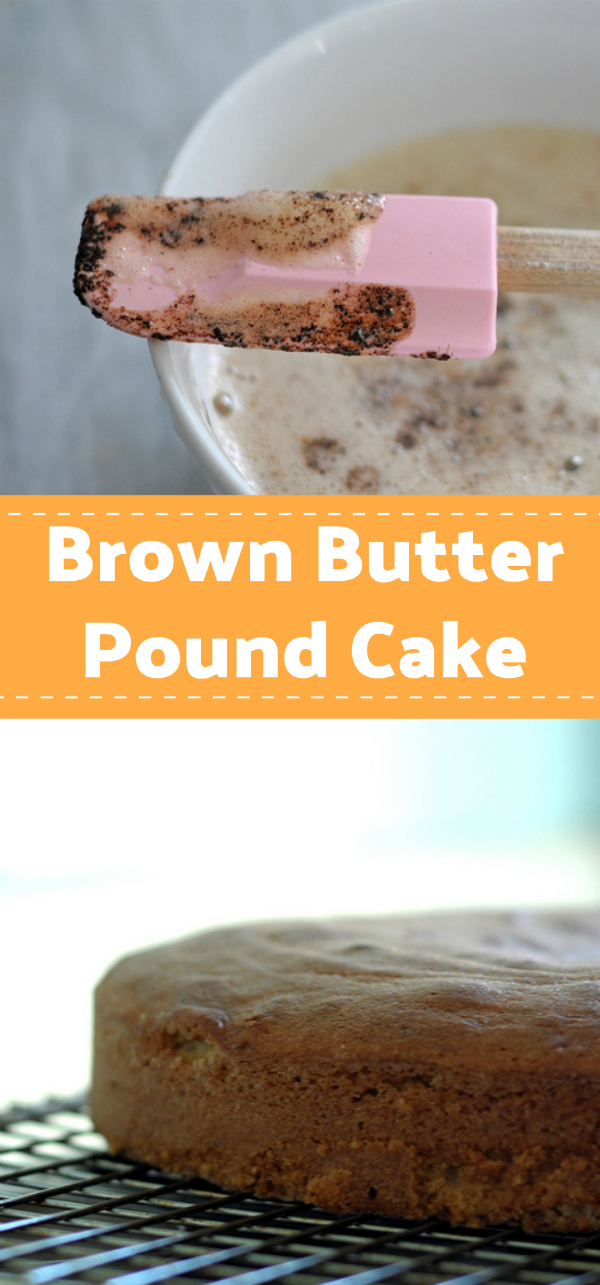 More recipes using brown butter:
Sweet Potato Gnocchi with Sage, Walnuts and Brown Butter (our family favorite)
Brown Butter Brown Sugar Shorties from Smitten Kitchen
Brown Butter Icing from Martha Stewart
Sweet Corn Ravioli with Brown Butter Basil Sauce and Warm Cherry Tomato Compote from Barbara Bakes
Butternut Squash with Browned Butter and Thyme from Simply Recipes