Or aka, "Why You Shouldn't Trust Oprah." Read on.
I recently did a call for recipes on my food blog, asking people to share their favorite recipes using beans. A lovely reader named Anne shared a very simple and intriguing recipe, Black Bean Brownies. It caught my attention. I emailed her, got a few details, and decided I would have to try the recipe out.
And then I remembered something. Way back in the day when I bought the book Deceptively Delicious by Jessica Seinfeld, I tried several recipes in that book. And I was happy with all the recipes. But they were all savory dishes, and I never did try her famous "healthy" brownie recipe. You know, the brownies that Oprah tried on her show. The brownies about which Oprah said "MMMM, these are good!" Yeah, that healthy brownie recipe.
So, armed with two "healthy" brownie recipes that I really wanted to try, I set out on my great experiment: make healthy brownies, do a taste test, and then share the results with all of you!
First, I made the black bean brownies. Here's what you do: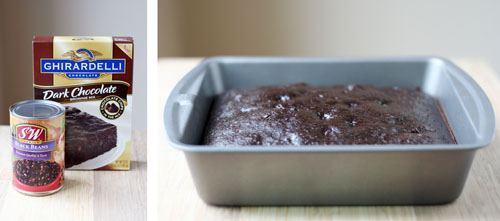 Get a dark chocolate brownie mix and a can of black beans. Drain and rinse the beans, put them back in the can, then fill the can with water. Puree the beans and water, add to the brownie mix and bake according to the package directions. That's IT. No eggs, butter, water, nada. Just the beans, the mix and an oven. Oh, and a pan. The pan's kinda important.
The black bean brownies are actually good! I made Nate try them and before telling him what was in the recipe. He couldn't figure it out and just commented that they were super, duper chocolatey. Which is true. They are very dark and rich and make for a nice, thick brownie. You do get a hint of the black bean texture, but honestly, it's really hard to tell that beans are in there. I think beans are wonder foods, so any chance I get to incorporate them into a recipe, I'm happy! The top of the brownie is very shiny and moist, however. One of my favorite parts of a brownie is the crusty top, so I definitely missed that.
Time to move on to Jessica Seinfeld's recipe. Soooo…this recipe has spinach and carrot puree added to the batter. It also uses trans-fat free margarine spread and only egg whites. I have to admit, I'm a firm believer in butter, so I went with that instead of the spread, and I used whole eggs since my eggs were medium instead of large, and the recipe called for egg whites from large eggs.
So, are they good? Well…not really. Of course, after Oprah, I had high expectations. But there are a few strikes against this recipe.
Strike 1: You have to eat the brownies after they are completely cooled or they are not good at all. And the cookbook tells you that. Hmmm…I can't eat the brownies warm? Isn't that the only way to eat brownies?
Strike 2: We don't like the texture. It's funny. Kind of, I don't know, spongey-ish or something. They look fudgy, but that is not how I would describe them after eating them. The brownies are very flat, and they have that shiny moist top like the black bean brownies.
Strike 3: They were kind of a pain in the you-know-what to make. Granted, Jessica's whole concept is that you have a bunch of purees all prepared and ready to go in the freezer. I, of course, did not have that…so I had to steam and puree my carrots and spinach, which added a lot of prep time. (And, p.s., I steamed and pureed a GIANT bunch of spinach, which only yielded 1/2 cup!)
Before I call the recipe OUT…I do want to say that I really like the concept of adding pureed vegetables to recipes. And I've had great success with other recipes in that cookbook. I still feed my kids vegetables on the side, but I love the idea of adding a nutritional boost to foods, so I'm down with the idea.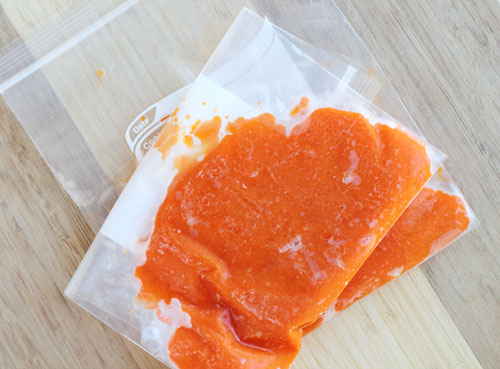 But the brownies? Well, sorry to say, but three strikes and you're out. And, yeah, you shouldn't trust Oprah. I am not going to make the Deceptively Delicious brownie recipe again. I even had my two-year-old do a taste test. She picked the black bean brownies, and didn't even finish the carrot/spinach brownie on her plate. I think that speaks volumes.
So, there you have it! Base hit for the black bean brownies, strike out for the carrot/spinach brownies. But no homeruns.
After all is said and done, here is my final conclusion. Eat extra salad with dinner and just go with an honest-to-goodness brownie for dessert!
Jane Maynard is a regular contributor to Make and Takes. She is the writer and founder of the food blog This Week for Dinner, and has a great husband and two beautiful daughters. Jane loves eating, which comes in handy for a food blogger. Chocolate, cannoli, and H&H Bagels are her top foods of choice.