We love to go family camping! Both Jordan and I grew up camping ourselves, so it's been fun to introduce camping to our kids. I admit, it was few and far between when we had very little ones, but now as our kids are a little older, it's the perfect time to camp it up as a family!
5 Tips for Family Camping
It really does help to be prepared with the right location, the perfect gear, and how to make it work best for all involved! Here are tips and tricks to make family camping fun and inviting for all involved:
1. When and where to camp:
We love to go as early as possible during the summer months, as there are less people camping in June. You do run into colder weather during June in most places, but try to find a drier climate. Camping during the week is a good time as well, less crowds. But really, anytime is great. Even with hot sun, there are ways to cool off. Or if it's going to rain, just have a few tarps on hand with rope for a rain fly. It's all about the time spent with the family!
For first time campers, I suggest finding an actual registered campsite. Some states have their own websites for booking your campsite, or you can go to Reserve America. We've been lucky in the state of Washington with hundreds of campsites to choose from. We've been trying to find a new place every time we camp, although there has been one area we go every year – Salmon La Sac. It's so perfect for families. We look for water nearby, places that have trails for hiking, good shade, enough space within your personal campsite for the kids to explore, and no too far for us to travel. Another great campsite in California is Big Sur, perfect for families!
2. Packing Checklist:
Start with packing up what you need for your family camping trip. Over the years, my list keeps changing. Sometimes I forget stuff, sometimes I bring too many things cluttering up the campsite. It's a bit of trial and error. I recently found this fabulous free printable for an ultimate camping checklist below from Seven Thirty Three, it's fabulous! Now your family may not need everything on this list, but it's there in case you want to check it off and bring it for a specific trip. There are specific things necessary for a specific area. For example, if there's no showers at your campsite, no need to bring anything for that. Or if there's no body of water nearby, taking your hiking shoes and not your water shoes. Some of it is trial an error.
3. Getting good gear:
I admit, we've been spoiled with Jordan working at REI. We have the "in" on all the good stuff :) But investing in really good quality camping gear has made all the difference. Maybe you can only choose one or two big items to buy each year, great. Start with a solid tent, one that zips easy, doesn't let in cold or bugs, but has good circulation. You don't want a stuffy tent. Second, I highly suggest buying good quality sleeping bags. They can make or break your camping trip, as you want to get good warm sleep, especially for the kids. Third, I suggest getting each of your children a head lamp. They are perfect for little ones to have during the evening hours and they love to wear them!
Along with the essential gear for camping, I highly suggest purchasing a few of the campings toys as well. We've had a lot of fun with a slack line this summer. It's been the challenge of the weekend to see who can get the farthest across without any help. We also LOVE our hammock, one of our favorite things to have on the campsite. ENO sent us this fun hammock, as well as these darling twilights to go with for some night time relaxing fun!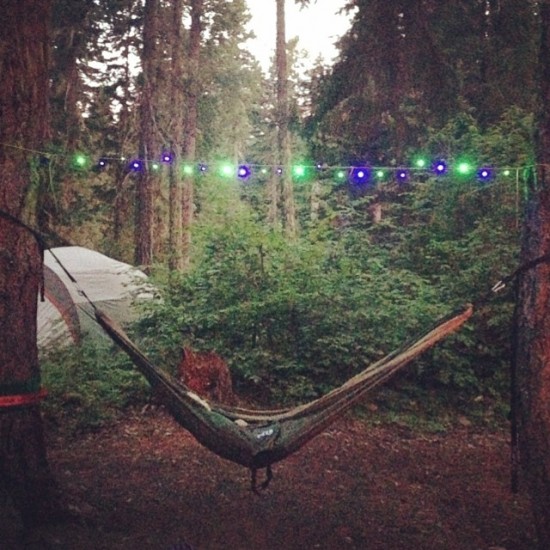 Sometimes, it's the best place for ME to be during the day, along with a good book!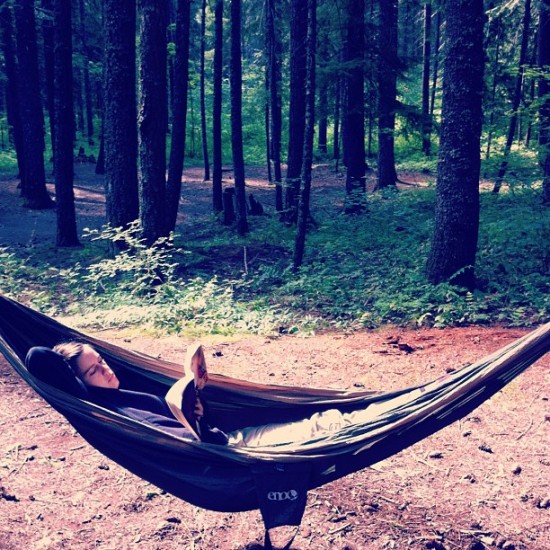 4. Prepping food ahead of time:
Almost any camping meal can be prepped at home ahead of time, making it so much more pleasant to bake/cook/grill at the campsite. Wrap potatoes to bake in foil, make tortilla breakfast burritos and wrap in foil, pre-mix pancake batter, or you can even buy Trader Joe's pre-cooked bacon and heat up over the fire or camp stove in minutes! I love this turkey chili recipe that can be made ahead of time and frozen, then added to the cooler to be warmed up in a pot for a yummy dinner. Just add cheese and chips!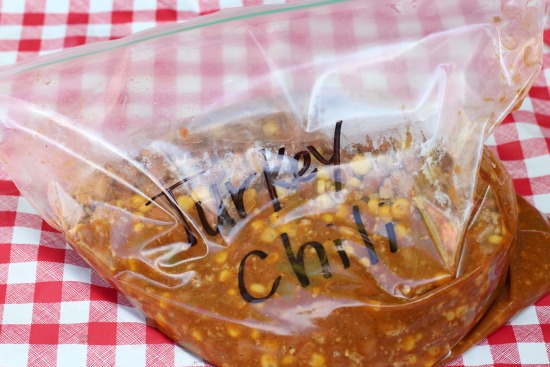 5. Activities for all:
Kids – While there is so much fun exploring the campsite and forest around you, there are times to help out kids by providing activities for them to play. Bubbles are great to bring, teach them new card games, build with legos or dominoes, find the perfect walking stick (and decorate it), go on a hike, get out the craft bin, play flashlight tag, decorate bikes for a campsite bike and scooter parade, or make a giant yarn spider web between trees!
Adults – Once the kiddies are in bed, hopefully sleeping soundly in their sleeping bags, make sure to bring cards or games for the adults as well. If you have enough light with a lantern on the table, play cards against humanity or hearts or dominoes!
More ideas for family camping: