I get a little too excited about kitchen tools. I'm kind of a geek that way. I'm also a practical kind of gal, so instead of perfume and flowers for Mother's Day, I prefer small appliances or gadgets to add to my collection.
I get asked a lot about my must-have kitchen tools, so here is my list of basic items I think every cook should have, or in other words, the items I use on a daily basis and would be lost without. With the exception of the fancy pastry brushes, these are all the exact items I use in my kitchen and love with all of my heart. I could make a list of 100+ more things I love, but for now let's focus on the what and why of each item.
Top 10 Must-Have Kitchen Tools
1.  Good-quality sharp chef's knife, 8-10″ long and wooden cutting board–probably the most indispensable kitchen tool besides your hands.
Spend the money and get one of the big name knives and invest in a sharpening stone or get your knife sharpened by a professional at least once a year.
2. Serrated bread knife–good for chopping nuts, slicing tomatoes, bread (of course), chopping chocolate
This is pretty self-explanatory by the things you'll use it for. Don't underestimate a good serrated knife. No more squished bread. It cuts through tomatoes like butter. And when you chop nuts and chocolate, they won't fly all over the place.
3. Immersion blender–for soups, if you get one with attachments it can whip cream, chop herbs, etc.
I never knew I needed one of these until I had one. I use several times a week for soups or other purees. I do have the one with attachments, so I have used it to whip cream several times or beat up a bunch of eggs for a frittata. When my blender broke, I even used it to make smoothies.
4. Rimmed baking sheets–for making cookies, roasting veggies, jelly roll cakes, bread, pizza.
Self-explanatory. Just be sure to buy a really sturdy one for more even baking.
5. Hand mixer–doughs and batters, whipped cream, eggs, etc.
I have a tiny kitchen and don't have room for my stand mixer on the counter. Instead of lugging it out of the closet, I whip out my hand mixer for almost everything now–except for making bread dough. Look for a powerful one that won't burn out when you're mixing up thick cookie doughs.
6. Coffee/spice grinder–grinding fresh spices, grains, coffee, nuts, bread crumbs, etc.
I use this almost daily too, to make homemade spice blends (like curry powder), and to grind nuts and seeds (flax and chia). It works better than my food processor for grinding nuts.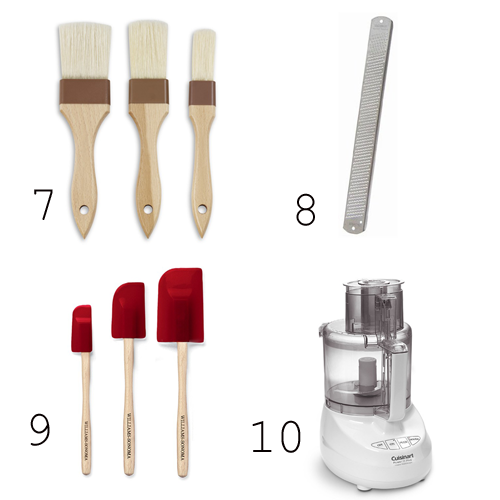 More Must-Have Kitchen Tools:
7. Pastry brushes–buttering pans, brushing tops of bread and rolls with egg wash, wash down sides of pans when making caramel/candy
This is another thing I never knew I needed.  I had always used my fingertips.  But it makes me feel more legit.
8. Microplane–for grating citrus zest, nutmeg, ginger, garlic, hard cheeses (Parmesan), cinnamon sticks, cookies, whipping cream, etc.
I lost my microplane one time and I think I actually cried. We eat tons of Asian food, so I'm always using it to grate fresh ginger. Probably #2, just behind the chef's knife, of indispensable tools.
9. Silicone spatulas–small, medium, large–heat-proof, for folding egg whites, scraping out bowls and jars, scrambling eggs
Because silicone is heat-proof up to 450 degrees F (I think), you can use it in a very hot pan without worrying that it will melt.  I only use this kind of scraper now.  They last practically forever.
10. Food processor–chopping, pureeing, making pie crust and other doughs (pizza), mayonnaise, etc.
I added this at the end because most food processors do cost a pretty penny.  But if you are someone who really loves to cook, or is just learning, I totally recommend getting one.  They save tons of time if you're chopping a bunch of vegetables.  If you get one with grating and slicing attachments, that saves time.  You can make small amounts of dough in them.  We use ours for pizza dough and pie crusts mostly.
*This post contains affiliate links to products we love. Thanks for supporting Make and Takes!