Looking for a little last-minute Easter fun? Your little bunnies will think these frames are funny! Alter some mini dollar store frames into silly frames using a few simple items  you probably already have on hand. I used dollar store frames (6 for $1 in the wedding section) but you can easily use recycled cardboard or a piece of cardstock to make your own frame.
Supplies for Bunny Face Frame:
Mini frame (or cut one out of cardboard, or cardstock)
Craft foam or felt for the ears and teeth
Pom-poms
Craft glue
A full-face photo of your little silly
To make the ears: Cut a square of felt, fold it in half and cut 2 ear shapes at the same time. Do the same (but a bit smaller) for the pink inner-ear part.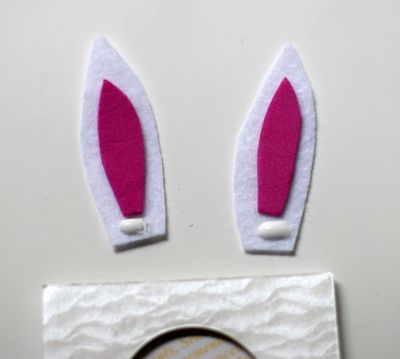 Leave a bit of space at the bottom of the ears so you can attach them to the back of the frame.
To make the nose: Cut a little triangle-ish shape of felt to glue the three pom-poms on. Cut a square for the teeth and glue to the bottom of the frame, then glue the pom-pom triangle to the frame, allowing it to float into the open space of the frame. This way, you don't have to glue the pom-poms directly to the photo in the frame.

Heather Mann is a regular contributor at Make and Takes. She's is the mother of three boys, ages 3,  2, and baby. She publishes Dollar Store Crafts, a daily blog devoted to hip crafting at dollar store prices, CROQ Zine, a print magazine devoted to crafting and indie business, and also CraftFail, a community blog that encourages crafters to share their not-so-successful craft attempts.