We're counting down to Valentine's Day with these heart shaped love notes! Download this free Valentines Count Down printable with 14 ways you can show love and kindness to everyone around you!
Valentines seems to come and go so quickly. Once February starts, I'm only thinking of what candy to buy and cards to make for my children's classmates. I thought it would be fun to do more as a family with these Valentines count down, and turning it into a holiday of service. We're going to participate in a 14 Acts of Love activity, leading up to Valentines Day!
I've asked design ninja, Juliann of PB J&J, to see what she could come up with for a Valentine's day printable to go along with my 14 Acts of Love. It turned out perfect! Look at these lovely heart designs. There is also a fun black and white version of the printable so you and your kiddos can color them in, making them your own.
Valentines Count Down +Free Printable
For the project to work, having a lovely heart on one side and the "act" on the other, you will need to print out 2 pages double-sided or simply glue the the words on the back. It's also possible to just print out the hearts and come up with your own "acts of love" to add to the back. I'm sure your kids could help come up with some fun ways to love and serve one another!
You can really display these fun paper hearts any way you'd like, but I thought it would be fun to make them a centerpiece in our home. They are placed right where everyone can see and pick one for each day. We're doing them as a family. One member of the family picks out a heart and we all do the service for each other. For example: if someone chooses  "write someone a note" then we all will write a note to someone that day. I'm hoping it all works itself out and everyone gets a chance to serve and love one another.
Here's how we made our display with a jar and colored rice.
Valentine's Count Down
Supplies:
1. Color your rice red, pink, purple, or you can even leave it white. Click here for the how-to on coloring rice. I think I did about 20-25 drops of red food coloring to give it that rich red look. And I actually don't have any rubbing alcohol in my house at the moment, so I just omitted it and it still came out fine. 
2. Find a clear vase or jar and make sure it's dry inside. Pour your rice into the jar. You could layer your colored rice with different colors and it would look so cute!
3. Download and print out your hearts and "acts of love" printable.
4. Cut out your hearts and sayings.
5. Glue or tape a straw or stick or pencil or pixie stick to each of the 14 hearts, to use as the stick. I glued my saying right around my straws, helping hold them in place.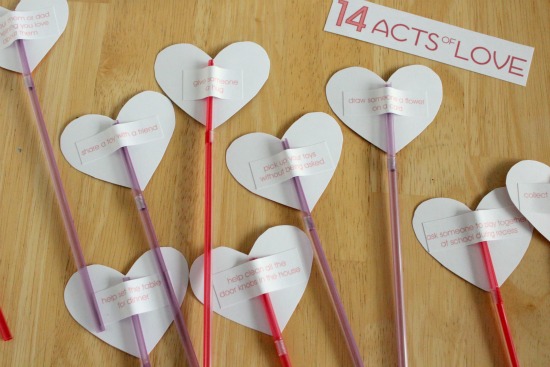 6. Add a decorative ribbon around the mouth of the jar. I also added the 14 Acts of Love words of the printable to the bottom of the jar to help us remember what this project is all about.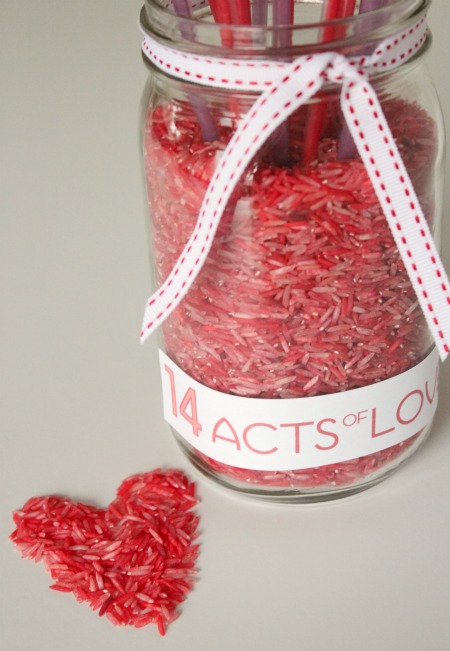 7. Place each heart stick into the jar full of rice.
Now it's ready to display and enjoy for the 14 days leading up to Valentines. Choose one for each day starting on February 1st, counting down to Valentine's Day on February 14th.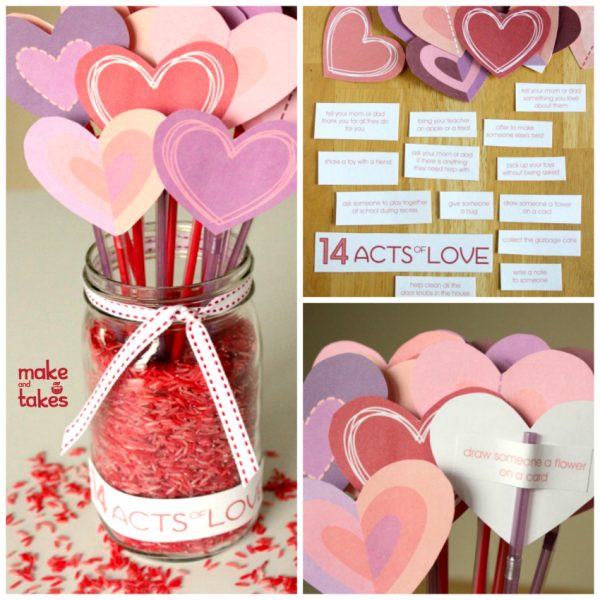 Pin this for later…
Originally posted 1/24/12