I love thrifting, and I love nothing more than bring home a slightly shabby treasure and giving it a face lift! My latest find was a somewhat dingy white leather purse, that I added some summer colors to.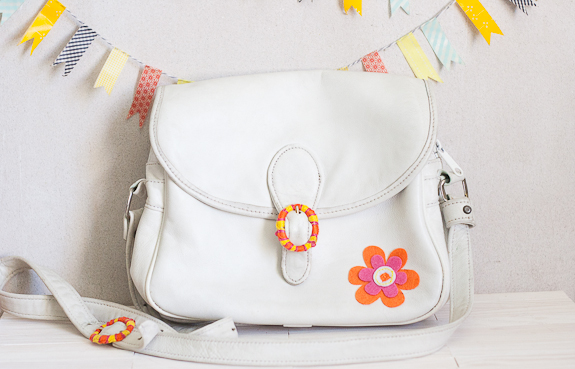 Supplies for Embroidery Thread Purse:
Vintage purse
Embroidery thread in 1 to 3 colors
Flower embellishment
Embroidery needle
Craft glue
Dish soap and leather conditioner (optional)
My purse was quite dingy so my first step was to clean and condition it. To clean I used mild dish soap and a soft cloth. Once dry I buffed it with leather conditioner.
This project is really simple, but it does take some time.
Instructions
Once the purse is clean, remove or loosen the buckles as much as possible
Try as I might, I couldn't get the buckle on the front flap to come completely off. Luckily the project worked anyway!
Cut off long lengths of your embroidery thread. Go ahead and cut off way more than you think you will need to be sure you have enough.
Tie your thread to the buckle
Now using the first color (in my case yellow) wrap and knot the thread around the buckle as shown, making sure to wrap around the threads that aren't being used and carry them along as you work.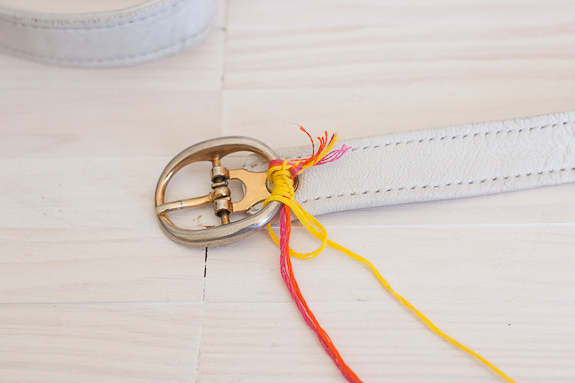 Change colors as you go to repeat your pattern. My pattern was
6 wraps of yellow,
2 wraps of pink,
6 wraps of orange,
2 wraps of pink and so on.
This will take some time, so you might want to fire up your favorite show or podcast while working on it.
In the case of my front buckle, when it was too complicated to use my fingers to wrap, I used an embroidery needle in the tight spots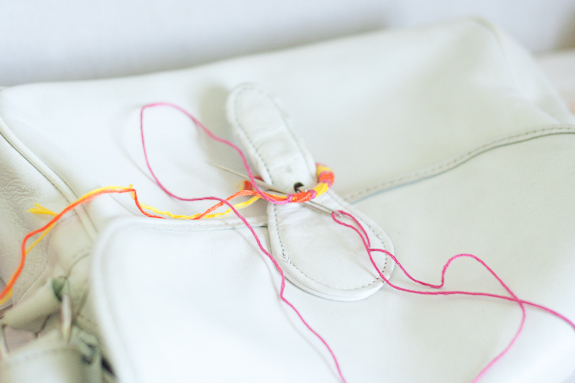 Continue your pattern until the entire buckle is covered. Finish off with a couple tight knots, then cut the threads. Place a dab of craft glue to secure.
Repeat on the other buckle! Now adhere the flower to the front
And hello new summer purse!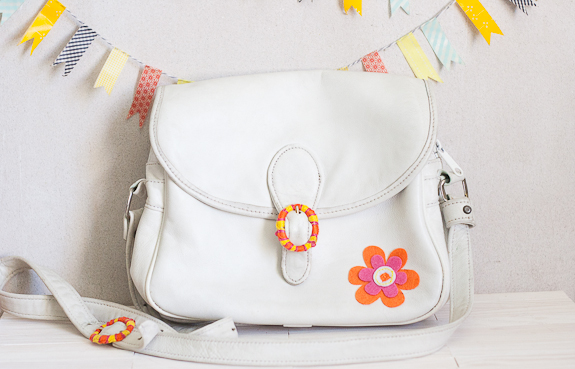 I'll definitely be looking for more leather items I can update!