I recently wrote an article over at Momformation about the guilt you might feel about keeping or tossing out your child's artwork, part of their Guilt-Free Week series. I want to expand on a few more thoughts, sharing what I do to manage the school work, projects, and crafts that my kids produce.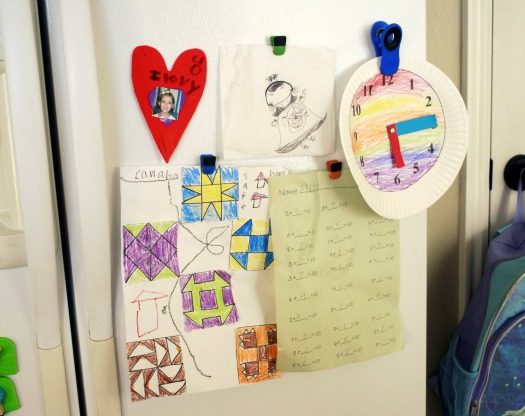 At our house, we showcase their artwork and school work on the fridge. It's right there where everyone can see, it makes the room colorful, and I love to see what they've accomplished. I also think it makes my kids feel proud of something they did and let's them know I acknowledge their work. So we've created a little system on the refrigerator. It's our "wall o' work", as most of the things the kids bring home from school or the crafts we produce at home get put on the fridge.
Out of the kid's backpacks, I go through each paper and project and pick out the "fridge" worthy items. Everything else, gets put in the recycle bin or trash, no hard feelings, or guilt! The kids are happy as they still get to see things displayed and I'm happy that we're able to find a home for everything.
Once their work has time on the fridge, about a week or so, then it's decision time. I talk with my kids about the project and if they want to keep it forever. Although I do have veto power or my son would want to keep it all. I think this is great for kids to go through, really thinking about and deciding what they want to save. They don't need to keep it all, only the things that have real meaning to them or something that they might want to save and look at again when they're older.
After we've decided what to keep, I have a clear plastic tub for each child and we place the really important, have-to-have stuff inside. Then it gets stored on a shelf in their rooms. For everything else, we reuse it if it's supplies that can be broken down and used again, we recycle it if it's able, or we send it to the trash.
This system work for us, it's always good to evaluate what to keep or get rid of. I'm hoping to teach my kids a little bit about organizing and managing their stuff. (Even though I need to do a little better job organizing my things!)
Here's a few articles I've come across sharing what to do with all the papers, school work, and craft projects. There are some great ideas, like giving projects to Grandparents, taking photos, making an album or book, etc.

What system do you have in your home? Do you use the fridge, a wall, or the back of the garage door for display? Do you trash projects right away or keep it all forever in fear of making your kids feel bad? I'd love to hear how you manage it all!