As you can see here, there are all kinds of glue. Each are unique in use and good for many kinds of crafty needs. I'm here to share a little bit about each one and what I use them for.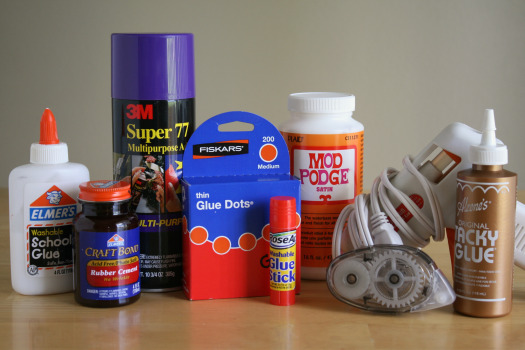 White School Glue & Tacky Glue: These are used for pretty much the same thing, good all purpose glues. They are wet and messy, but get the glue job done. I like to use Tacky Glue with fabric and felt, like gluing these Star Wars finger puppets and this farm glove puppet. Tacky Glue is great if my kids are helping with the fabric projects.
Rubber Cement: If you're only wanting to bond something temporarily, rubber cement is the way to go. When this glue dries, it's becomes a spongy solid and if you peel it back carefully, it should allow your item to be removed, which can come in handy.
Spray Glue:  I've used spray glue with my stitched greeting cards as it's great for gluing the thick threaded paper to another piece of paper. When you spray, you need to be in a place that is well ventilated. And sometimes the spray glue can wonder as it's being sprayed, so just make sure you've got a good work station for spraying, like newspaper set down.
Glue Dots: My favorite glue right now. They are great for attaching googley eyes and ribbon. They will make your item a little raised, as it's a thick glue dot (well, more thick than most other glues). And they can get bunched up and fold on top of themselves if you aren't careful taking them off their wrapper. Here are some icky sticky spider webs and googly eye monster bookmarks where I've use glue dots.
Glue Stick: I love this for kids. When I taught school, this was about the only glue I used with the kids for their projects. It's fairly mess free, easy for little hands to hold, and projects dry quickly. You do need to make sure the lid gets put back on tight or it will dry out fast.
Decopauge – aka Mod Podge: This is probably the most used glue in the crafter's world. It is best used to bond paper and then seal it. It gives your project a nice shiny look and gives it a professional finish. There are endless possibilities to this, as seen with Modge Podge Rocks! I used it with these photo cubes and wood Halloween signs. It's a great glue to have on hand.
Glue Tape: I was introduced to this type of glue tape when my sister was covering journals with paper. It's clean, quick, and goes on pretty easy. And it's not wet, so your paper won't curl or bend after it dries. It's pretty much a sticky thin double-sided tape.
Hot Glue: This is great for bonding heavier objects, like wood, magnets, or even fabric. This is an Adult Only glue device, so if you have children wanting to glue, use the tacky glue or glue dots.
Have I missed a glue that you use? Make sure to share it in the comments!