I want to share with you a few simple steps to help in taking great pictures of your kids. You don't have to have a fancy-shmancy camera to get good pictures and with these tips you will find your pictures looking even better! Anyone can follow a few simple guidelines and end up with beautiful results. You can use these tips independently or together and you will love your new found photographic skills!
5 Steps to Taking Great Pictures of Kids
Tip #1:  Focus on the Eyes
We all have heard that "the eyes are the windows to the soul".  I don't know about that but I do know that when you can clearly see your subjects eyes you feel a more personal connection.  The personal connection brings in your audience and makes them really feel and enjoy your picture more.  This includes you too.
Focusing on the eyes also ensures that your child's face will be in focus and not some other random body part!
Before you think to yourself, "I can't get my kid to sit still long enough for a picture, let alone get them to look at me."  Don't worry about that.  You don't necessarily need to have your child looking at you to get a great shot.  I have some great shots of my kids running away from me!

Tip #2:  Get Down on Their Level
We look at children from above all day long.  Kids tend to be shorter than adults.  It's just nature.  One way to make us take notice of a photograph of a child is to take a picture from a different perspective then we are used to viewing them.  Bend your knees and get down to their level.  You will really notice the results!
Tip #3:  Get Close, Real Close
Get in there and make their face fill your entire view finder.  You can show that beautiful little mug in all its glory by using your zoom feature or just getting in their face.  Don't worry about cutting off the top of their head or chin.  If that happens it is fine.  If it doesn't happen it is fine also.  Either ways will look great!
Tip #4:  Be Aware of the Background
Often when we have our camera in front of our face, we are focusing on what cute thing our little cutie is doing.  We sometimes forget about what is behind them and how it is going to look in a picture.  If we don't pay attention to the background we will end up with photos of things that can detract from the beauty of our children.  We can also end up with some pretty funny looking pictures – like telephone poles or trees growing out of heads.  Not the kind of photo we want to look at over and over!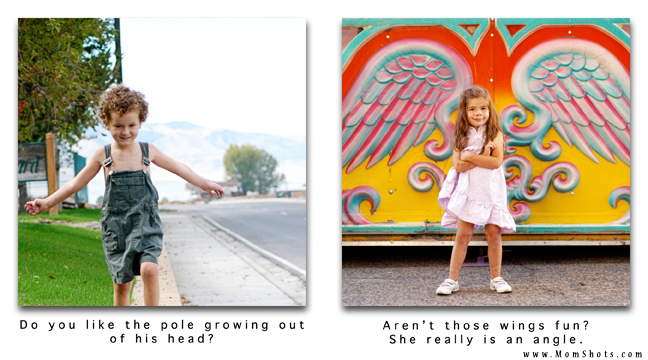 Tip #5:  Try New Angles
Mix it up.  Use your camera to look at your child through a new angle.  This can be fun and exciting.  Try shooting from below or from way above.  Try turning your camera a little and tipping it forward.  Try laying on the ground or setting your camera on the pillow next to your sleeping baby's head.  Be creative and have fun!
Since photographing children is never easy, I want to throw in a few extras as well.
Bonus tips for taking great pictures:
If your camera has a Sports Mode or Child Mode, try using that instead of Auto.  Those modes are designed to capture clear shots of fast moving subjects and we all know how fast moving our children can be.  Especially when you want them to sit still for one simple photograph!!!
Try sticking your wiggly kids in a bucket, basket or other container.  The novelty of it will keep them occupied for a few seconds and you can get some fun shots without them running away.  See the shot above with my son in the wooden basket.  He loved getting his picture taken that day.  The bonus for me was that he wasn't running all over the place so I could actually get a few nice shots.
Read your camera manual.  Learn how to use your camera and all the great features it offers.  Each camera has so many really useful and fun features that you can use to get some really creative shots.  Don't be intimidated by that manual.  It isn't really as hard to understand or as boring as you might think.  When you finish reading it you will be the master of your camera and your photographs will improve drastically!
Shoot, shoot and shoot some more.  Take as many shots as you can.  Don't be afraid to take a ton of pictures.  You are more likely to get some good ones if you take a whole bunch.  Just delete the ones you don't like and keep the ones you do.
Don't forget to get some photos of you.  Often one parent is behind the camera and never ends up in any photos.  I'm speaking from personal experience here; make sure that you give the camera to other people or use your timer so that you can be in some shots.  This is very important.  Your children need to know what you looked like when they were two.
Taking photos of our children is so important.  It freezes memories in a time capsule and helps to convey our feelings and emotions.  Our children will be thankful to have photos from their childhood and we will be glad we were able to capture those memories.  Most important, have fun and don't give up.  You won't be sorry!
Thank you, Jessica! Jessica of Mom Shots! Her blog has great tips and tricks for taking photos of kids, something I need major help with. My kids can't sit still, I have to take 500 shots just to get the one good one! So I've asked Jessica to give us all some easy steps for taking pictures of kids, and using any old camera!