I love to grow a garden, both flower and vegetable, and it's almost planting season. We're waiting for the last of the cold weather to pass, it's usually safe after Mother's Day. As we do have larger garden beds in our yard, I also want to maximize the space on my patio with some plants in smaller pots. Here are 3 tips to help you have success in your small space gardening!
Small Space Gardening Tips:
1. Which pot is best? You can plant in almost any container as long as it has good drainage. A smaller pot outside your front door will work, but keep in mind that you might need to upgrade to a bigger pot as your plant grows. I like this fun barrel for growing strawberries, perfect for a backyard patio or deck.
2. Make room for water. I like to buy fun decorative pots to plant in, but some aren't necessarily made for growing things. After drilling a few holes into the bottom of my silver buckets, water now has somewhere to drain. You can place a plastic tray under your pot to catch the drainage water or simply let it drain out onto the patio.
3. Start smaller than you think. Remember that when you plant plants, they will grow and grow and grow. I quickly learned my first year planting tomatoes that 3 plants won't fit in a small barrel. Throughout the Summer, I ended up pulling 2 of them, and even then I was too late and only had about 4 tomatoes off that plant. So make sure to start small and let it grOW!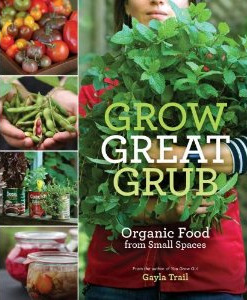 I recently received a copy of Grow Great Grub, Organic Food from Small Spaces by Gayla of You Grow Girl. She has great advice on how to grow your own grub even if you have the smallest space to work with. Your windowsill or counter top can be a great place to grow grub, and she helps you choose the best plants for any area.
Are you a small space gardener? How do you make a garden work where you live?
More Small Space Garden Ideas:
How to Container Garden
Container gardening is another great way to garden in a small space! These tips will get you started.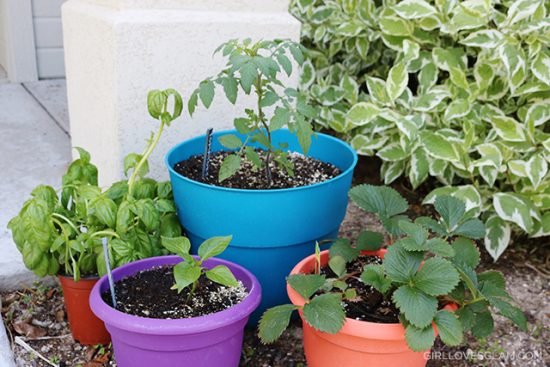 5 Things You Need to Garden with Kids
Gardening with the kids is a great way to spend time together in the great outdoors!
21 DIY Hanging Planters
Sometimes you just want to bring the garden indoors, and these hanging planters will help you do just that!