I love no bake recipes! Quick, easy and no oven required. These Chocolate Peanut Butter Bars have a thick base layer of sweet and salty mixture of peanut butter and graham cracker and peanut butter chocolate layer on top. Who can resist them?!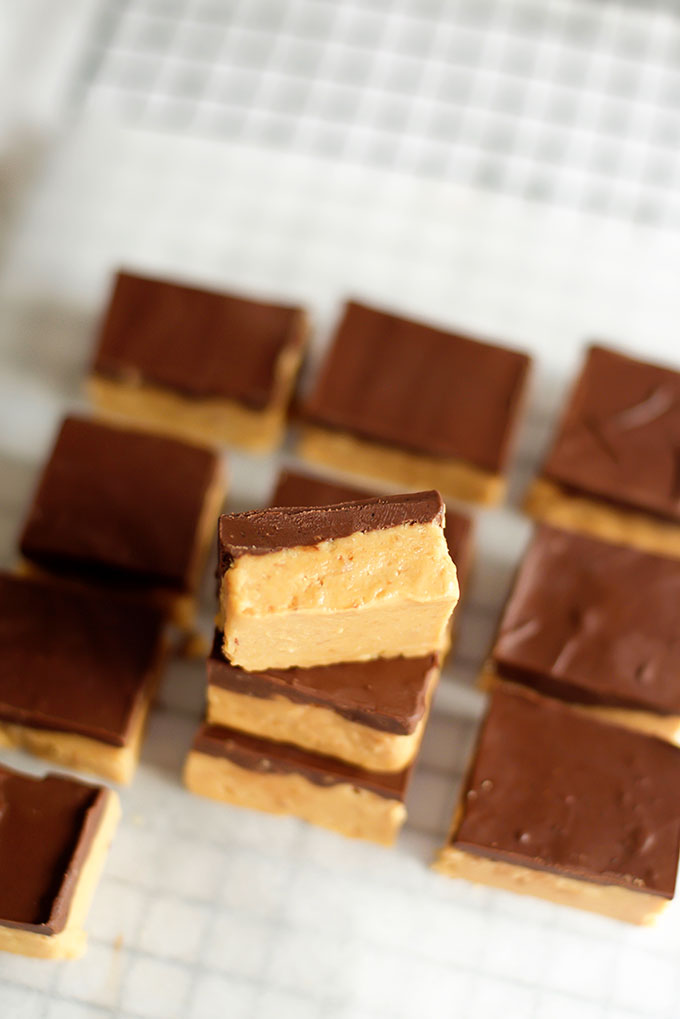 Easy and super quick, no bake chocolate peanut butter bar recipe, made with just 5 ingredients. Decadent and fudgy, these bars can be the perfect snack or dessert.
No-Bake Chocolate Peanut Butter Bars
They are that simple!
All you need is: butter, graham cracker crumbs, peanut butter, confectioners' sugar and some chocolate. You probably have already these ingredients in your pantry!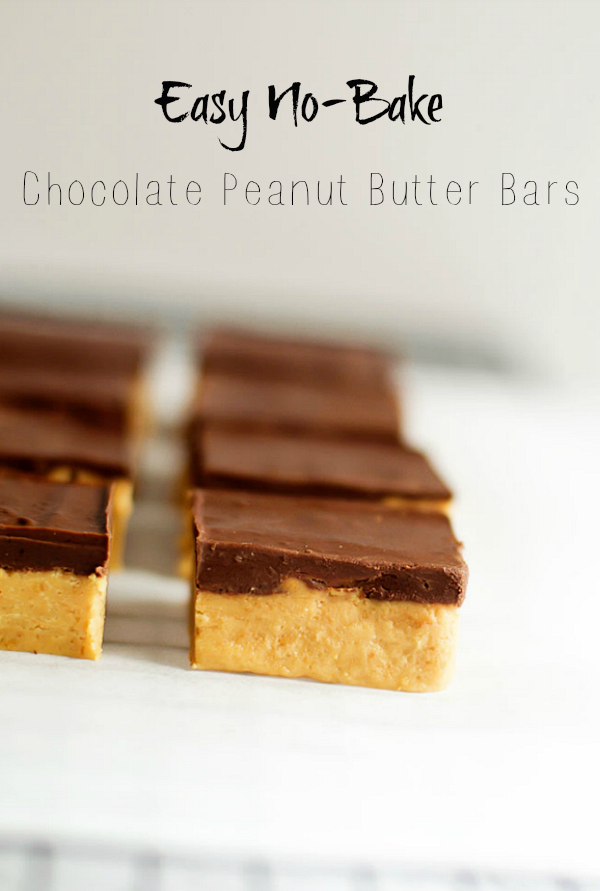 There is just a little bit of work: to crush some graham crackers for the base, mix it with peanut butter and melted butter. Spread the base mix layer onto a square pan lined with some baking paper. One more step before refrigerating: melt some butter and mix with peanut butter to make the chocolate top layer. Add top layer to the pan, level it gently and refrigerate.
And I know you're going to ask if they taste like Reese's peanut butter cup! YES, they certainly do!
Just remember to take out the pan 10-15 minutes before serving them, so it is easier to cut into bars. You can cut generous bars or you can have bite-sized pieces.
Chocolate Peanut Butter Bars Recipe
Ingredients:
1/2 cup unsalted butter, melted
1 cup graham cracker crumbs
1 cup confectioners' sugar
3/4 cup + 2 extra tablespoons peanut butter
1 cup milk chocolate chips
Method:
Chocolate Peanut Butter Bars Recipe
Ingredients
1/2

cup

unsalted butter

melted

1

cup

graham cracker crumbs

1

cup

confectioners' sugar

3/4

cup

+ 2 extra tablespoons peanut butter

1

cup

milk chocolate chips
Instructions
Prepare a square baking pan and line it up with baking paper. Set it aside.

In a large bowl, mix the melted butter, graham cracker crumbs, and confectioners' sugar until well combined. Add 3/4 cup of peanut butter. In and mix to fully incorporate. Spread the mix into prepared baking pan.

Add 2 tablespoons of peanut butter with the chocolate chips to a small saucepan and melt them over low heat. Stir until smooth. Spread the chocolate mix over peanut butter layer.

Refrigerate until completely firm, for at least 3-4 hours. Remove from fridge 10-15 minutes before serving to cut them easier.
*Originally posted: 5/16/17