Carina is a fun friend of mine who writes a hilarious blog at The Jet Set and a lovely architectural design blog at Mid-Century Modern Utah. Today she's sharing a magic trick with us, well that's what I think it is. It's an amazing microwave cleaning tip, making all that yucky stuck on grim disappear!
Wondering what to do with your juiced oranges or used citrus peels? Nah, you probably haven't because who would think long and hard about a lemon carcass?  Feel free to start wondering.  Sure, you've probably saved your citrus peels for the garbage disposal, but there's something you can do first.  When your microwave smells like the ghost of taquitos past, or bears the marks of a hundred marinara splatters, it's time to think citrus. Just do it ok?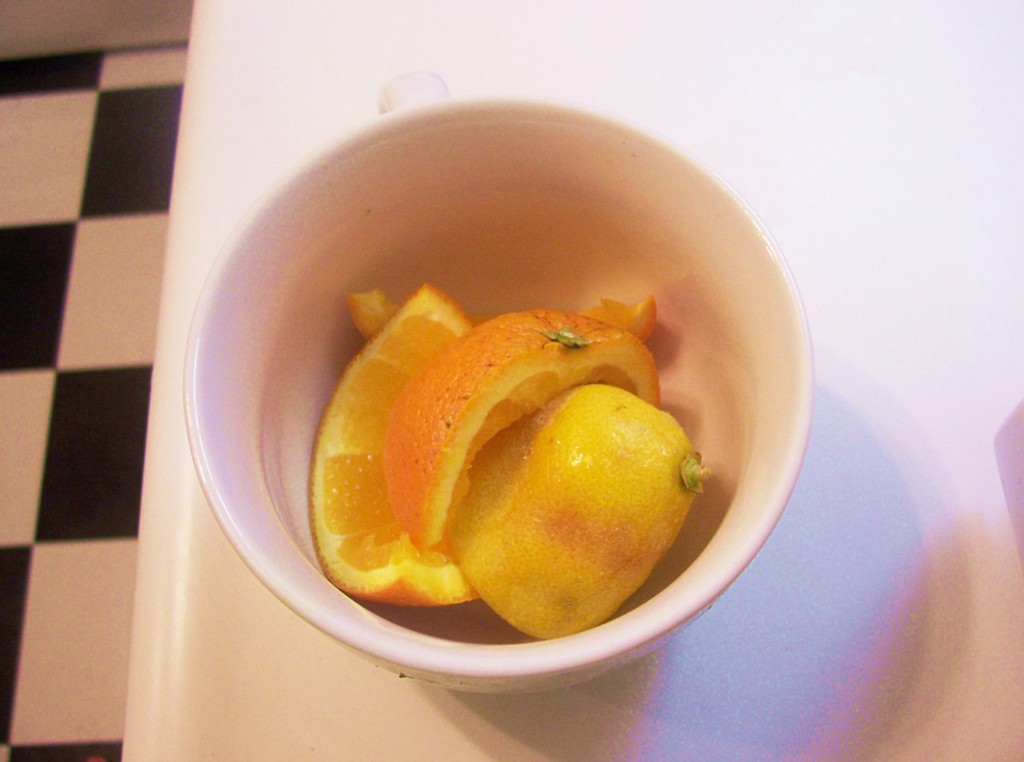 Citrus Magic for Microwave Cleaning
Take your citrus peels leftover from the slices you made for your kids' lunch and the lemon juiced for Nigella's lemon linguine and throw them into a large mug or bowl.
Cover the peels with water.
Place the mug in the microwave and nuke that sucker for 3-5 minutes depending on your microwave and the severity of your potato chowder spills. The bigger the mess the longer the minutes.
Let the bowl sit in the micro for another few minutes. There have been days that I've forgotten the mug in the micro only to discover it again in the morning (what, like you remember everything all the time?) It's no big deal, just nuke the citrus again for a few minutes.
The citrus and water steam the splatters so they just wipe clean with a paper towel or a dishcloth.  The citrus removes the stink of the fish sticks from three days ago and then some.  The whole thing is so easy, and works so well, I can't wait to get the chance to clean my microwave. Are you excited to try this?
Now you can dump the citrus down the disposal and deodorize that monster.  So the next time you've tried to serve the kids grapefruit halves, don't forget to clean your micro too.  The hot cocoa will thank you.
Thanks, Carina! Oh how my microwave is going to shine with delight! It's wayyyyy past due. So I am going to get some yummy oranges for a snack and save the peels for cleaning. Fabulous tip! Here's more ideas for cleaning – 18 Amazing Household Cleaning Tips!
SaveSave