The Forth of July is one of my FAVORITE holidays. The parades, the weather, the matching outfits, the BBQs with friends and family, and just being outside! I decided to think of an easy craft for my kids to use on July 4th. This kid's craft will help you get ready to cheer on the fabulous floats at this weekend's parade. These fun Firework Pom Poms are the perfect sparkler for your child to hold as the clowns and marching bands go by. You'll just need a few simple supplies to get started. Read on for the full tutorial.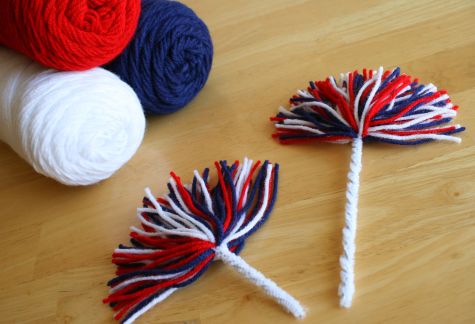 Crafty 4th of July Firework Pom Poms
Supplies for Firework Pom Poms:
yarn, preferablly red, white, and blue
2 pipe cleaner (aka chenille stems)
scissors
First, measure out 4 yards of each color of yarn, red, white, and blue.
2. Then group them together and fold them over in half, again and again and again. Now depending on how long you want your pom poms, you can stop folding when ever you'd like. I folded mine in half, until the very end, I folded it in thirds, as I wanted it a little longer than folding it in half again. You'll see when you make these yourself.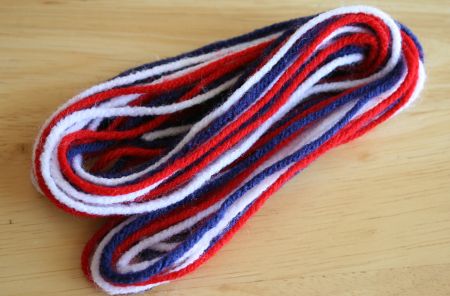 3. Wrap the pipe cleaner around all the yarn in the center of the folds. Then take your second pipe cleaner and split the yarn and pull it through and around again, this secures it. (For the pipe cleaners, you can leave it all in once piece or for short pom poms, cut one long one in half to make your two pieces.)
4. Then twist up the pipe cleaners together. I even cut off the ends of the pipe cleaners to make an even look, and it makes the ends not so pokey.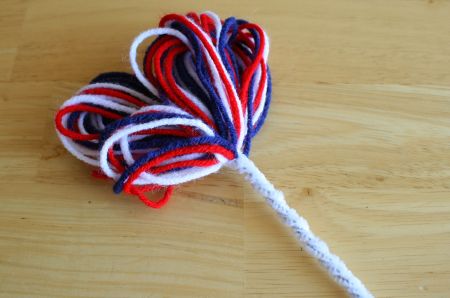 5. Now cut all your loops of yarn to make them into strings, and it's ready to firework away! My kids are way too excited for Saturday's big parade, practicing their cheers "go USA"!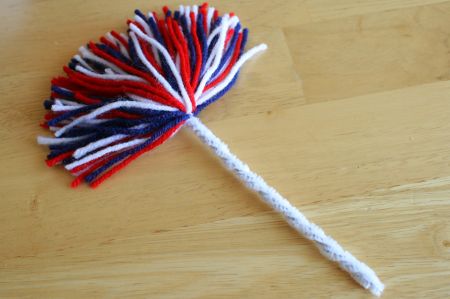 We hope you enjoy making these cute pom pom firework and using them to celebrate our Independence Day with friends and family. Have fun and be safe!
Here are more Fourth of July crafts for you to try this year: