Is the Dad in your life tired of getting a boring old tie every year for Father's Day? Well, I snazzed up this Father's Day tie. We crafted it into something new- a silly snake! He may not be able to wear it, but it will be a fun surprise! Your kids are going to love making these for their Dads.
Craft a Snake Tie for Dad
Supplies for Snake Tie:
Tie – old used tie or one from the thrift store
stuffing – poly-fil craft stuffing
pencil, or long stick of some sort
hot glue gun (for adult use)
red felt
2 googley eyes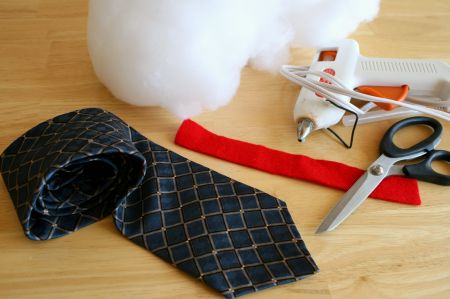 1- Brake off a small chunk of stuffing and place it down the hole of one of the sides of the tie. I started with the small end. Then using your pencil or long stick, push down the stuffing as far as you can.
2- Try to get at least half way down, then do the same for the other opening of the tie. Then fill and repeat until your whole tie is stuffed.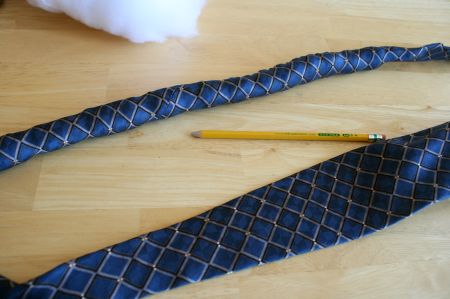 3- Once your tie is all stuffed ( kinda looking like it's eaten a mouse!), then you'll want to hot glue each end closed. Be careful with the hot glue, it's hot and can burn.
4- Then cut out a tongue for the snake from the red felt. Ours has a fork tongue. Now hot glue the bottom end to the inside of the snakes mouth, or the bigger end of the tie.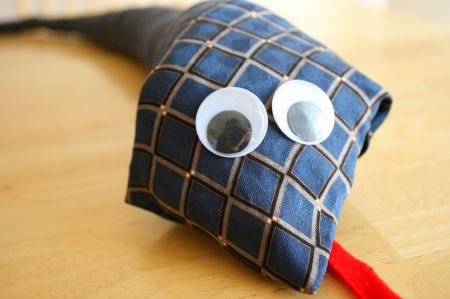 5- Time for the eyes. Hot glue your 2 googley eyes to the top of the snake, or the top of the big area of the tie.
Now it's ready to be given to a Dad! Hopefully this is one tie that he'll be happy to get. Happy Father's Day!
Check out more Father's Day gift ideas here:
SaveSaveSaveSave