Earth Day is April 22nd, so now is a great time to teach your kids about the importance of recycling, keeping the earth clean, and making responsible environmental decisions. To celebrate Earth Day, we are going to make this mosaic earth. When you're finished you can hang it on your door to show your awareness or hang it on the fridge to remind you to recycle whatever you can.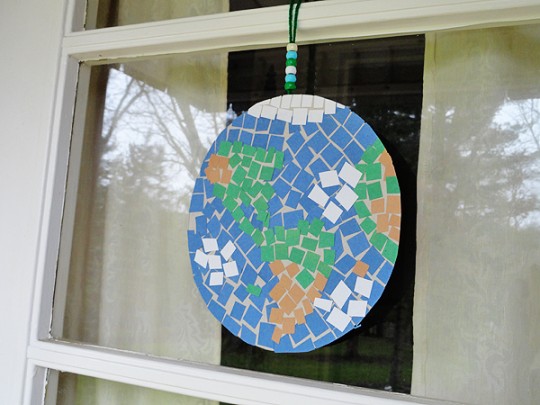 Create a Mosaic Earth for Earth Day
To make this mosaic earth you will need the following supplies:
1/2 sheets of construction paper: blue, green, white, and tan or brown
Piece of recycled cardboard (cereal box, snack box, note pad, etc)
12″ piece of yarn
6 pony beans (green, blue and white)
Scissors
Glue stick
Tape
Note: You could also recycle some old magazines to make this project instead of using construction paper!
Print the pattern and cut around the outer circle. Trace around the pattern circle onto the cardboard and cut out the cardboard circle. Place pattern over the cardboard circle, and using a pen trace over the pattern, pressing firmly to create indents in the cardboard below. Remove the pattern and lightly trace the indents with a pencil to make them easier to see. Cut construction paper into strips, and then into squares.

Begin with the blue. Use a glue stick to makes sections of the ocean sticky, then place the blue squares onto the glue. Overlap the edges and leave a space between each square. When finished with the oceans, start gluing on the green land, you can mix in some brown as well into the land masses. Lastly, cover the top section with white squares and add a few white squares around the earth for clouds.

Turn the completed earth over and trim all the excess construction paper around the circle. Fold the piece of yarn in half and wrap a piece of tape around the open ends, closing them together. Thread the pony beads on to the yarn. Move the beads up the yarn until you have just a few inches of excess at the top of the hanger. Tie a knot just below the bottom of the beads and tape to the back of the earth. You can reinforce it by gluing a piece of cardboard over the yarn. Trim off the excess yarn.
That's it! Now you can proudly hang your Mosaic Earth project.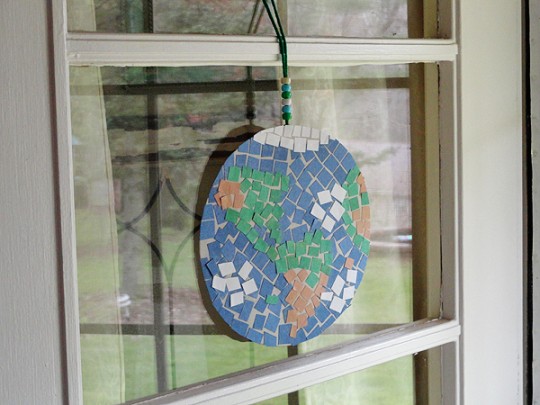 SaveSave