Carving pumpkins as a family is one of our favorite Halloween traditions. We usually turn on a fall themed movie, grab a few yummy snacks, and get to work! Carving pumpkins with kids can be MESSY – sometimes we opt to just decorate our pumpkins instead of cutting them open and all the work that comes with that. I searched around for some really Creative Ways to Decorate Pumpkins with Kids. Messy or not! You choose your own adventure here.
9 Creative Ways to Decorate Pumpkins with Kids
1. Splatter Paint Pumpkins: You'll need a few white pumpkins, some paint, and a large paint brush for this paint project. This one looks really fun to try and kids would love it. (via One Little Project)
2. DIY Pom-Pom Pumpkins: These pumpkins are COLORFUL! Get pom poms of all sizes to decorate your pumpkins. (via Design Improvised)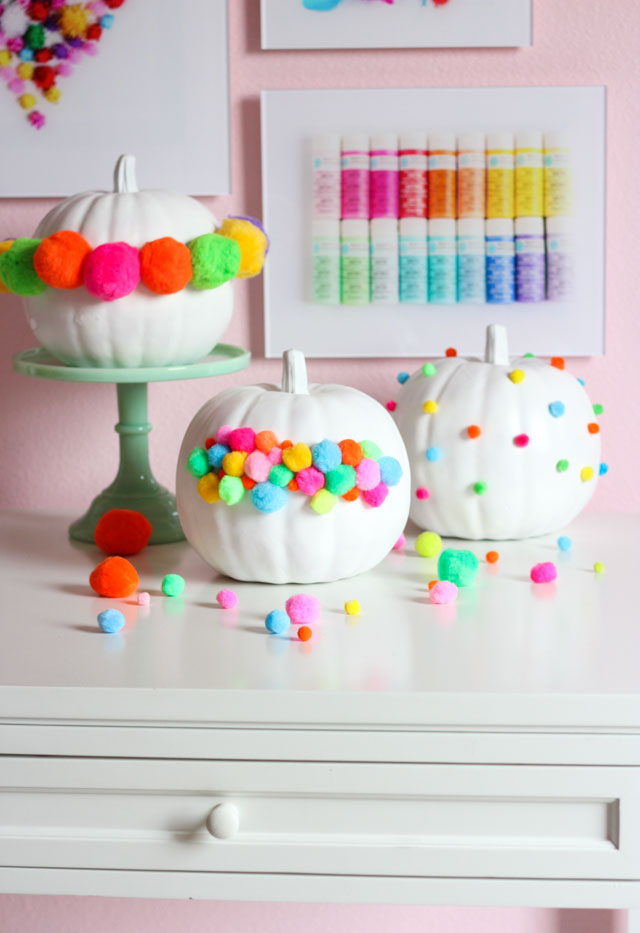 3. Kid Art Pumpkins: I LOVE this idea. So creative! Using Mod Podge, put your child's artwork on the pumpkins. They will love looking at their artwork on their pumpkins. (via Jacks and Kate)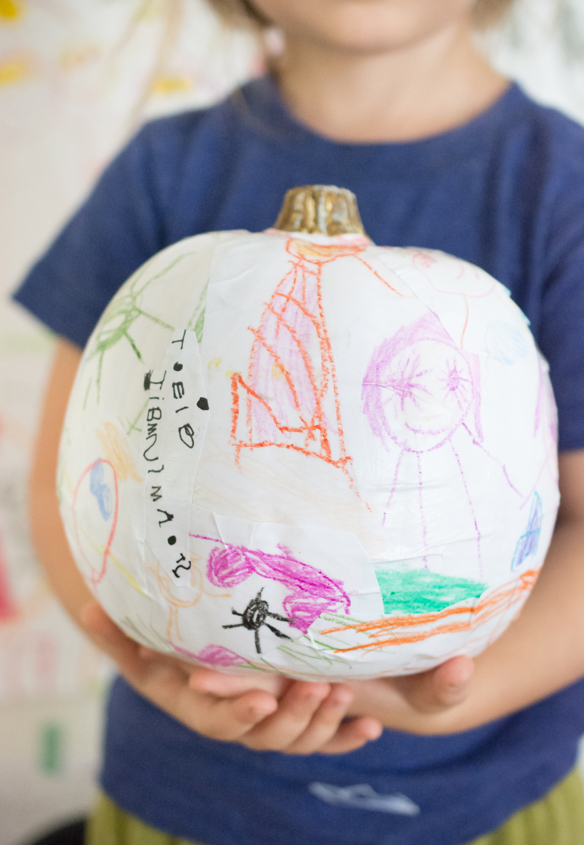 4. Pumpkins and the Peanuts Gang: Do your kids love all things Charlie Brown? My little boy is obsessed. I know he would love this pumpkin carving project.
More Creative Ways to Decorate Pumpkins:
5. No Carve Harry Potter Pumpkin: Calling all Harry Potter fans! This no-carve pumpkin is so cool looking. Follow the link to find out how to make this one! (via Fun Money Mom)
6. DIY Rainbow Painted Pumpkins: The simple look of these rainbow pumpkins is too cute. Your little ones will love painting pretty rainbows on their pumpkins. (via A Bubbly Life)
7. Peek-a-Boo Barn: Okay, how adorable is this farm themed pumpkin?? My kids would die over this idea. Carve out a barn shape opening and fill it with little pumpkin animals. (via Better Homes & Gardens)
8. Baby Yoda Pumpkin: Baby Yoda just got cuter! Pumpkin Baby Yoda is my new favorite!! (via Fun Money Mom)
9. Quick & Easy Painted Pumpkin: I think a painted pumpkin is so pretty! I want to try making some of these adorable painted pumpkins from this tutorial. (via Feel Good Motherhood)
Pin it!