Valentine's Day is just around the corner. Grab your kids to try this easy and lovely Valentine's Day craft. Does Cupid have your heart this Valentines? Well, he will with these crafty pipe cleaner arrows, complete with a glitter painted bow. This craft would be perfect for a classroom Valentine's Day party. Grab some popsicle sticks, pipe cleaners, and a little bit of paint to get started.
Cupid's Crafty Bow and Arrows
Supplies for Pipe Cleaner Valentine Arrows:
pipe cleaners (aka chenille stems)
wooden dowel or popsicle stick
red sparkle paint – Thanks, DecoArt
sponge brush
1. Using your red sparkle paint and sponge brush, paint your wooden dowel or stick. Let it dry completely. I used a tall drinking cup to set it in to dry, painting one half of the stick and then the other.
2. To create your heart shaped arrow, first bend the pipe cleaner in half, but don't press. About half way down, twist the two ends together all the way down. Form the top half of the bent pipe cleaner into a heart shape.
3. You can create a large heart for your arrow to strike, just twist the ends of the pipe cleaner together at the bottom.

4. Once your painted stick is dry, add one pipe cleaner to it to form the bow. Wrap and twist each end of the pipe cleaner to each end of the stick.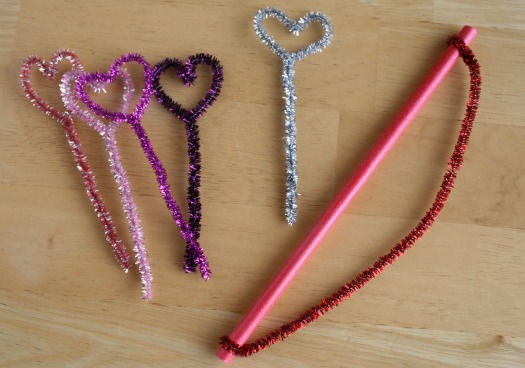 You're ready to spread some love with your cute little bow and arrows. Now go find your sweetheart!
Check out these other Valentine's Day crafts:
SaveSave