I'm so excited for our new storytelling column we're starting here at Make and Takes called Maker Stories. It's about being curiously creative, and how all you amazing people are finding ways to spark creativity in your lives!
This lovely lady pictured below is my beautiful Aunt Gwen! I'm lucky enough to live nearby her, and had such a fun visit talking all about her creativity! My Aunt Gwen has been oil painting landscapes on canvas for many years now. And even at the age of 85, she's showing no signs of slowing down! Such an inspiration to us all.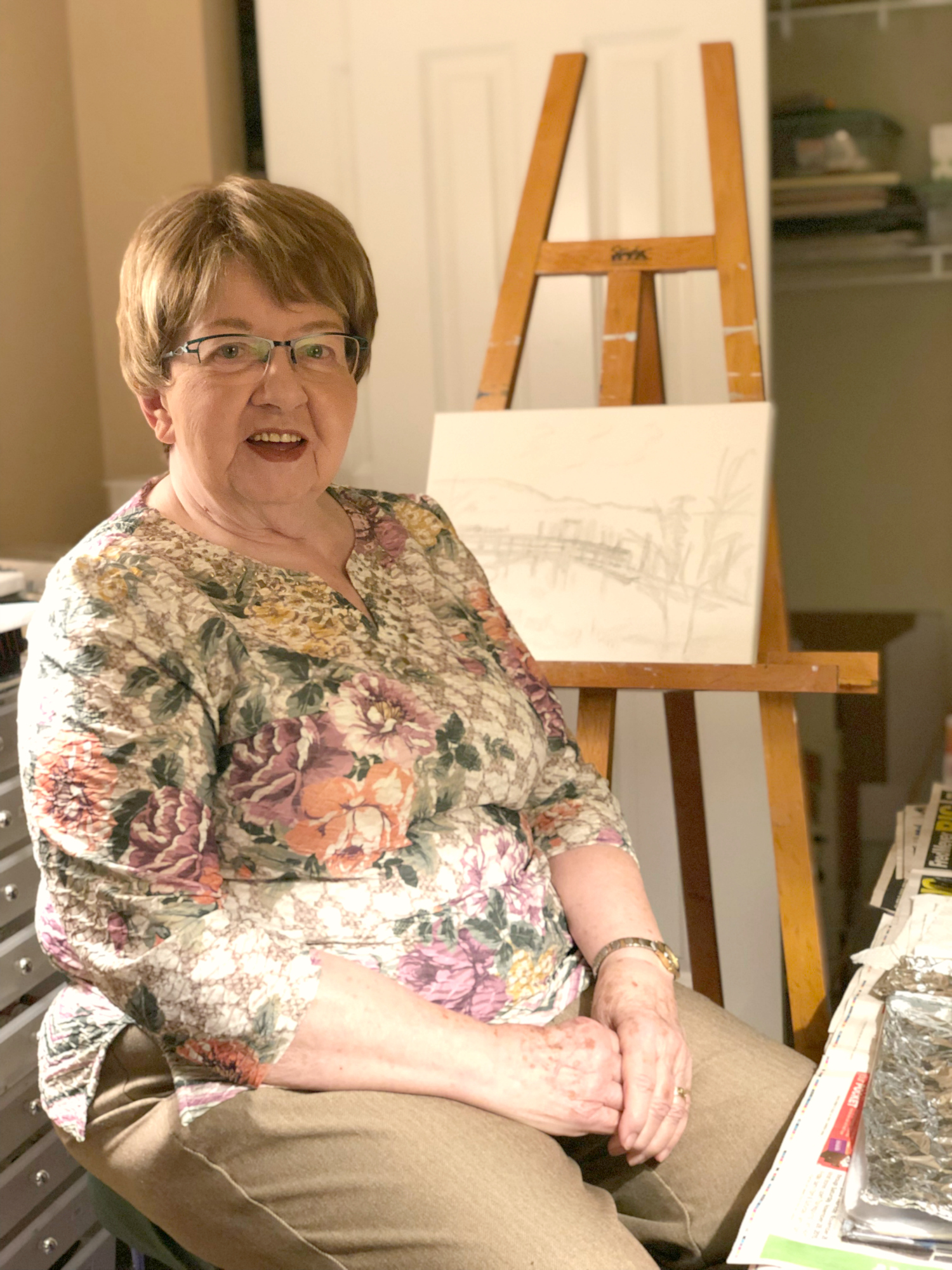 In the community where Gwen lives, they offer a wondering opportunity for artists to show off their work, so it has kept Gwen active and engaged with her creativity. Along with painting, Gwen also enjoys photography, writing, singing, and playing the piano.
Her love of painting was inspired by her father, who was also a landscape painter. Below is a painting I inherited of my Grandpa's work, a beautiful beach in Hawaii. I wish I knew more about this specific spot, but no more information was written about it. Regardless, it's one of my favorites and hangs proudly in my home.
When my Grandpa passed away, Gwen was presented with the opportunity to inherit many of the items from her father's studio. After taking some drawing classes at the local community college in their continuing education program (such a great resource!), also watercolor classes, and eventually oil painting, she decided this too was for her! And she's very, very talented.
Learning Patience with Oil Painting Landscapes
One of the biggest lessons Gwen says she has learned from her painting is patience. Painting still gives her a satisfaction in life, of the skills and lessons she learns, but patience is still her biggest teacher. Oil painting is not something you rush through or is fast-paced. But I think that's the joy in it, to take your time and really get into the details to make a painting come to life.
Here are a couple of my favorite paintings from Gwen's collection… a fishing village in Volendam, Holland with its beautiful waterfront, and Neff's Canyon near Salt Lake City, Utah, a place I would visit often as a child.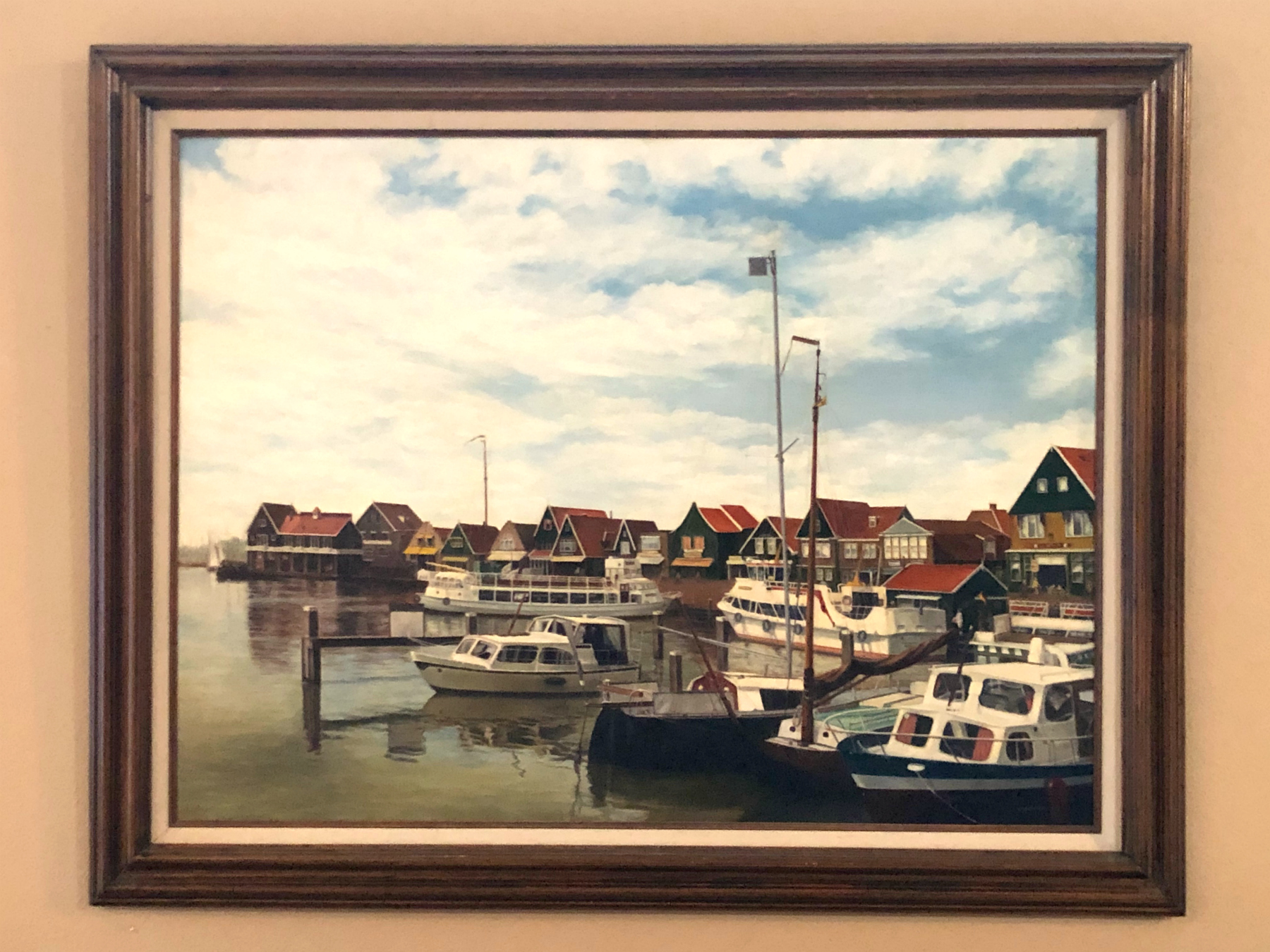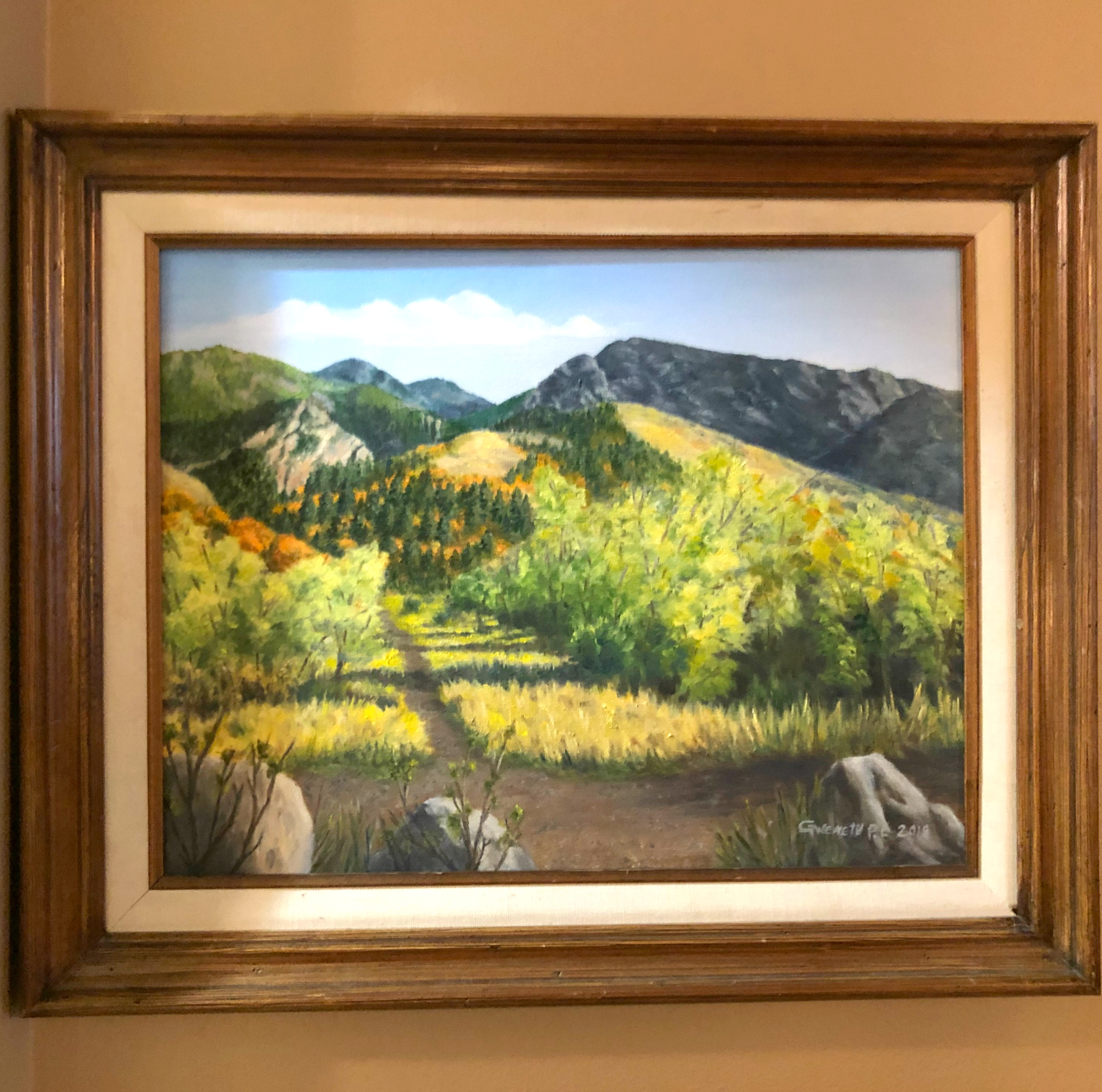 Gwen is a shining example of how we all can continue to be creative in life. She stays curious, having a drive to keep at it, sharing her amazing talents with us all!
To follow in my Aunt Gwen's footsteps, I've signed up for a local painting class and I'm so excited to learn more. If you too are looking for more ways to get painting, here are a few resources to get you going…
Resources to learn more about painting:
Community College Continuing Education: one of the best and easily accessible ways to get in person lessons. Simply google what might be available near you.
Online Courses at Udemy: there are loads of great online classes to take from Udemy, especially in the art category. Check them out.
Painting Classes Near Me: this is what I googled "Painting Classes Near Me" to find a local painting class in Seattle. Google this phrase to see what's near you. Many little shops and studios have popped up to teach these fun quick painting on canvas classes, most use acrylic paint, but look to see what's available. I've signed up for a Canvas Paint class to take with my daughter very soon.