Guest Post by Pamela of French Knots
I love Valentine's Day! Love is in the air everywhere. What better way to send a "love note" than by a sweet Love Bird. My boys and I got February off to a good start by making these sweet and easy Love Birds. This craft is easy and perfect for young crafters (and older ones too!). Read on for the full tutorial.
Cute & Crafty Little Love Birds
Bird Necessities:
One medium red pom pom ball
One small red pom pom ball
2 googly eyes
1 mini clothes pin
Red felt for wings and tail
yellow or orange paper for bird beak
optional: heart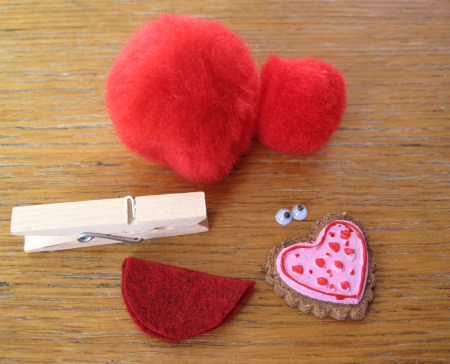 Making your Birdie:
This is a perfect after school craft. Start by taking your pom poms and gluing the head and body together. Attach the eyes, wings, tail and beak to the bird with glue. (I prefer a hot glue gun, because it is easy and fast.) Attach the clothes pin and Viola! Your finished.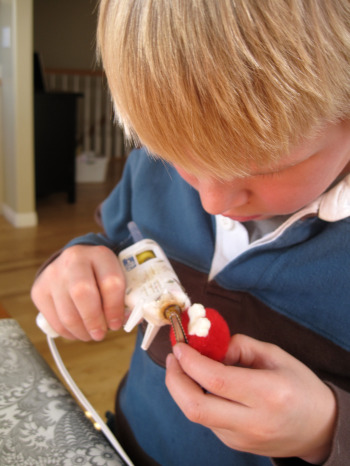 After your clothes pin is attached you can make your "love note".  My boys got a big kick out of all the ooey-gooey sweet nothings I was coming up with. They had better ideas: "I like you to death!", "You're my favorite pickle!" "You're as sweet as a Weed!" Remember whatever love note your birdie delivers make sure it is received with the best intentions.
I have big plans for these little birds. My boys are going to wake up to a new sweet note from their birdies each day until Valentines.  With only boys running around our house, I figure it never hurts to get a little mushy now and then. If we get really ambitious, my boys classmates may get "Love Birds" as well.
Thanks, Marie, and thanks to all her wonderful readers! Happy Valentine's Day.
Pamela is the author of the crafty blog: Frenchknots. She lives in Utah with her husband and two sons. Her favorite holiday is Valentine's Day (yes, more than Christmas!!) and her favorite colors are pink and red. When Pamela isn't crafting with her sons, she is quilting, cooking, reading and or running; not in that order or all at the same time.
SaveSaveSaveSave