'Tis that time of year that we countdown to Christmas with our DIY advent calendar! Do you have an advent calendar that you use every year? Or do you use store-bought or disposable ones? If you love Christmas crafts as much as I do, then you will love making this handmade stocking advent calendar that can be re-used every year. Plus, I'm sharing lots of fun ideas for holiday activities you can include in each stocking.
How To: 25 Days of Christmas Advent Calendar
As much kids get older and become less interested in spending time anywhere other than bedrooms staring at screens I've had to get more and more creative in getting them involved in activities as a family. What I love about this calendar is the ability to change it each year to accommodate the ages of everyone and include new memories for us to make as a family.
The stocking advent calendar below fits perfectly across my fireplace mantel that is about 71″ in length. I've included a link to the stocking template in the instructions below to make it easy to make your own garland of the same length at home.
If you already have an advent calendar that you use each year please skip to below the tutorial and you will find an extensive list of ideas to include in your advent calendar for this year.
25 Days of Christmas Advent Calendar
Supplies:
1.5 yards of white fleece
Roll (most come in 25ft) of ribbon that's 3.5″ wide
Burlap (you don't need much, I used off-cuts from a previous project)
Numbers – cookie cutters, stencils, or even chipboard punch-out numbers work well for this
Sewing machine (or feel free to sew it by hand, I did).
Scissors
Fabric glue
Jute cord
Pegs
Instructions:
If you would like to make your stockings about the same size that I made mine, then download and print this template.
Using the template, cut out 50 stocking pieces (for front and back of each stocking) using the white fleece.
Using a cookie cutter, stencil (or anything else you have that has a number you can trace around) onto the burlap, and cut out your numbers. Attach them to the front of each stocking using fabric glue. set aside to dry.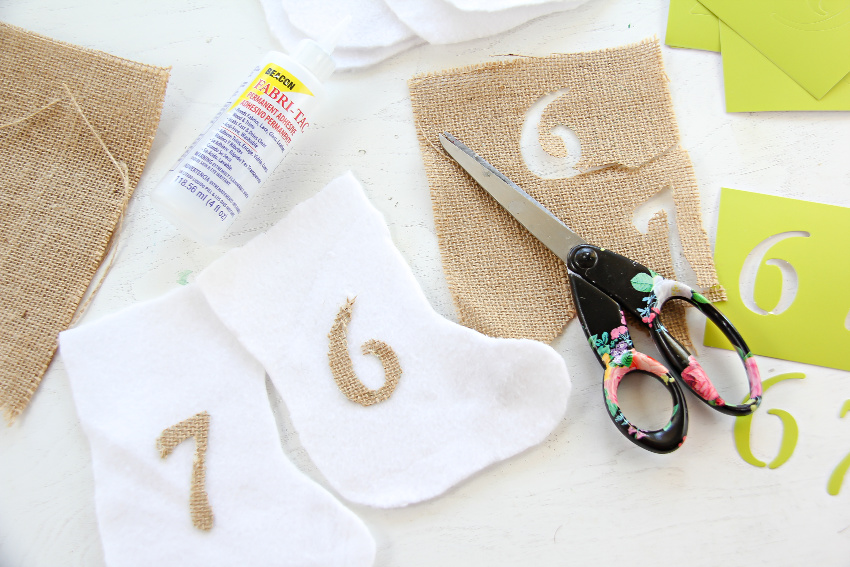 Cut pieces of ribbon the same width as the top of each stocking, so again, you'll need 50 in total.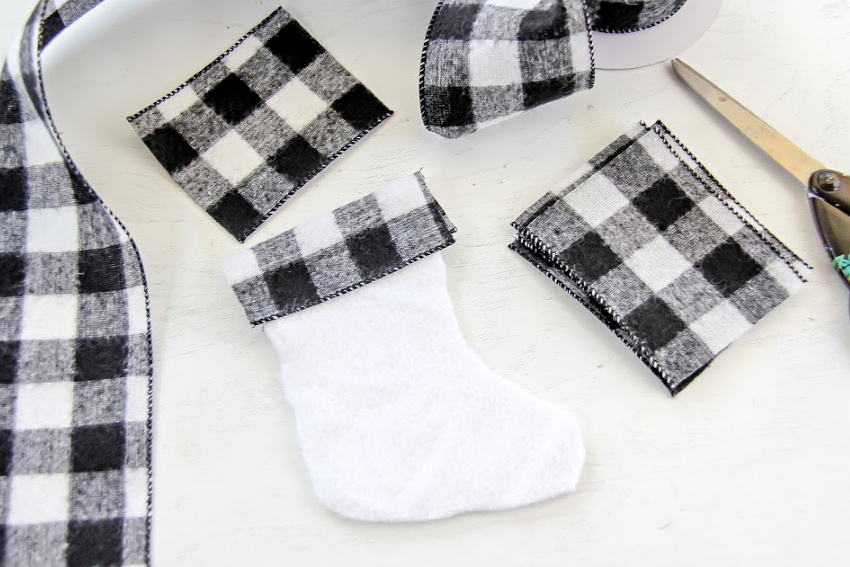 Fold each piece of ribbon over the top of the fleece stocking, place your stocking with the number side in the center, and then stitch around the outside, leaving the top open. If you don't have a sewing machine you can do this by hand … my sewing machine actually decided to completely break down the day I set out to sew these, so yes I did have to hand sew them. A lot of Christmas movies were watched.
Turn your stocking inside out so that the number is outside. Now go ahead and do that for all of the others too until you have 25 little stockings.
Attach each stocking to jute cord with a peg, and you are ready to hang it.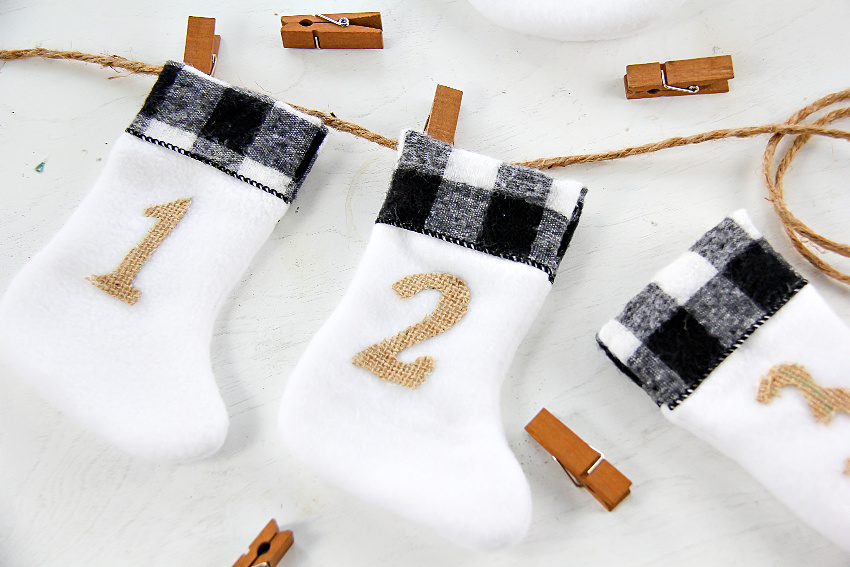 Now, for the fun part!
What To Put In Your Advent Calendar
I've rounded up a list of fun family activities and items you can put into your advent calendar – they are in no particular order and I have more than 25 so you have plenty to choose from. I'd love it if you left even more ideas in the comments section.
Tip: For the first day I put a puzzle piece inside the stocking. Then I wrapped a brand new Christmas jigsaw puzzle and put a number 1 on the outside of the parcel. I've done this with a few of the stockings including the LEGO building day, a cookie-cutter for cookie decorating, and a game piece for family game night. The kids will get to take turns opening the corresponding gifts. For fun family activities that don't have anything small I can pop into the stocking, I've left a small gift card in an envelope with instructions for that day's activity.
Photos with Santa
Jigsaw puzzle
Drink egg nog
Crazy sock photo
See a holiday movie at the movie theater or drive-in
Bake and decorate cookies
Have a snowball fight
Ugly sweater party
Volunteer
See The Nutcracker
Attend a candlelight service
Go caroling
Write letters to Santa
Build a LEGO set
Make paper snowflakes and hang them by the windows
Take a drive to see holiday lights
Go ice skating
Donate toys and clothing that are no longer used to a charity
Kiss under the mistletoe
Build a snowman
Make a Christmas cocktail or mocktail
Decorate a gingerbread house
Family game night
Hot chocolate and holiday movies under blankets at home
Wear silly hats and take a photo
Make snow angels
Visit a tree farm for a Christmas tree and decorate it
Open a special Christmas Eve gift
Do a random act of kindness
Make handmade Christmas cards and deliver to family
See a play
Visit reindeer
Enjoy a special treat (for this one I put little Santa chocolates in a stocking)
Make winter care packages for shelters
Read a story together
Please pin this post for later.