We've been loving our reed diffuser jars that are filling our house with all the good smells! I've placed these fragrant air fresheners around the house to help keep it smelling fresh and fragrant!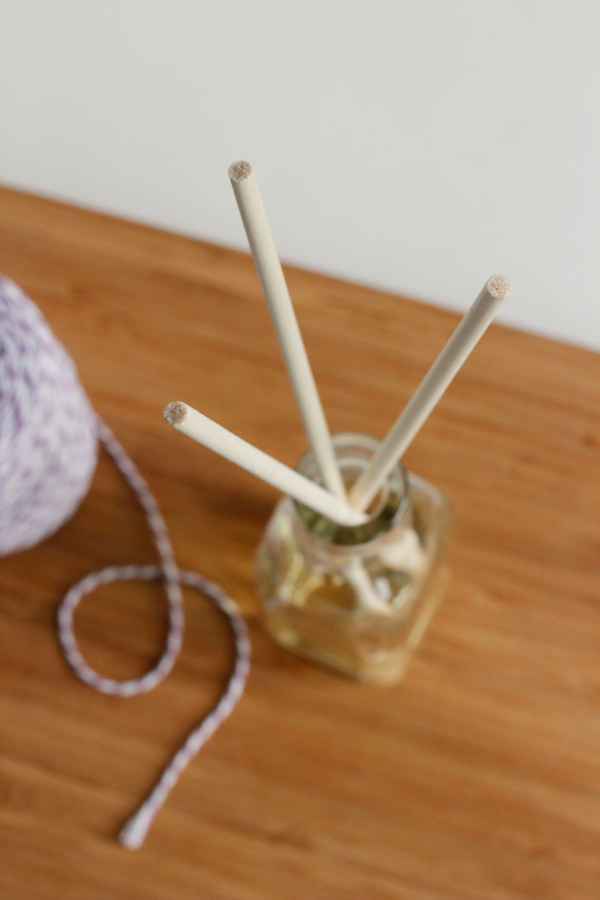 Make a DIY Reed Diffuser
We chose to add lavender essential oil drops for our jars as this scent is our family's absolute favorite aroma! It's so calming and soothing, especially during night.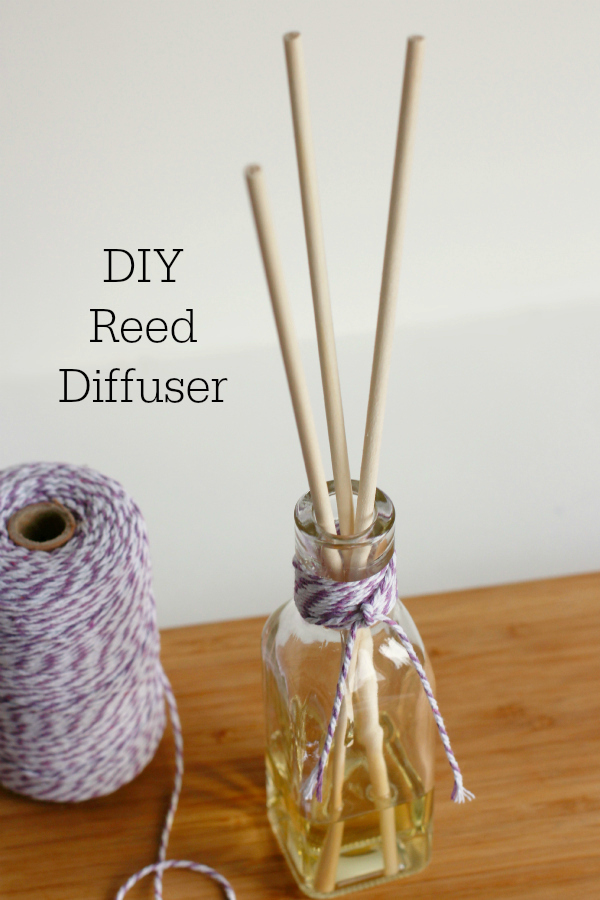 Supplies:
Carrier oil: 1-2 inches safflower oil – this is your carrier oil, almond oil or baby oil can be used as well
Essential oil: 15-20 drops essential oil – for aromatherapy and fragrance
Jars: any jar will work with a small opening at the top
Sticks: rattan reeds or bamboo skewers
optional: 90% proof alcohol – helps the oil travel up the sticks faster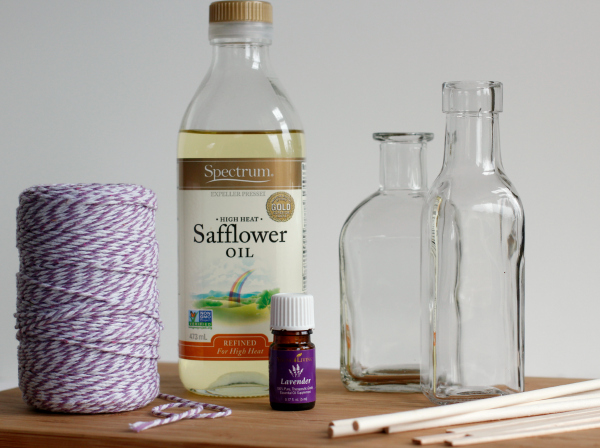 Instructions:
1. Pour your safflower oil into your jar, 1-2 inches high from the bottom. You don't need too much oil, just enough for the oil to travel up your sticks. For the jars, you can use anything you have around the house – a vase, a recycled jam jar, even a plastic or metal container will work. I found these jars at the thrift store and they have small openings to help my sticks stand up tall.
2. Add in 15-20 drops of essential oils and stir them in or swirl them around. You can add more or less depending on your level of fragrance.
Optional: you can add in a teaspoon of alcohol at this point and stir it in to help the oil transfer up the sticks more quickly.
3. Add your sticks to the jar and space them out. You can use them to stir the oil again. TIP: flip your sticks after a day or so to help the oil distribute faster.
Now we decorate your jar! You can leave it as is, which is still a very pretty display, or you can add some string to the top of the jar for added color.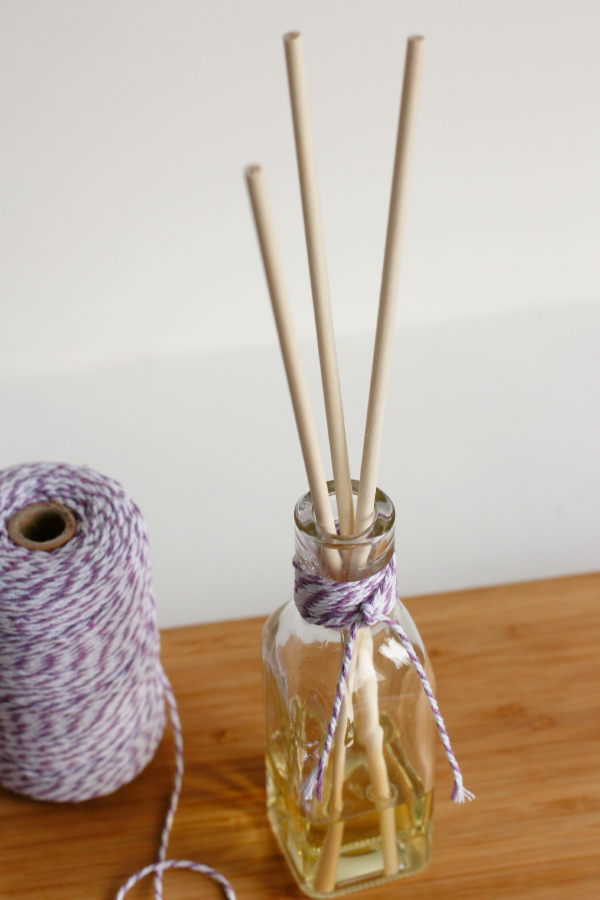 Decorate
Cut a length of yarn, embroidery floss or baker's twine. I'm using a purple twine to match the lavender essential oils I used. Wrap it around the top of your jar and tie it in a knot or bow.
Your reed diffuser is ready to swirl and place in an air freshening area!
We have a few of these DIY Reed Diffusers around the house. I also love citrus fresh essential oil, my second favorite after lavender.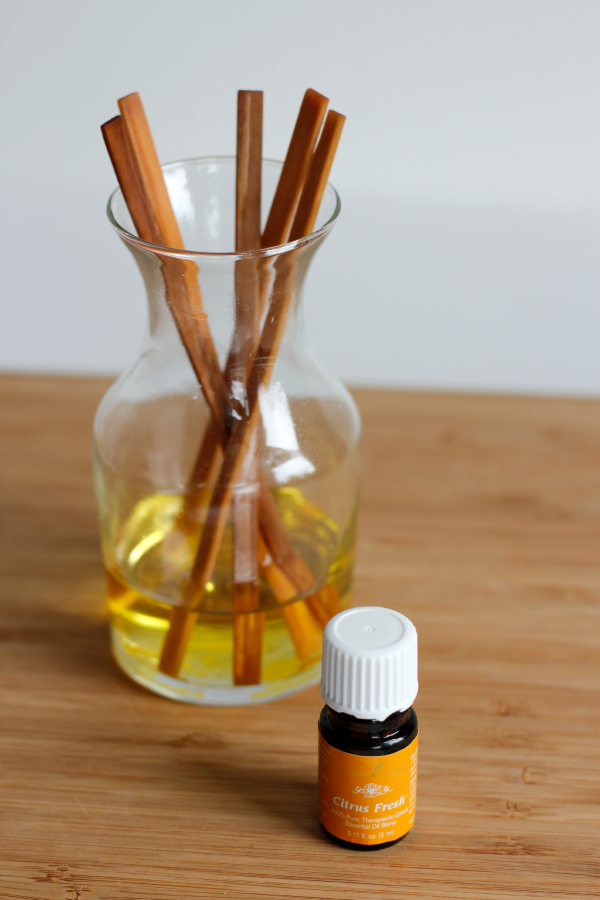 I've placed a citrus reed diffuser on my desk where I sit all day and can smell this bright and cheery smell!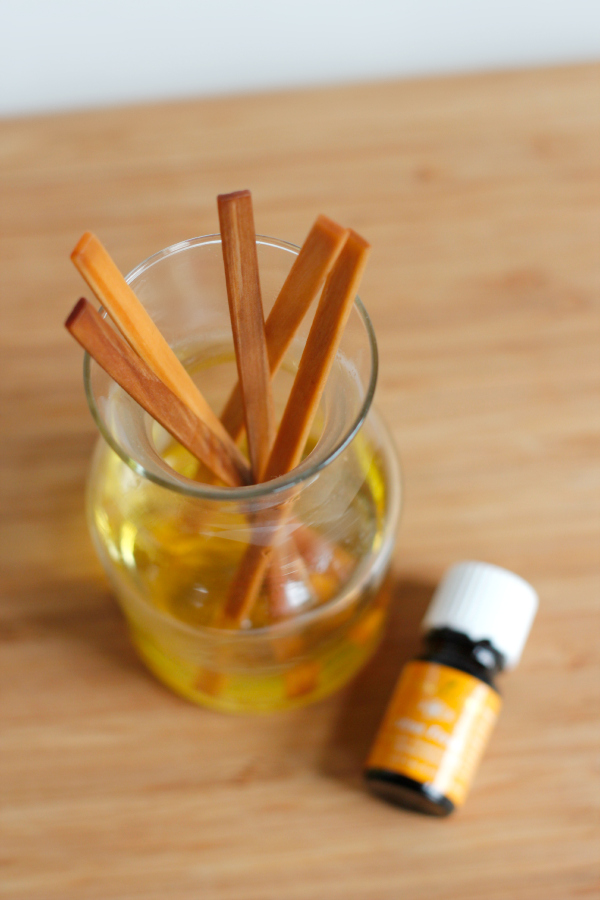 *This post contains affiliate links. Thanks for clicking and supporting Make and Takes.