Did you know you can tie-dye clothing without a bottle of dye? We've tried tie-dye with tissue paper, tie-dye with Kool-Aid, and now we are showing you reverse tie-dye with bleach. We aren't using clothing today though, we're mixing it up with sheets for your bed. We have a whole list of other home decor items you can try this with too.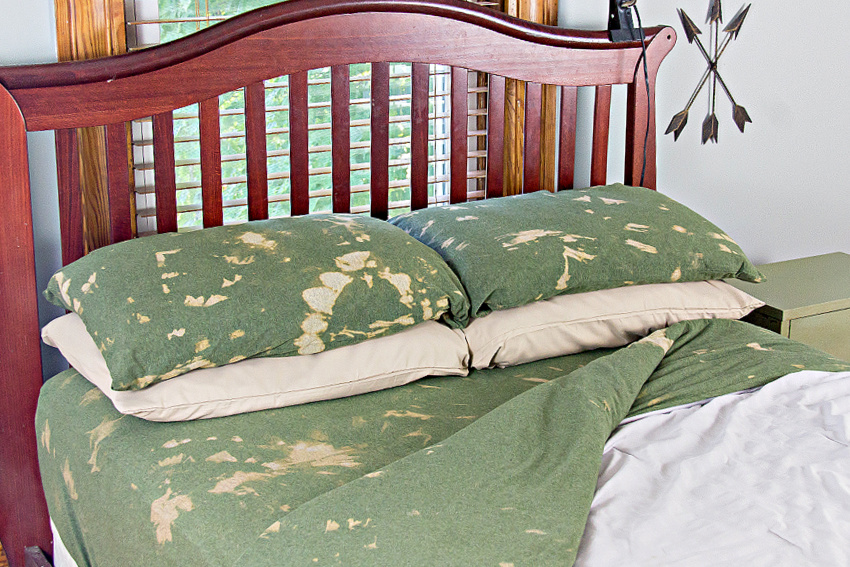 DIY Reverse Tie-Dye Sheets with Bleach
My son is very sensitive to all fabrics that touch his skin, whether it's clothing or sheets on his bed. He loves jersey-knit sheets because they are softer. He's also obsessed with all things outdoors – fishing, archery, and camouflage.
How to: reverse tie-dye bleach camouflage jersey-knit sheets
We've just moved into a new house and he wants his bedroom to reflect the things he loves. I didn't want to go crazy with the camouflage print everywhere but just add in those colors to his room. So we decided to bleach tie-dye camouflage sheets for his bed.
What you need
A dark-colored sheet set – we used jersey-knit sheets for this project, but cotton works great too.
Household bleach
A bucket or large plastic container
Gloves
Rubber bands
Spray bottle (optional)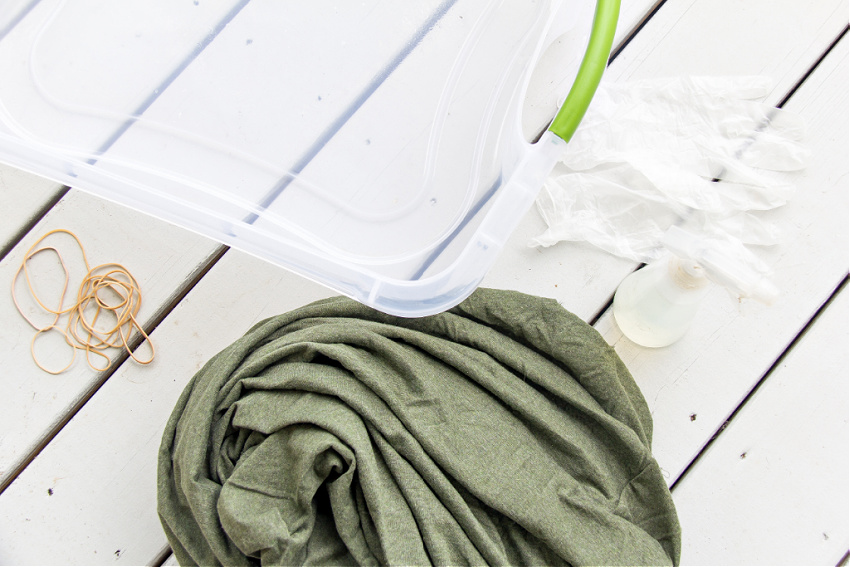 Instructions
There are two main methods for bleach tie-dying your household items, the bucket method, and the spray bottle method. Decide which way will work best for the item you want to tie-dye.
To tie-dye with bleach mix 1 part bleach with 1 part cold water.
Bucket method
After twisting, scrunching, and tying your fabric with rubber bands, submerge your item in a bucket. With this method, a lot more of your fabric will be dyed.
Spray bottle method
Scrunch, twist, and tie your fabric, secure with rubber bands, and use a spray bottle to spray exposed sections of your fabric. You can do as little or as much as you like with this method.
I chose the spray bottle method for this project. I didn't want to go crazy with the bleach, and this was my first time using a jersey fabric with bleach and tie-dye so I wanted to take it a little easier.
Find a spot outdoors to do this project. The smell of bleach can be overwhelming, and you don't want to risk splashing it on anything inside.
Twist or scrunch sections of the sheets and pillows and secure them with rubber bands.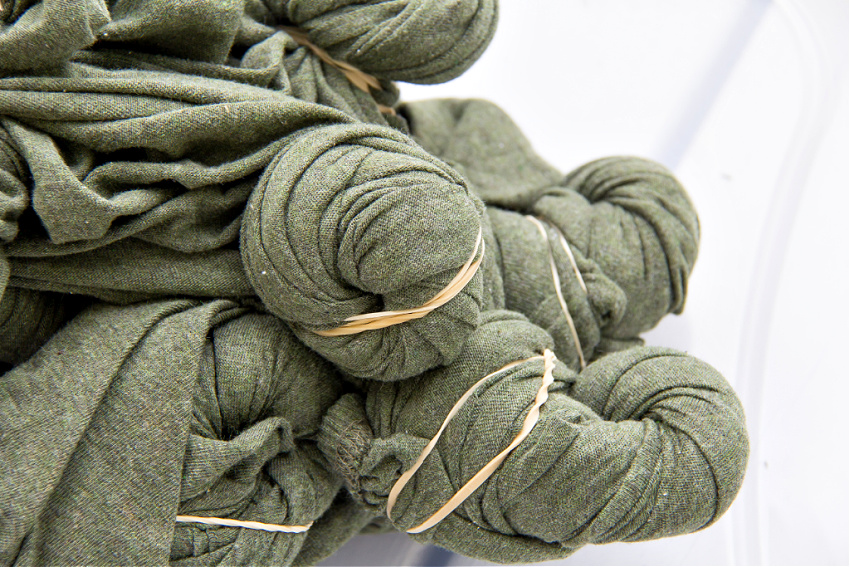 Put on gloves, and spray the 1-to-1 bleach mix over sections of your sheets. You can spray as much or as little as you like. Leave the bleach on no longer than 20-minutes. You'll notice that it immediately changes the color of the sheets to brown in the sections that have been sprayed.
Remove the rubber bands, and rinse your sheets in water so the bleach stops activating.
Wash your sheets in the washing machine with laundry detergent, and then dry as normal.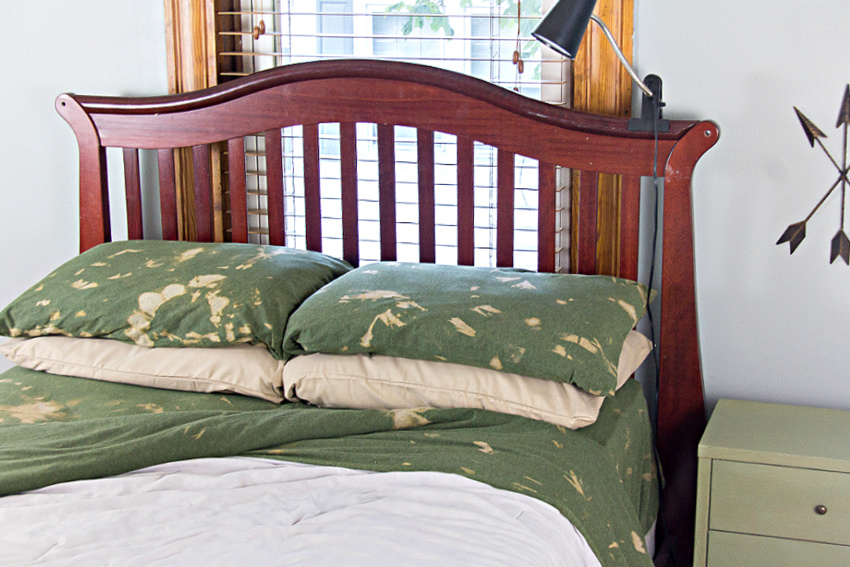 Household items you can reverse tie-dye with bleach
Bedding – sheets, pillowcases, duvet covers
Curtains
Shower curtains
Cushion covers
Couch or chair covers
Please Pin Post For Later: