I have recently been introduced to the world of Etching by my neighbor Lorinda. You etch your name or a shape onto glass. It shows up faded and fancy with a beautiful image. Then when you give your neighbor a casserole, your glass pan will already have your name on it, instead of having to use your name on masking tape at the bottom of the dish!
Etched Glass Pans
Supplies for Etching:
Etching is not as hard as it may seem. You just need a few tools and you've got it. Most of the supplies can be found at your local craft store. I love Roberts and their 40% off coupons.
One bottle Etching cream – at least 30 glass pans done with 1 bottle.
one sponge brush – any size.
stencil of image – vinyl images work best to avoid cream seeping. Contact paper can be used as well, but the image is flimsy. Try to find someone who sells vinyl lettering.
masking tape – to help the cream not get where you don't want it to.
glass – any type of glass will do, even mirrors can be etched.
Instructions:
This example is made with contact paper. I drew the letter, then cut out the mirrored image. I only did one large letter because contact paper is flimsy and a whole last name would be difficult. Next, clean your glass and lay it upside down. Peel the backing and lay the image carefully in the place you want it. Make sure it is pressed tight in all areas. Don't worry about the company name on the bottom of glass pans, the etching will show through. Try to get glass that has the littlest image of the company name.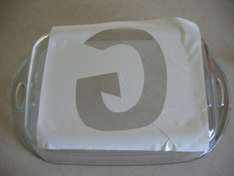 Then dip your brush into the etching cream and dab it on to the clear glass image. You don't need to do it to thick, but don't be shy either. Try as best as you can to get the cream even.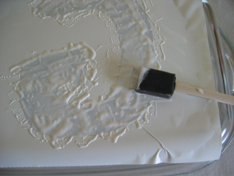 Now just wait for 6-8 minutes for it to set. Then put on rubber gloves and run the pan under the sink faucet to wash away excess. You don't need to scrub, just rub off the cream.
Next, dry off the glass and take off the stencil. MAGIC. You think it didn't work until you take off the stencil and then it is amazing what it looks like.
These personalized pans can be made and given for almost any present. Great for Moms, Birthdays, Weddings. One bride said that it was one of her favorite gifts that they got. This one was for my sister's birthday.