Guest post by Jenny of Southern Institute of Domestic Arts and Crafts:
Hi everyone!  I'm Jenny from The Southern Institute of Domestic Arts and Crafts. When Marie asked me if I would like to guest post at her blog I was so excited! Thank you, Marie, for having me today!
I have done a lot of freezer paper stenciling, it's one of my favorite things to do. Fabric paint and freezer paper stencils can take a plain old t-shirt and make it fun and funky too. But what about glitter? When I discovered that there was such a thing as washable fabric glitter, I knew I had to try it, and the first thing that popped into my head was shoes.  Yep, shoes!  How fun would it be to decorate shoes with glitter? The only problem… ironing a freezer paper stencil to a shoe. Not easy. The solution? Contact paper that can be found at any grocery store, Wal-Mart, or Target (or our linen closet, as luck would have it!).

My daughter has this pair of pink Converse All-Star high tops that we bought at a thrift store… I though they would be perfect for this little experiment. I suggested it to my daughter and she was all for it. Here's what we did: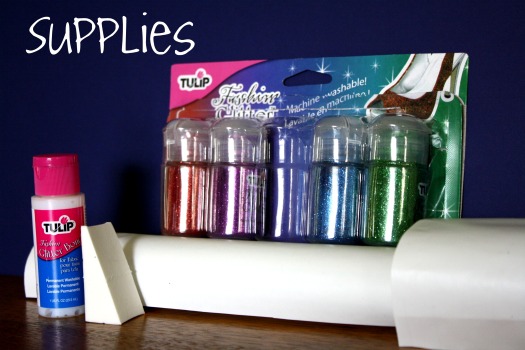 Supplies for Glitter Painting Shoes:
Tulip Fashion Glitter Bond
Tulip Fashion Glitter
contact paper
exacto knife
make up applicator sponge (comes with the glittler bond)
self healing mat (optional, but very handy)
1. We decided on what picture we wanted.  Lucky for me, she wanted a star, which is as easy as pie to create in a Word document and print out, directly onto the contact paper.  Print it and cut it out with an exacto knife (use a self healing mat if you have one, they are wonderful for this kind of project).

2. Stick the contact paper stencil directly onto the shoe.
3. Apply Fashion Glitter Bond by Tulip, making sure that the entire inside of the stencil is covered with a thin layer of glue.
4. Sprinkle the glitter over the glue, making sure to cover all areas.  My daughter got a little bit glitter happy here.  Tap off any extra glitter.


5. Allow to dry before pulling the contact paper off of your shoe.
6. Admire your handiwork!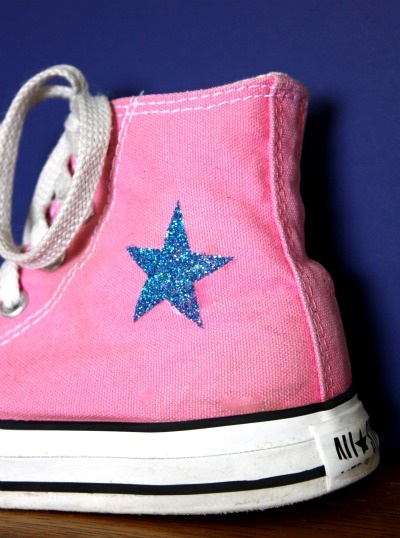 There are lots of possibilities with this glitter bond and fashion glitter. T-shirts, tote bags, hats… you name it!  Have fun and be creative!

Jenny Yarbrough resides in Nashville, TN.  She is a blessed wife and mother of three young children, and the owner of Southern Institute of Domestic Arts and Crafts where she blogs about family, faith, sewing and crafts, and healthy living.  You can find Jenny at her blog, on Facebook, and on Twitter.