This year we're heading up to our Aunt and Uncle's for Thanksgiving. I wanted to give them something fun for hosting us, so we've personalized a bread basket liner for Thanksgiving. These cute little turkey hands come from my 3 kids, something for our hosts to remember us by.
Supplies for Thanksgiving Bread Basket Liner:
piece of plain colored fabric – 18 in x 21 in – you can hem the edges, but I left them cut to fray in the wash for a more rugged look.
fabric paint – thanks to DecoArt for the fabric paint medium
paint brush, a few sizes
paper cups and plates
newspaper
little hands
1. Pour your paint into small paper cups. Then using your paint brush, place some paint onto your paper plate, into the shape of a turkey. We used red, yellow, and brown.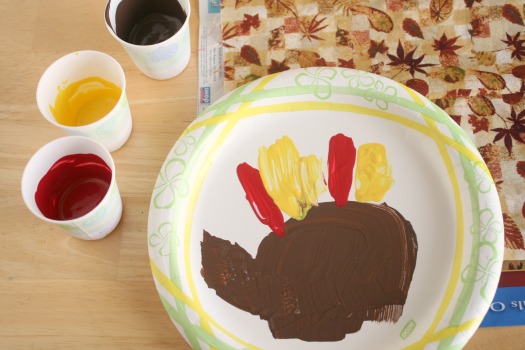 2. Place newspaper underneath your fabric. Have your child stamp their hand into the plate, the colors all sort of mixed together to form a fun stamp with their hands for a turkey. Then stamp their hands onto the piece of fabric carefully. Press their whole hand down, and each finger, making sure it gets stamped everywhere on the fabric. Lift their hands up carefully. Repeat this process for as many stamps as you'd like to make. Each of my 3 kids did 2 stamps, making 6 turkeys.
3. Once the hands are stamped, using a thin paint brush, paint on some orange legs and a beak, as well as a red waddle on the beak.
4. Let this dry overnight. Heat set it if you're using a fabric paint (5 minutes under an iron). Then give it a wash and iron it flat.
Now it's ready to line your basket of dinner rolls. Perfect for Thanksgiving. And my Aunt and Uncle will always remember our visit for Thanksgiving.
For more Thanksgiving fun, print out this darling Thanksgiving Turkey Printable!