We're starting off our Holiday ABC's with the letter A and an advent project, helping countdown to Christmas with festive activities. One reason I love this advent below is that we can use it year after year. By using a dry erase marker and metal surface, we can simply change up the activities by wiping them away and adding new ones. Here's how we made this year's wipe-off advent calendar.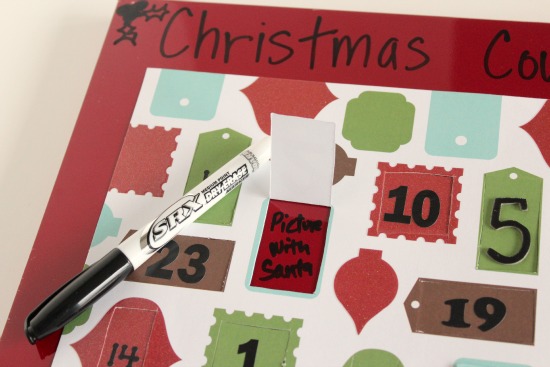 Supplies for Holiday Wipe-Off Advent Countdown:
14×14 inch metal piece – I bought this red metal wipe off board from Target. But you could simply buy a sheet of metal from a hardware store. Something magnetic and wipe-able.
12×12 piece of cardstock paper, any style
exacto knife and cutting surface – I just used a cork board trivet
sticky back magnets
black number stickers
black dry erase marker
1. First, you want to cut out 25 flaps to your cardstock paper, using your exacto knife and cutting surface. I found this fun "gift tag" paper down in my paper stash and it's going to fit in perfectly. I can't remember what brand it is, so I can't tell you where to get it. But you don't have to have special paper like this, you can use any style paper and simply make 25 cut flaps anywhere on there.
Once your cut flap is made, bend it all the way back and bend it again all the way forward through the hole to make it stay flat for countdown time, as to not show the message underneath.
2. Add a number sticker to each of the flaps, all in different areas.
3. Add magnets to the back of your paper to stick it to the metal sheet. I had a thin magnet sheet that I cut out small rectangles to add to the back of my paper.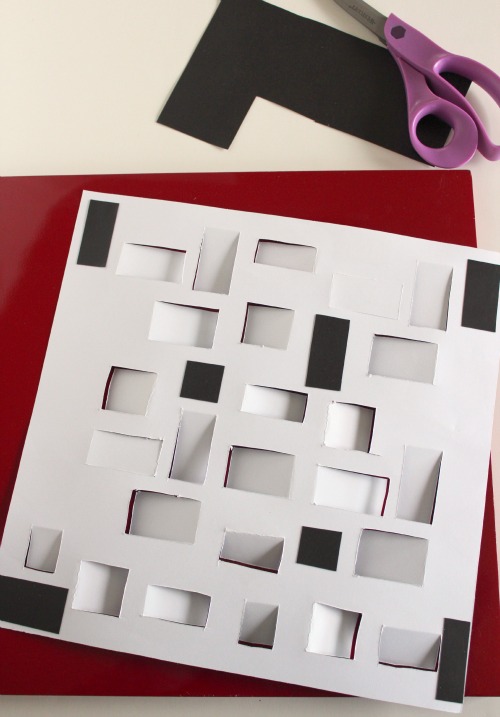 4. With your dry erase marker, write in different activities for each of the 25 days. Here are the activities I added for this year:
drink hot chocolate with peppermint whipped cream
watch the movie Elf
visit Santa and take pictures
go see the lights downtown
take a neighbor some homemade cookies
sing Christmas songs
listen to Christmas music
watch Charlie Brown Christmas special
frost gingerbread houses
make these simple jingle bells
drive to find a lit up neighborhood street
decorate Christmas cards
have kids earn $ to donate a present to charity
make wreath plates and give someone treats
craft place settings for Christmas dinner
serve Santa pancakes
pull out a favorite family puzzle
watch the movie White Christmas
read The Night Before Christmas
open presents Christmas morning!
Here are a few other advents we've created over the years:
How are you counting down the days?