These Ribbon Wrapped Gift Baskets would be great for almost any holiday, but are fun in red, white, and blue for the 4th of July! They would be perfect gifts to give to a neighbor or friend, filled with yummy holiday treats! Or carry along your family's belongings to a 4th of July party.
Supplies for Ribbon Wrapped Gift Baskets:
plastic baskets with holes in the sides
ribbon, any color or width, 3-4 feet in length for each basket
scissors
I've wrapped these ribbon baskets 3 different ways. Each is unique and festive. You decide which one suits you best.
Option 1: Cut little strips of ribbon 5-6 inches long each. I used 2 different colors of ribbon to make it pop and tied each piece of ribbon around the handle into a knot. So easy!
Option 2: Simply wrap each handle around and around with ribbon. It's best to add a glue dot or piece of tape to hold the ribbon in place at one end. Then tie the two ends together when they meet at the other end of the handle. Cute!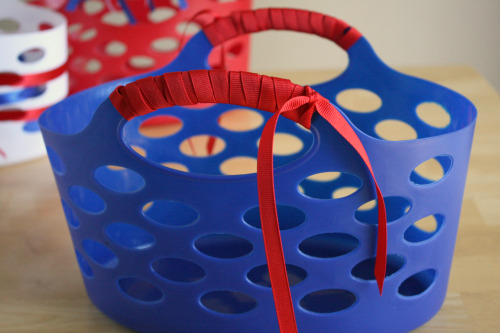 Option 3: Cut out 2-3 colors of ribbon to thread through the holes of the basket. On most baskets I've seen, the holes are uneven and odd numbered, so they may not match when you thread them through to the other side. But do your best to alternate holes and tie the two ends together when they meet again.
Which option is your favorite? I think mine is #1, as I love the alternating ribbon frills.