Today I'm showing you how to make these super cute gumball necklaces for under a buck, and perfect for YOU to wear, not just the kids! Big chunky necklaces are all the rage these days!
Make DIY Gumball Necklaces
When I spotted one similar necklace made with beads, it cost $30. Definitely not in my price range for a piece of jewelry my kids are just going to break. I'm sure you all know how that goes, haha! We've seen tutorials for gumball necklaces for little girls, but then I thought why not make one for me?! I absolutely love how it turned out and got tons of compliments when I wore it. No one could believe they were gumballs!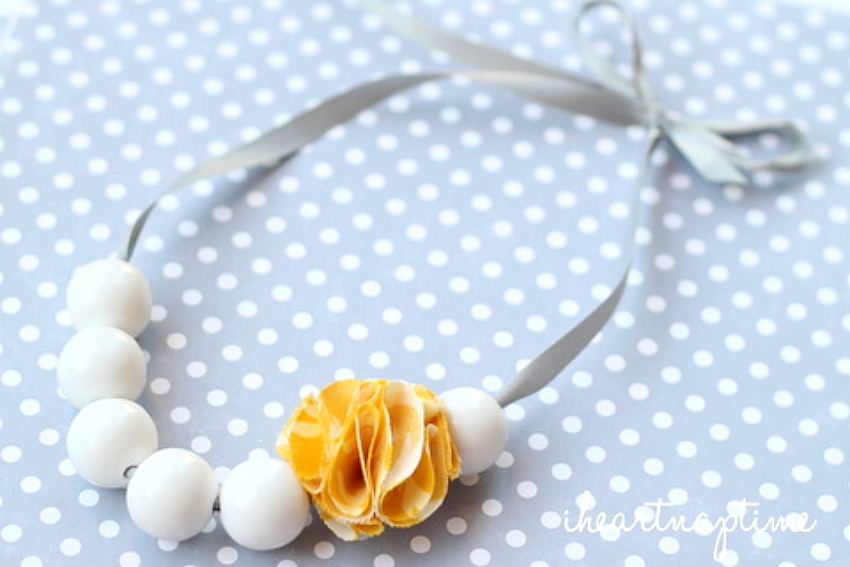 DIY Gumball Necklaces Tutorial
Supplies:
6 large gumballs (can be found at the dollar store or party city)
40 in. of ribbon (1/4 -1 in. size)
needle and thread
scrap fabric
doll needle
knitting needle
Instructions:
1. Pierce gumball with needle. Then pierce another hole on the opposite side of the gumball. This is basically just making your mark.
2. You will use your knitting needle to push through the hole (only half way or it will crack). Then flip the gumball and push the needle through the other side. Make the hole large enough for the ribbon to fit through.
3. Thread your ribbon through a doll needle and push the needle through the hole in the gumball. Repeat with 5 of your gumballs.
4. Use fray check on the ends of the ribbon to stop the edges from fraying.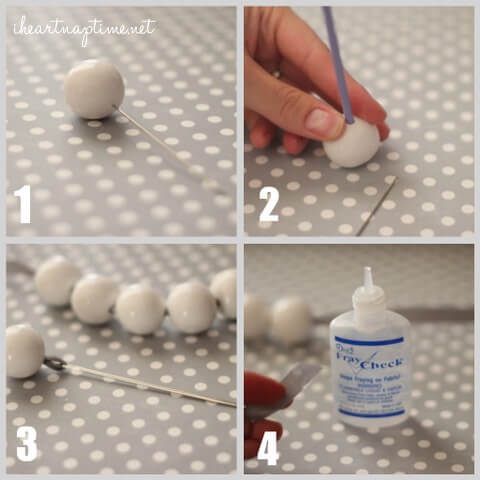 If you'd like to add a flower on your necklace follow these simple steps:
5. Cut (6) 2 in circles. Then you will fold the circles in half.
6. Fold your circle in half again, creating a pie shape.
7. Tie a knot on the end of your strings and thread the needle through the corner of the "pie". Let's call it a pumpkin pie. ;)
8. Thread all the circles on the string using step 7. You may need to turn the "pies" to create a full flower.
9. Stitch the bottom of the flower to the ribbon (or you could use hot glue… which, let's be honest, is sometimes easier, and faster). lol
10. Tie a knot in the ribbon so your last gumball won't be hidden under the flower.
11. Add another gumball and your done!

Yay!!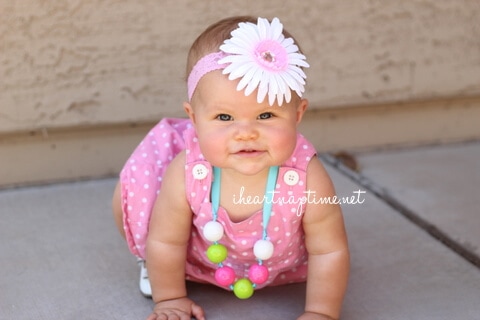 If you'd like to make one without the flower, just simply tie a knot in between each gumball. Simple as that!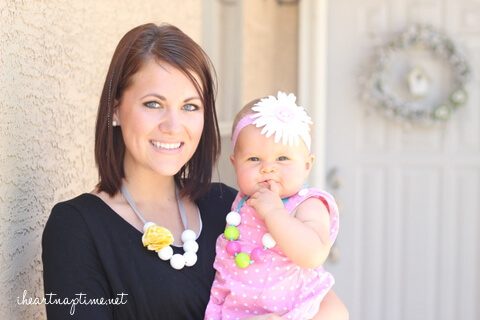 Now enjoy your new gumball necklace! I promise these are super easy to make and take less than ten minutes once you have it down.
Pin this tutorial for later: