How much do you know about mangos? How often do you eat them or cook with them? If you are like me, not very often. But that is about to change. The National Mango Board is launching a new campaign to get the most popular fruit more recognized in America.
This launch includes the new face of mangos, Jango Mango. He is a hip-happenin mango fruit that loves to shake the maracas and do the Fandango. He is getting kids excited about mangos through creative expression. There are crafts, puzzles, maps, music, all to get children and their parents, introduced and excited about Mangos.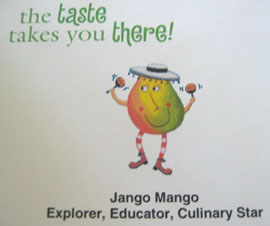 I just received a Mango Kit that has all of these great things inside. My kids and I have been exploring the world of mangos. In the kit were 2 mangos ready to explore. We decorated one with the craft supplies provided, a fish named Rango. Then we cut one open and got to eat this exotic fruit, deliciously sweet. There are also some great recipes at Mango.org and some other fun ways for kids to eat mangos. Yum!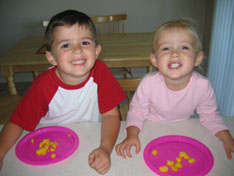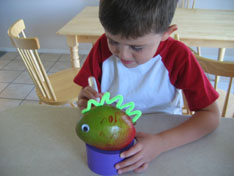 Giveaway: The National Mango Board has given me a second Mango Kit to give to a Make and Take reader. Simply leave a comment below and you will be entered in to receive this fun and creative kit. You have until Thursday at midnight mountain time, and the winner will be announced Friday Morning. Yeah. What fun. Have fun exploring and tasting the world's most popular fruit and leave a comment to win your own mango kit!