Knock, Knock
Who's There?
Pamela
Pamela, Who?
Pamela from Frenchknots Guest Posting today on Make and Takes
My boys are soooo into Knock, Knock Jokes lately. In the car, at the dinner table, in the bath, they can't seem to get enough of them. So, I thought what better way to get them involved in Valentine's Day then to make this year's Valentines all about Knock, Knock Jokes.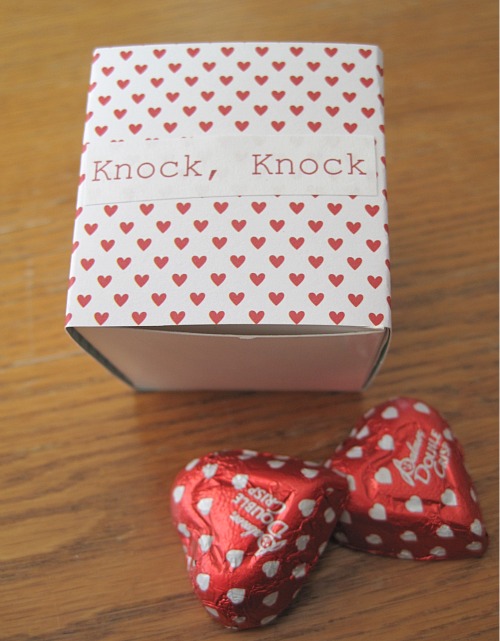 Concept: I came up with this cute idea while sitting at a wedding reception. My boys were so into these little 2x2x2 inch boxes and the fun contents inside. Don't these little boxes just say, "open me?' Especially when it says: "Knock, Knock"!! I found my boxes at a great storage/container store called XPEDX the boxes were 25 cents. Check at your local storage/container store, wedding or craft store for boxes.

Filling Valentine: Fill box with yummy V-Day candy and cute knick-knacks. When I took these photos, I used what I had on hand, which were itty bitty nail polishes and candy. For boys, I was thinking miniature dinosaurs, bouncy balls, even quarters (my boys love $).

Making "Wrapper": At my local scrapbook store I bought some simple valentine paper. I figure the 12 by 12 inch paper would "Wrap" at least 7 boxes. Cut paper 2″ by 10″ and "Wrap" boxes all the way around having the 1st and 5th sides overlap and glue. "Wrapper" should easily slip on and off box.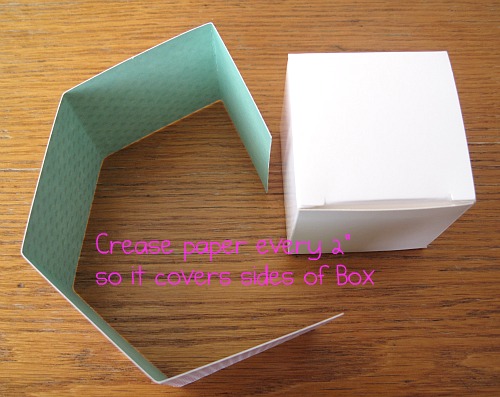 Placing Joke: I found this joke on a kids website and thought it was pretty cute. When it comes time for making my boys class valentine's we will either choose our favorite joke from the website or make up our own!
Knock, Knock
Who's there?
Frank
Frank,Who?
Frank You for Being my Friend!
As the child opens the box the joke is revealed, the answer being tucked inside the box with the treats. My boys (ages 9 and 5) and I made a few of these Valentines…. they loved making the box and of course filling it with treats and surprises. We had a bit of a assembly line going and I helped my 5 year old attach the words, but with a handy clue stick and the words pre-printed out it was a snap for my 9 year old.
Other Ideas: If you have a child younger than five this would be a perfect present/craft to give to grandparents, playmates, Daddy or Mommy. You might even let them decorate the box with markers and/or stickers to help them personalized it. My preschooler and third grader are planning to make enough for their classmates at school.
More ideas for jokes? Here are 35 Jokes Your Kids Will Love!
Thanks again to Marie for letting me guest post and sharing a sweet "joke" about my favorite Holiday!!
Pamela is the author of the crafty blog: Frenchknots. She lives in Utah with her husband and two sons. Her favorite holiday is Valentine's Day (yes, more than Christmas!!) and her favorite colors are pink and red. When Pamela isn't crafting with her sons, she is quilting, cooking, reading and or running; not in that order or all at the same time.