Mother's day is just around the corner. Have you found the perfect gift? If you're still looking for something special and unique, she is going to love this darling DIY Photo Box!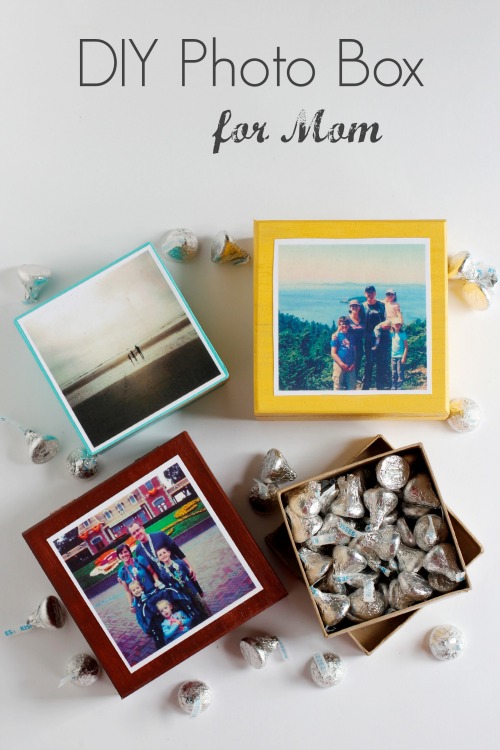 It's perfect for showcasing all those instagram photos you've been taking of the kids… just what mom or grandma would love to receive!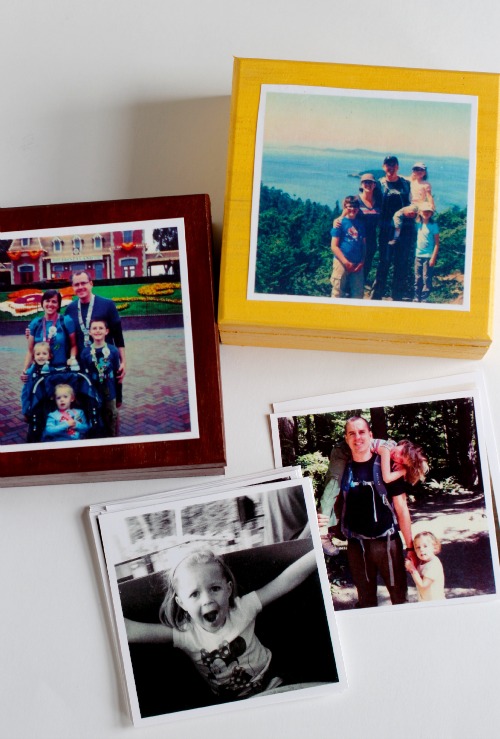 DIY Photo Box
It also makes for a great little candy keeper as well. Fill it with some of Mom's favorite treats, along with a few photos underneath! She'll love it!
Supplies:
square jewelry box – 5″ box with a hinge or just a 4-5″ square cardboard box
sponge brush
craft paint (optional)
decoupage (Mod Podge)
printed photos and/or treats
NOTE: when printing your images, use a hard cardstock paper and a dry ink laser printer. I had my images printed at a local copy shop with their color laser printers. This way, they won't smear when you add the decoupage!
Instructions:
1. If you'd like to decorate your box with paint, do this first. You can simply stain it or use an acrylic paint and give it some color. Let this dry completely before moving to step 2.
2. Choose the image that is going to be on the top of the box. Add some decoupage to the top of your box. Add some decoupage to the back of your image. Place the image in the center top of your box. Press it down with your fingers and secure it in place. Let this dry completely.
3. Add more decoupage to the top of your image and all over your entire box. This seals on the photo in place and it gives the whole box a nice finished shiny look. Let this dry.
4. Now it's time to add your photos to the inside of your box. Or add in some of mom's favorite treats.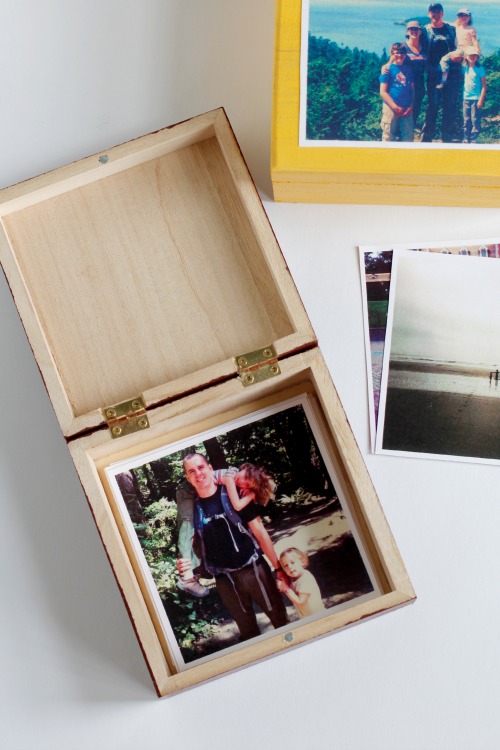 For one of the boxes, I added some seaglass. I chose a picture of my kids at the beach and placed in some of the fun seaglass we collected to remember our day in the sun! (This one is for me!)
Now your fun DIY photo box is ready to gift to mom or grandma for Mother's Day!
Watch our Mother's Day Craft video for loads of ideas for kids crafts!
*Originally posted 5/2/14