Being a craft blogger I have a craft room dedicated to working on my projects so I'm always trying to find ways to organize and make it look prettier. Sometimes this means using things from around the home, like mason jars to store bits and bobs. So, today I want to show you how to turn a simple mason jar into a pin cushion jar. This project takes about 30-minutes so you can whip one up while catching an episode of your favorite series.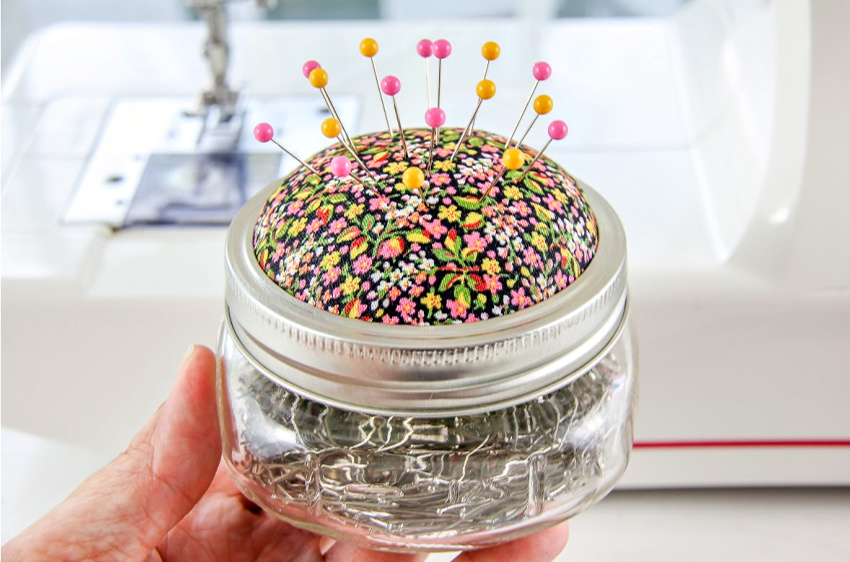 Do you remember when I recently made the hair scrunchies? You might recognize the fabric I used from that project. It's amazing what one little fat quarter can produce. I also used a few strips of it to make a small fabric garland to hang on the wall.
How To Make a Pin Cushion Jar
You can probably make this pin cushion jar from items you keep around the house, and make many more as gifts too, especially if you are like me and have a cupboard just dedicated to mason jars.
The container on the right in the below photo is what I was keeping my sewing pins in. It has to be well over 15 years old, I'm pretty sure I bought it before moving here from Australia (and I've been here 15 years) because there's a small Safeway sticker on it, and over here (at least where I live) Safeway is Vons. I also had a separate pin cushion to keep next to me while I was sewing. Now everything is together.
Supplies:
Fabric
Embroidery thread and needle
Mason jar
Stuffing
Felt
Fabric marker
Hot glue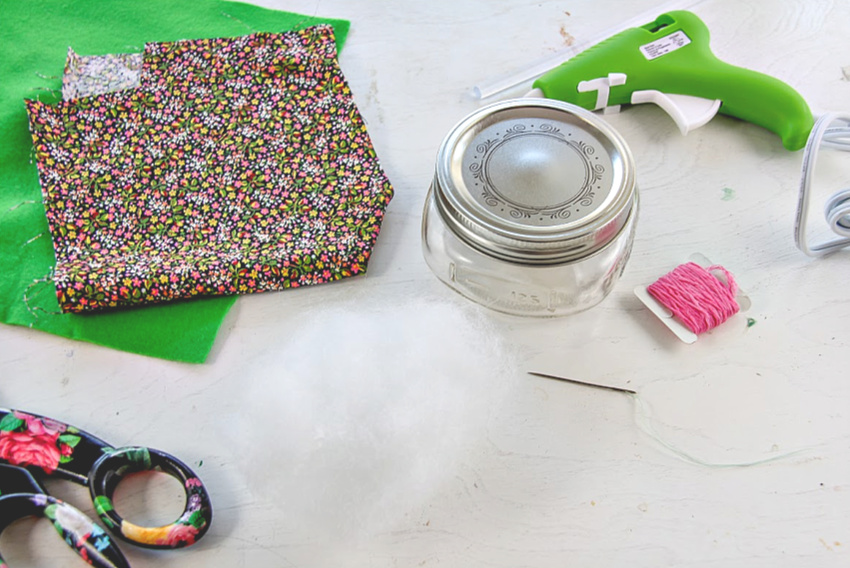 Instructions:
The first thing you want to do is measure out the backing for the jar, so you don't forget after it's all assembled and need to pull everything apart … don't ask me how I know this.
Lay the jar lid on top of the felt and draw around it with the fabric marker. Cut out your circle and set it aside.
The next step is to measure your fabric. You can do this in a few ways.
lay your jar lid onto the fabric and measure at least an inch wider all the way around
use a protractor to measure out a circle that's at least an inch wider than the lid
or grab a trusty bowl from the kitchen (which I did) that's larger than the lid and draw around it with the fabric marker
Tip: The more stuffing you put into the fabric, the more fabric you will need. So if you want an extra poofy pin cushion, then make your fabric circle just a little bit wider, say an inch and a half larger than the lid.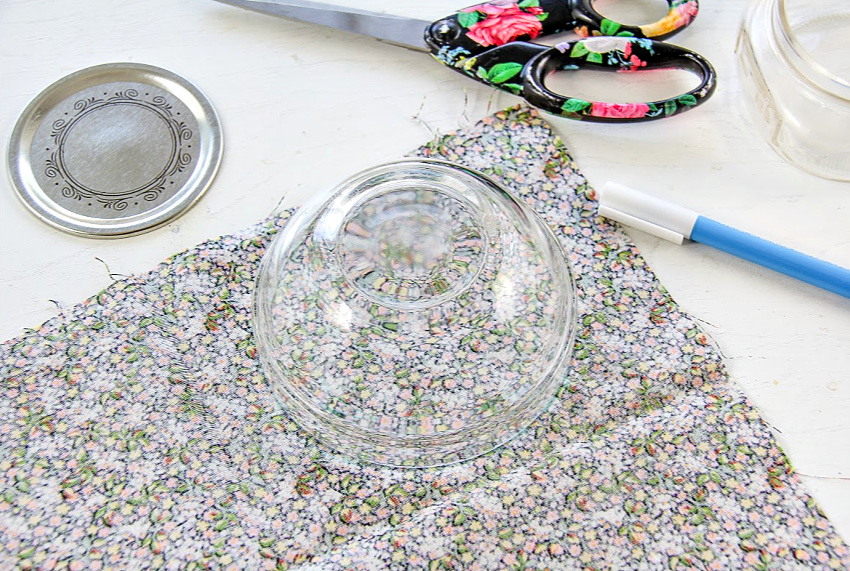 Next, take the embroidery thread and needle and hand stitch about half a centimeter from the edge of the fabric all the way around, gathering it up as you go. I prefer embroidery thread for this instead of cotton because it's stronger. If you are rough on things like I am, then you'll want to make sure it doesn't fall apart later. You're essentially making a little basket to hold the stuffing.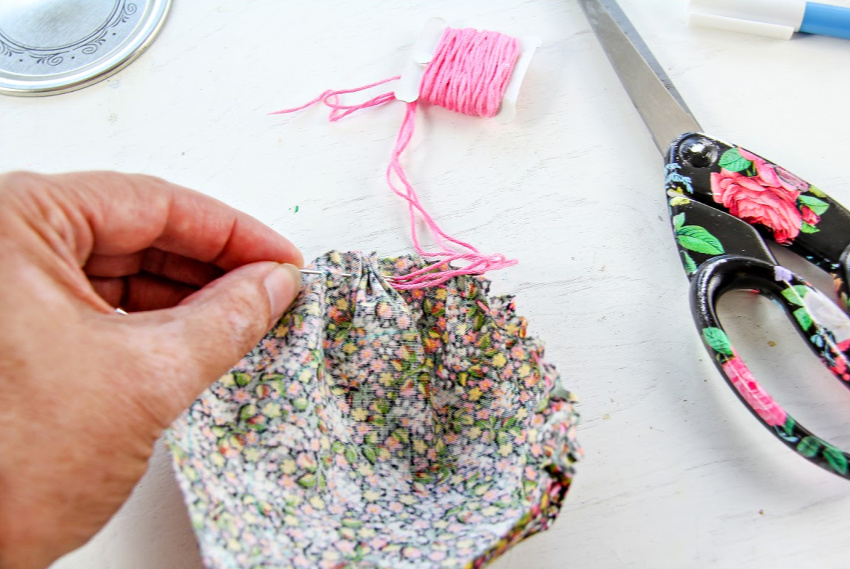 Now, pop your stuffing inside.
And then your jar lid, making to pop it in the as shown.
Pull the embroidery thread tight and sew a couple of stitches to secure it in place.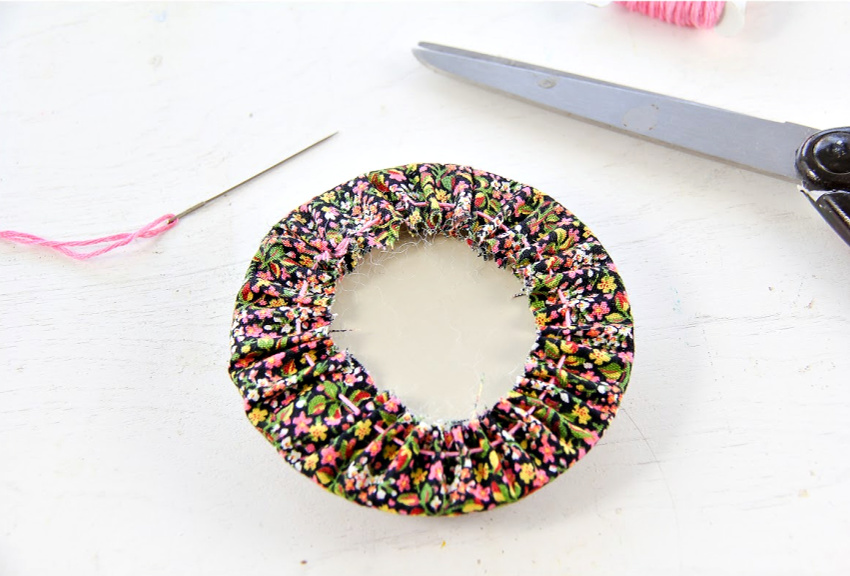 The last step is to use a little hot glue to secure the felt backing you cut out earlier onto the back to not only hide the stitches, but the glue will stop the fabric from fraying too.
Push it firmly into the jar ring, fill your jar with pins, and pop the lid on. You might need to push down firmly on it to secure it because you have all that extra 'stuff' inside the lid now.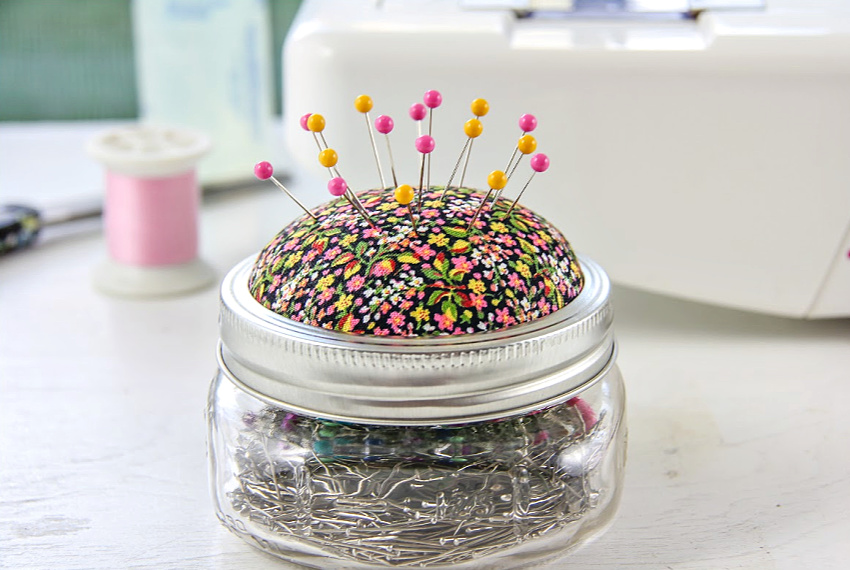 Please Pin Post For Later: