We made playdough! I love to make playdough. It is super soft and last quite a while stored in the fridge. I did a previous post last February with THE best Playdough Recipe. That post also tells how to make some great Playdough Placemats, helping to keep your table playdough-free.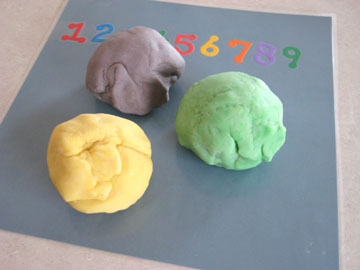 For this playdough, I wanted to make a few different colors from the same batch. In the other playdough post, I added the food coloring during the cooking process. But this time, I added it after to make a few colored balls.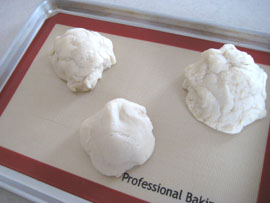 Lay out your playdough and separate it into balls. We wanted 3 colors, so we made 3 balls. On a tray lined with foil, so I don't spill any food coloring on my counter, I made a hole in the center of one of the balls. We are making purple here, so I dropped some red and blue drops into the ball, about 4 drops each. Then get on plastic gloves, or my make-shift gloves that are plastic baggies.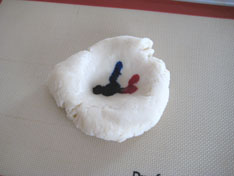 Knead and squish the playdough all around. Once the food coloring is mostly mixed in, you can continue kneading the dough without the gloves. Your forearms will be nice and bulky after this! I let the kids help here and as they play, it all gets mixed together nicely. Continue to do this same process with the other colors.
We had a fun time with playdough. I say we, because I get my hands in it too. A friend gave us this great Play-doh Zoo set that gives the playdough some silly faces.