We can't get enough of spider crafts at our house. The kids love playing with the yarn and wrapping it around everything, like these giant spider webs, spider hats, or icky sticky spider webs. These paper spider webs are easy for the kids to lace, perfect for a spooky craft.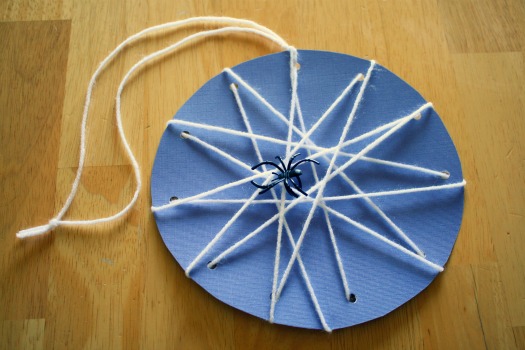 Supplies for Lacing Spider Webs:
yarn
scissors
hole punch
circle paper – preferably cardstock
plastic spider ring – you could make your own spider from yarn or pipe wire as well
1. Take your circle paper and punch holes around the edge, as far or close as you want. The more holes, the more web you'll have.
2. Cut your yarn, fairly long to lace around the whole circle, and tie it tight at the top through the first hole. Now lace your yarn through each hole. We tried to stay going in a circle to end back up at the top, but you're welcome to go crazy and lace in any order.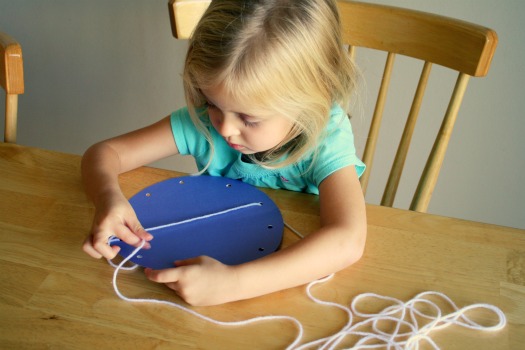 3. Attach your plastic spider somewhere in the yarn. You can loop it through your yarn on the way to another hole. If you want the spider to slide the best up and down it's web, attach it before the last hole, then it doesn't get stuck.
4. Once you go through the last hole, tie the yarn together in a knot and it's ready for hanging.
Have fun lacing these spider webs, and try not to get caught. For more lacing fun, check out Little Birdie Secrets Lacing Card Tutorial.