It used to be that every Christmas, we spent more time away from home, than at home. The minute we were done opening presents, we rushed off to visit family. Soon enough, we were off to visit even more family. Finally, at the end of the day, we would come home, crash, moan about how Christmas is a lot of work, and how the house is such a mess.  It was always fun, but exhausting.
Then, we did something CRAZY. We told everyone that we weren't leaving our home until Christmas night, to be with family for Christmas dinner. We were having our own Christmas Eve party at home (with just us), and spending all of Christmas day at home. Ahhh…home. We felt like we were disappointing lots of extended family, but something amazing happened, Christmas went from fun to REALLY special. And, a special Christmas is always fun!
It was the first time that we got to start our favorite Christmas traditions. And, we have several traditions, that we've done for a couple years now, that we LOVE! So, I thought I would share them with you.
Our Favorite Christmas Traditions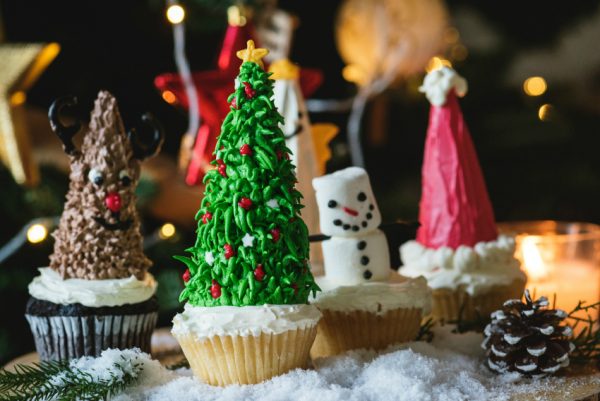 Christmas Tree
I used to decorate my tree with all these cute rustic country ornaments.  But, then we decided to shake things up and make our tree more fun and meaningful.  Every year, I take the kids on an outing to pick a new ornament.  The catch is that the ornament has to have something to do with them that year…things they like to do, hobbies they have, sport teams they like, whatever.  When we bring them home, I take a magic marker and write really small on the bottom of the ornaments, their initials and how old they are.  I even pick one for myself and the hubs!  So, our tree is decorated with random ornaments:  Star Wars, The Office, Barbie, an elk, a camera, a golfer, Where the Wild Things Are, a corvette, Survivor, and so on.  When I pull out  the ones from years past, the kids love to see them again and remember the things that they used to like (or still do.)
Christmas Books
I bought 24 children's Christmas books, one for each day leading up to Christmas.  (Don't worry,  you use the same ones every year.)  I re-wrap each one of them and put them under the tree.  Every day, in December, the child whose turn it is to take the candy from the advent calendar, also gets to unwrap a book from under the tree.  I keep the books packed away throughout the year, so the kids are always excited to unwrap the books and see them again.  Then we will pile on the couch and read our Christmas story.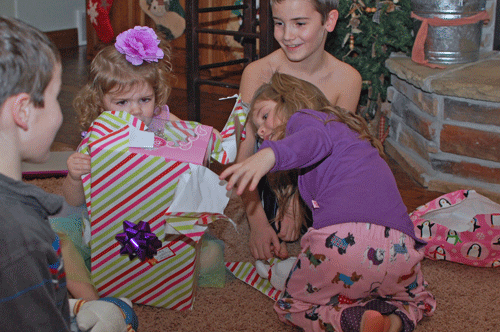 Christmas Eve Party
Like I said earlier, this is just a 'Dad, Mom, and the Kids' party.  We begin the night by having candlelight dinner at the table.  We always have potato/bacon soup, rolls, and sparkling cider, served in plastic party goblets.  I bought some fun reindeer plates from Pottery Barn Kids, that my kids LOVE.  They get so excited to pick which reindeer plate they are going to sit at.  Small pleasures. :)
After dinner, we start the fun and games.  The kids like to play 'Santa Says,' and another game where they guess what they are feeling in the stocking.  Their very favorite game is where I set a lit candle on a stool, in the middle of the room.  One person is blindfolded, and spun around.  They get just one blow to try and extinguish the candle.  It's hilarious to see them blow really hard, 5 feet across the room, facing the other direction.  We play games until everyone has earned a small prize.
When we're pooped, we gather around the fire while Dad reads the Christmas story, from the Bible.  Afterwards, the kids hustle to the tree.  We allow the kids to give the presents they bought to their siblings.  But, before anyone can get their sibling presents, everyone has to say something kind about that person.  This is my favorite part!  It is so awesome to hear my kids say nice things about each other…melts a mommy's heart.  The other part I like about this, is that the sibling gifts are extra appreciated because they aren't lost in the chaos of Christmas morning.  We give everyone a chance to play with their new gifts and call it a night!  The kids all sleep in the same room with Mom and Dad shouting death threats to them, every time they try to come out.  Because, everyone knows that Santa doesn't come until you're sleeping…
So, IF your Christmas feels chaotic and exhausting, I SO encourage you to bring it in, make it more intimate and peaceful.  Plan the big shin-digs for before Christmas and Christmas Eve.  Or, maybe just say "Sorry, we won't be there this time."  Maybe just save Christmas dinner for the big groups, like we do, or invite grandparents over for Christmas breakfast.  Really.  Toning-it-down is one of the best Christmas presents we could have given our family.
Enjoy the season!
Photo by rawpixel.com