My kids have yet to make it to midnight on New Year's Eve, but this year my son is determined to stay up… we'll see! So in preparation, we're gathering our pots, pans, and noise makers for the big count down. We've been crafting these fun Homemade Noise Makers out of recycled paper rolls.
Supplies for Paper Roll Noise Makers:
empty toilet paper roll OR paper towel roll
wax paper/tissue paper – cut a 4×4 square for each (Wax paper works best as it's more sturdy, the tissue paper tends to tear.)
hole punch
rubber band
markers, stickers, crayons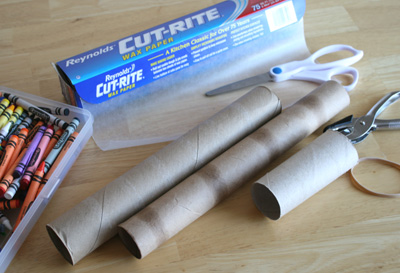 I learned how to make this is a fun musical instrument in college for a class called, Music in Education; teaching kids that music can be made out of almost anything! So true.

On one end, punch a hole about 1 inch in from the edge. Now on the same end, fold over a square cut piece of wax paper over the opening. Use the rubber band to hold it in place.
Make sure the paper is on tight over the end. It won't make a good sound unless the paper is on tight. Now on the open end, say "Do Do Do Do" into your tube to test out the sound. It should sound kind of like a kazoo. We were "Do Do-ing" the song to Star Wars and it sounded great!
Decorate your noise maker with your markers, stickers, and crayons and you're set for Midnight! Have fun making noise to ring in the New Year. Happy to 2009!