With summer in full force, and we're all spending a lot of time at home these days, this No-Sew Superhero Cape is just the project for your week! Not only is it very easy to make, this cape can transform your ho-hum summer plans into something fantastic and fun!
Make a No-Sew Superhero Cape
It's time for a little imagination as my girls pretend play with a new no-sew superhero cape! This DIY tutorial is "super" quick and easy to make, helping your little ones get their superhero powers in no time.
For today's superhero tutorial, we are partnering with one of the silliest book series around, Captain Underpants by Dav Pilkey and Scholastic, as we find our own inner superhero! Yes, this is the 12th epic novel in the Captain Underpants series and there's so much fun to be had in this next installment.
Super Readers!
There's something rotten in the state of Ohio, and it's smellier than a pile of putrid gym socks! Steer clear–it's Sir Stinks-A-Lot! Best friends George Beard and Harold Hutchins are the unofficial class clowns of fourth grade. There's nothing they love more than making comic books about a silly superhero named Captain Underpants. But now they've accidentally transformed their mean school principal, Mr. Krupp, into Captain Underpants himself! Join George, Harold, and the Waistband Warrior as they fight for Truth, Justice, and all that is Pre-Shrunk and Cottony – and save the world, too!
I'm making this quick and easy superhero cape for my girls to wear, giving them special superhero reading powers as they snuggle up with their favorite books! Here's the step-by-step tutorial to make your very own.
DIY No-Sew Superhero Cape
Supplies:
(makes 2 kid capes)
1/2 yard fabric – no fray fabric using either polyester, felt, or fleece
scissors – good fabric cutting scissors
felt pieces in different colors
glue – hot glue is quick, but you can use E-6000 for a good hold or tacky glue if you can wait overnight for it to dry.
Note: There's a lot of free-hand cutting in this tutorial, but this cape is so forgiving, there's no need to worry!
Our material is polyester, about the only time I've ever chosen to use polyester. But it's light, a little stretchy, and the edges don't fray. This makes for a great no-sew cape, and with only a few cuts, you're already at superhero status.
Directions for no-sew superhero cape:
1. With your 1/2 yard of fabric, cut it into 2 pieces lengthwise so you'll have a second cape to make later. One piece should measure 28″x18″.
2. Fold your fabric in half. On the top of one end, starting on the fold side about 4 inches from the top, cut straight and then up towards the top, making a sort of half U shape. Start to curve your scissors up when you are 1-2 inches from the edge. The long thinner ends of the U shape will be how the children tie the cape around their neck.
Optional: at this point, you can glue or sew on a piece of Velcro onto either side of these thinner ends for kids to Velcro their capes around their necks.
2. With your fabric still folded in half, turn to the other end. With your scissors, starting from the folded side, cut 2 large scallops (when the fabric opens, there should be 4 scallop shapes.)
As you can see, my cuts aren't perfect, but this fabric works itself out when it comes cutting. By the time my kids wear it, it stretches a little and those cuts smooth out. No need to be perfect.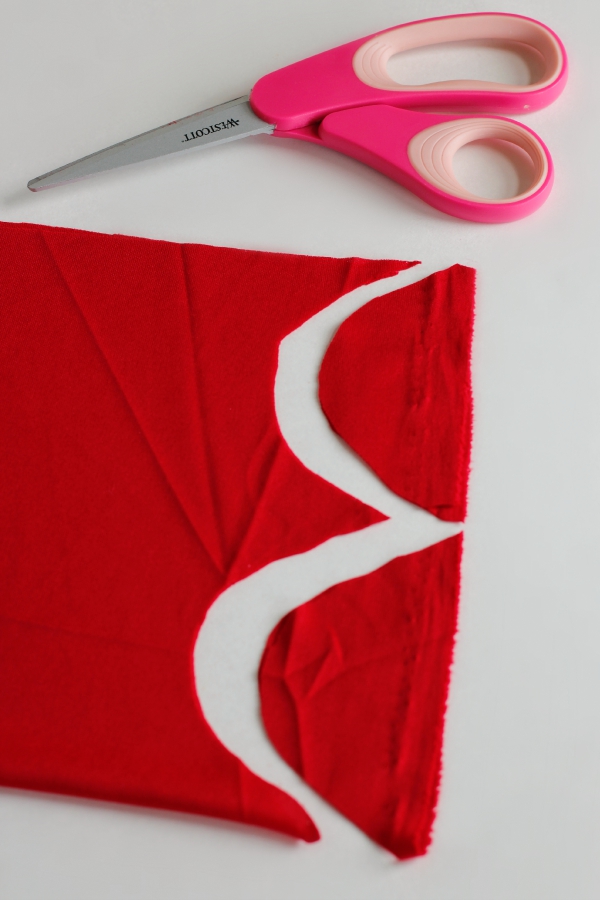 You can be done with your cape here. That's it! Just a few cuts and you're on your way to being awesome. But… we wanted to add a little flare to our capes, sharing a little more information about our actual super abilities!
3. With your felt material, cut out a superhero symbol. My youngest daughter chose to be "lighting fast", so I cut a lightning bolt out of felt freehand. You can find images on the internet and print them out for a pattern, depending on what your child would want on the back of their cape. You could even put the first letter of their name on as well.
4. Glue on the felt shape to the back of the cape. You'll want to glue it about 1/2 way up from the bottom and centered. I used hot glue so it would dry fast, but hot glue is for adult-use only. If your child wants to do the gluing, you can use craft glue, like tacky glue, and let it set overnight.
For the gluing, add a dab of glue to the center of the shape and lightly press it in place. This helps the shape stay put. Then glue one small section at a time, making sure to press as you go. NOTE: be careful with hot glue, it can bleed through the felt if you use too much or press too hard and can burn slightly.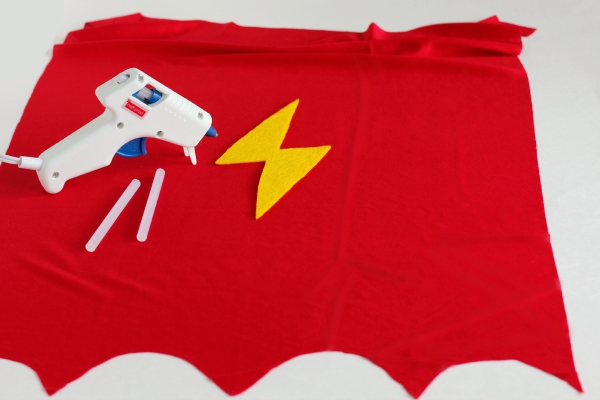 You're done.
This cape just needs a superhero to try it on. Tie the two top ends around their neck into a soft knot. They are ready to be awesome. Grab their favorite book and a little imagination, and they're off to doing something amazing!
We've got our lightning bolt of quickness and a time traveling superhero… Zooooooom away!
But as always, save a little time for a dance party in our new no-sew superhero cape  ** woot woot **
Check out how Dav Pilkey, author of Captain Underpants, shares how reading really does give you superpowers in the video below:
*Thanks to Scholastic for sponsoring this no-sew superhero cape post. Be sure to visit them on Facebook, Twitter, Pinterest, and Instagram with the hashtag #PilkeyPower for more fun with reading and inspiration!
**Originally posted 9/8/15