I've made pop up cards before – these fun Valentine Heart Pop Up Cards. This is a great card for you or your little one to help make for Valentines.
Well I've got another version of the pop up card. A card that pops out! It's perfect for creating something different and festive on Valentines.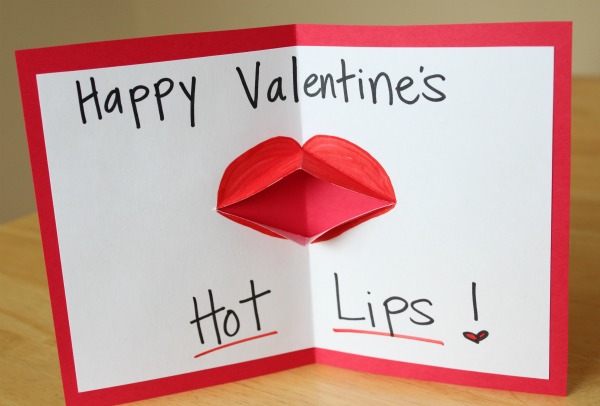 Supplies for Pop Up Pop Out Cards:
1 sheet of paper, any size or color
pencil
scissors
1 sheet of cardstock paper, larger than the first paper
markers, crayons or stickers to decorate
1. Fold your smaller paper in half. With your pencil draw a line on the fold. The line should be as long as you want, but make sure not to go too far to the edge. You can also place it on the top or bottom half of the fold, it doesn't have to be in the middle.
2. Cut along your pencil line.
3. Fold back each of the cut pieces, forming it into 2 triangle shapes, and making a good crease.
4. Bend the folds back in and open the card. Bend the folds through the front and pop them out to look like a mouth.
I love this one and you can do lots of things with this mouth. I made "Hot Lips", but you could draw a face around the mouth or make it an animal beak. I've also seen these pop up cards with a frog mouth. Way to much fun with these pop up cards.
Glue your second piece of paper to the back of the card, so you don't see the hole in the middle. Add marker or stickers to make it stand out.
Have fun making your fun Valentine cards POP!
Want more ideas? Here are 25+ Ideas for Kid's Valentines Cards!