This recipe for semi-homemade donuts starts from a can, but comes out baked hot and fresh. Using ready-to-use biscuit dough, these donuts are easy and fast to make!
Recipe for Semi-Homemade Donuts
Ingredients for Donuts:
biscuit dough – ready to use or from scratch
small circle cutter – I used a medicine cup
1/4 – 1/2 cup cooking oil
tongs
paper towels
cinnamon & sugar mix
Method:
Ready your biscuits and spread them out on a cutting board. If using biscuits from a can, they are already the perfect size for these donuts. If making from scratch, get the dough ball to a 1/2 thick and 3 inches across.
Using a small circle cutter, press out a donut hole right in the middle of your biscuit. I used a medicine cup to make the perfect size for a donut hole!
Heat your pan to medium heat with your oil. Place 5-6  doughy donuts into the pan and leave until the bottom is golden brown. Don't do anything else but watch these, as they cook fast and don't want them to burn.
Turn them over and cook another minute or so.
Using tongs, place the cooked donut on paper towels to drain and cool slightly.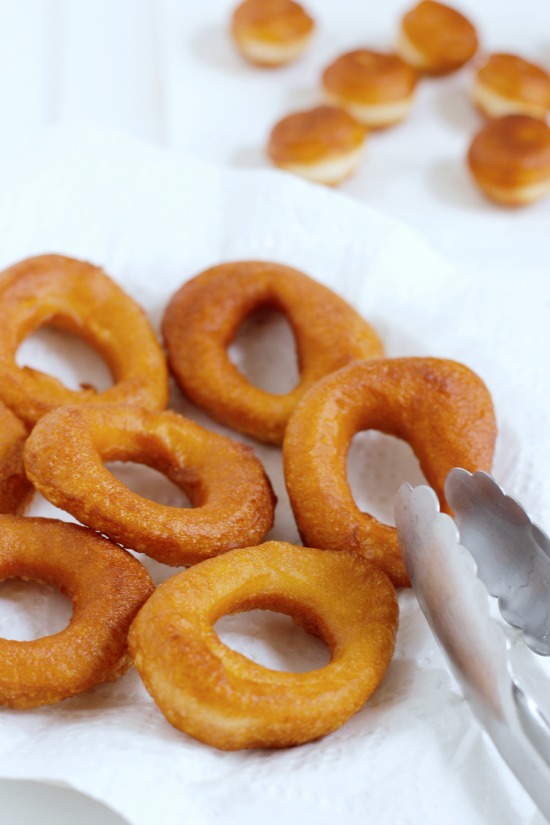 Now place the donuts on a plate and sprinkle with cinnamon and sugar. You could also top your donuts with a powdered sugar and milk glaze. Even a chocolate frosting with sprinkles would be yummy.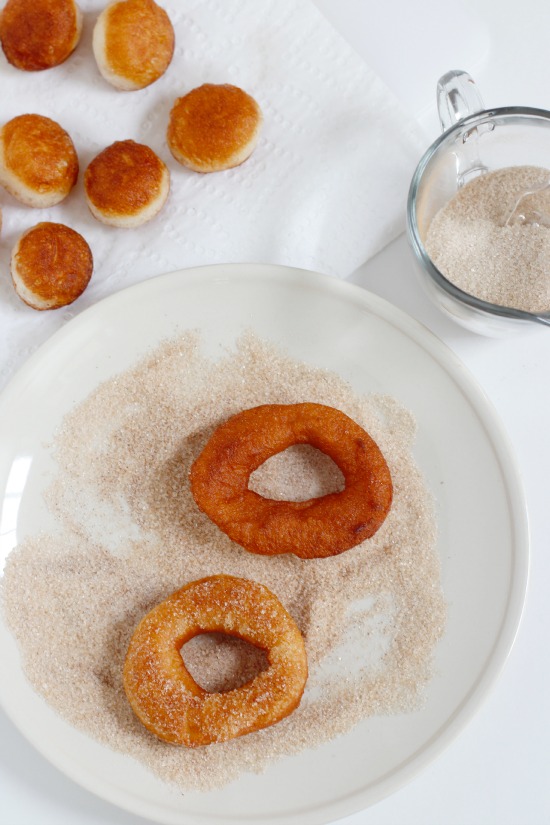 Now you're ready to eat. The donut holes are my favorite, but I don't realize how many I end up eating – they're deliciously bite-sized.
Want more ideas? Yummy Doughnut Recipes: