Here's a fun and quick drawing game to play as a family after dinner, or bring outside on a nice day. With just two dice and some drawing supplies, you can create some silly shape drawings. We had fun hiding our drawings from each other, then having a big reveal at the end. Let's play!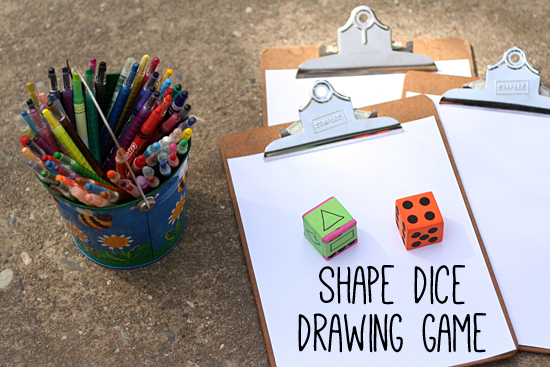 You only need a few basic supplies for this shape dice drawing game – something to draw with (crayons, markers, etc.), drawing paper, and two dice. You will need a regular number die, plus one you fancy-up with pictures of shapes or lines.
I covered one of our foam die with colored masking tape and drew the shapes on with a Sharpie. I chose circle, square, rectangle, triangle, diamond, and a straight line.
If you don't have any dice around the house, there is a printable cut-and-fold dice template on the Crayola website. Once you have your dice ready, it's time to play!
Take turns rolling both dice. Then, each person draws the correct number of shapes, in any size, color, arrangement she wants. Our first roll was 6 lines, and you can see how different our drawings are already!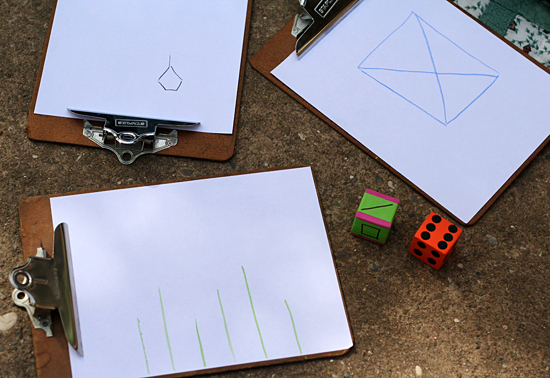 Continue rolling and adding to your drawings. As our pictures went along, we crossed our fingers for different shapes and sometimes wondered how to fit 5 more circles into our drawings. Since we worked on clipboards, we kept our drawing secret until the end, too.
After about 15 turns, we all agreed our pictures were pretty complete. We took turns revealing our drawings and talking about what we drew. My 10-year-old started with a house, but then decided to go a bit abstract over the top (I love it!). My 8-year-old made a magical playground with stick people and secret portals. She had a great story to go with her drawing. And, of course, you can see my silly flower garden with a square-winged butterfly.
We all had such fun playing this. It only took 15 minutes or so to play, and it was a great game to bring outside on a beautiful spring day! Next time we play, the girls want to add another die, with squiggles, crosses, curlycues, and other interesting designs.
Another variation would be to all try drawing the same thing, like robots, monsters, or cities. Those would be fun to compare, too!
More drawing game fun:
Squiggle Stories :: Make and Takes
Simon says, draw! :: The Artful Parent
Waiting Room Drawing Game :: Mama Smiles
Happy creating!