These sweet little thumbprint pumpkins are fun to craft and are perfect to display for Halloween!
Supplies for Thumbprint Pumpkin Patch Cards:
orange and green paint – or an ink pad would work great too
paintbrush
paper card folded
black thin marker
1. Get your paint ready on a paper plate or paint surface.
2. Dip your thumbs or fingers into the paint and press them onto the bottom of your folded card. Continue pressing finger prints onto the bottom of the card until you've gone all the way across.
3. With your paint brush, add a little green stem to the top of each pumpkin. Let the paint dry completely.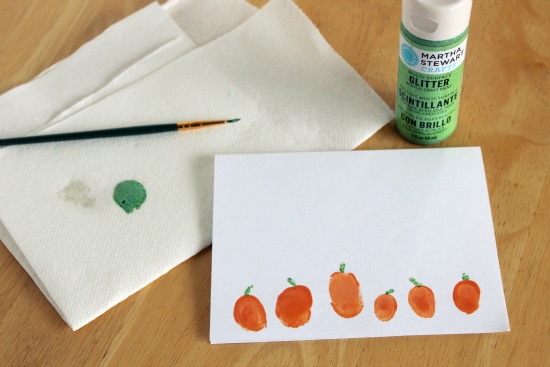 4. Once the paint is totally dry, add some cute little black Jack o' Lantern faces with your marker onto each pumpkin. You can leave the pumpkins without, but adding the faces brings the patch to life.
We added a little more glitter green paint to our patch to fill in some of the white space. Then add Happy Halloween words to the top of your card and it's ready to gift!