Guest Post by Destri of The Mother Huddle:
I tend to take my bath with bubbles, but lately I have discovered essential oils, salts, and herbs. It has taken my bath from ho-hum to deserving of a Calgon commercial. Plus salts have a wealth of health benefits that bubbles just can't seem to live up to – throw in the herbs and oil and, well…no contest! One trip to your local health food store is all it takes.
There are many recipes you can make depending on the kind of day you've had, but if yours are anything like mine, you need the "hallelujah, I made it through the day" blend – so that is the one we will make today. At the end of the post I will give you a few more ideas to mix things up.
Bath Tea Supplies:
Epsom Salt or Sea Salt or both
Essential oil – I used sweet orange
Herbs – I used chamomile flowers and lavender buds
Empty press and brew tea bags, organza, or your wash cloth and elastic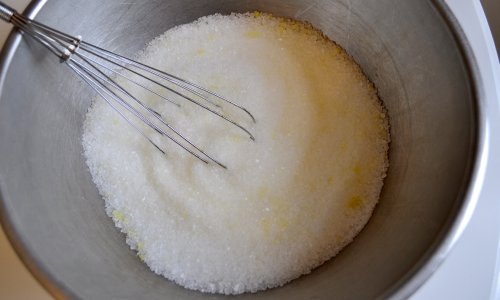 Start with 4 cups of salt. I used epsom for this project but I really like to mix in sea salt as well. In a glass or metal bowl, mix in desired amount of essential oil. I say desired because it depends on the oil you are using and how strong you like it. Start with 16 drops per 4 cups of salt and add more until satisfied. I tend to like around 30 drops, but I like my tea strong! Long days, what can I say…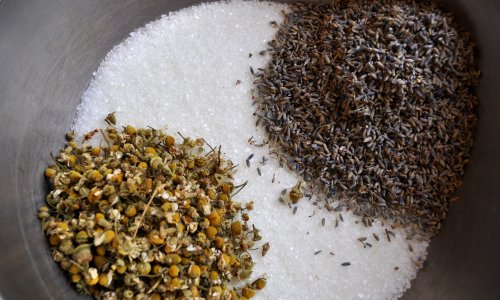 Now add 1 cup of chamomile and ¾ cup of lavender and mix well. At this point you can put the mixture in an airtight container and be done. I do this then add about a ½ cup to a wash cloth and tie an elastic around the top to toss in the tub to steep. But if your making them for gifts or just plain like to pamper yourself stick with me.
Now take your tea bags and add a about a third of a cup to each.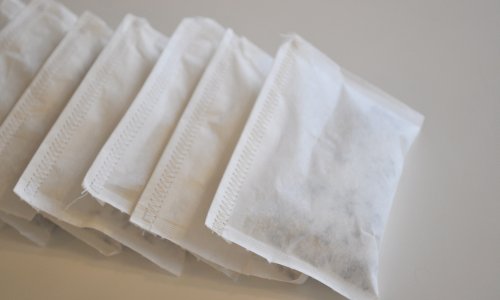 I did a quick zigzag stitch across the top with my sewing machine, but you can also seal them using an iron on the cotton setting. All done!
You can also add the salt mixture to organza wedding favor bags. The nice thing about this, is you can hang it over the tap and let the water run over it while the tub fills. Plus it ups the pretty factor a notch or two.
Ideally the bags should be stored in an airtight container, but I am giving these as gifts and wanted to show you a few ways you can present them. I had a few old tea boxes I saved and spray painted white.
They fit four bags to a box. Add a bow and tell them to transfer them to a glass container for storage.
I had a couple I will be mailing so I added four to clear favor bags and topped with fabric and a zigzag stitch. Did you know that a charm pack fabric cut is the same width as those little bags? Super convenient and a little twist to the typical bow tied on the top. They are also the perfect size for topping mason jars, so next time your at the fabric store, pick up a charm pack, I love 'em. I used mason jars for the organza pouches and some loose tea as well.
I added a little note saying "It's your day…soak it up", with instructions telling them to toss the entire bag in the tub while filling to let steep.
These are great gifts for Mother's day, bridal showers, party favors… I heard you've had a bad week tokens.
To mix things up you could add:
Essential oils – spearmint, grapefruit, mandarin, bergamot, petitgrain, and rosewood.
Mix in – powdered milk, baking soda, cornstarch, ground oatmeal. All of these are skin softening.
Herbs – rosemary, basil leaves, comfrey leaves, rose petals, calendula flowers.
If a shower is more your thing, hop on over to The Mother Huddle for a tutorial on making invigorating salt pouches. They are a great way to take the benefits of a salt bath and body scrub to the shower. Thanks for having me!

Destri is a play-at-home mama who has recently discovered it is possible to sew with baby on her lap. She can be found at The Mother Huddle blog, where she and five other women write about anything from sewing tutorials, making stuff, kids crafts, recipes…and lots lots more.