These fun little party favors are for each of your Thanksgiving guests. Aren't they darling? We used to make them when I was little. I loved putting them together before dinner was ready, as I got to eat a few of the M&M's along the way. The idea came from my oldest sister, Nanette. I remember siting at the kitchen table with her helping me put mine together. Thanks, Nan.
This is a great Thanksgiving craft to do with little ones at the kid's table. Your kids can help make these turkey M&M favors and then put them on everyone's place setting.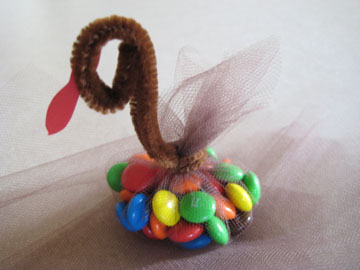 Can You Say, "Gobble Gobble"?
Supplies for Turkey Party Favors:
1/4 – 1/2 yard brown tulle – the kind of fabric that tutu's are made from. You can make about 15-20 favors in 1/2 yard of fabric
M&M's – or small colorful candy
Brown craft pipe wire
red paper
First, cut a 6 inch square of the netting fabric. Then place a small candies in the center. We used M&M's, you could use anything that is yummy and colorful. Then take up each side and hold it together at the top.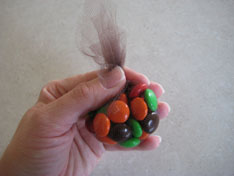 Using a brown pipe cleaner, twist it around the netting to close it like a bag. Then twist the two pipe cleaner ends together. Then curl down the pipe wire to form a circle head. Then cut a little wattle out of red paper and stick it through the head, or glue it if needed.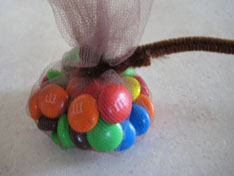 Now you have a cute turkey to eat for dessert. You're guests will love these little turkey treats!
Here are more Thanksgiving kid's crafts:
SaveSaveSaveSaveSaveSaveSaveSaveSaveSaveSaveSaveSaveSaveSaveSave