Guest post by Brandy of Home Sweet Home
Redecorating your kitchen doesn't have to cost a lot of money. Work with what you have! It if doesn't turn out perfect, you aren't out any money. If it turns out fabulous—you can do a happy dance and pat yourself on the back for SAVING money!
Set #1: Below, I took these 3 jars that I bought a year ago at Dollar General and gave them a quick face lift to match my kitchen decor.
Supplies for painted kitchen canisters:
mod podge
spray paint
cardstock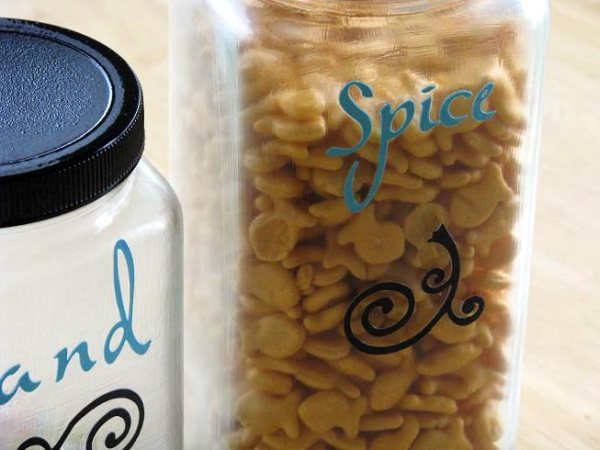 I sprayed the lids black, then cut out the lettering using my Cricut paper machine. I applied a thin coat of mod podge, added my lettering and flourishes, then applied another coat of mod podge. Since mod podge dries clear, but not brush stroke-free, I coated the entire jar in a thin coat; alternating my brush stroke pattern to make it look like it is "supposed" to be frosted.

Set #2: My husband had this next set of canister from his bachelor days….10 years ago. They've collected dust through the years and so I decided to customize them a bit.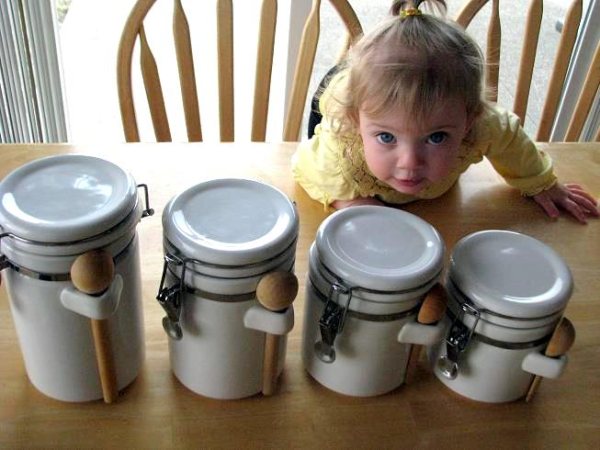 Supplies for chalkboard kitchen canisters:
chalkboard peel and stick sheets
ribbon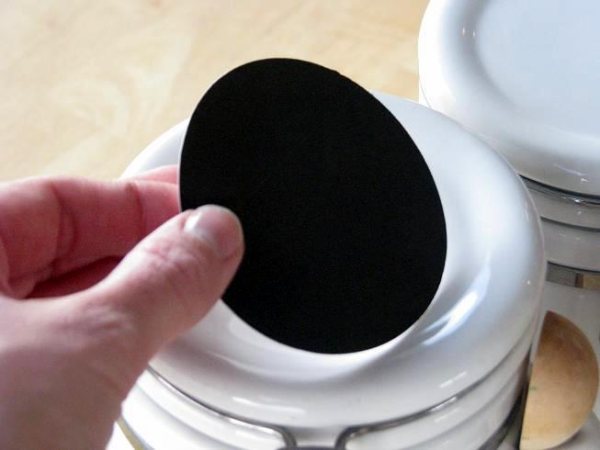 I love these chalkboard peel and stick sheets. They are reposition-able and can be cut with scissors or using a paper machine for desired shapes. I bought a pack 2 years ago and when my kids got tired of drawing on the chalkboard sheets that I had on the wall, I took them down and saved them in my craft closet for future projects. They've come in handy.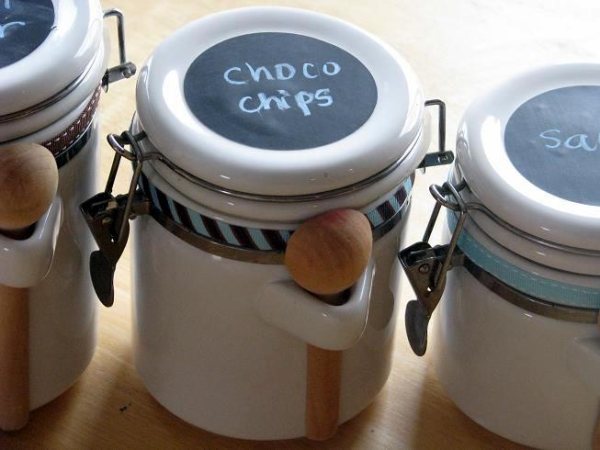 I simply cut out a 3″ circle to fit the tops of the canisters and adhered it. That's it! A little ribbon embellishment (Target has coordinating spools in their $1 section) and now I have labeled canisters that I can easily change out as the contents of the canisters change!
To see the other no-cost accessories that I made for my kitchen by repurposing scraps and supplies, check out my Kitchen Makeover!
Brandy blogs over at Home Sweet Home. My husband serves in the United States Coast Guard, and we have lived in California, Alaska, and Ohio.  My crafting days with my children really began while living in Kodiak, Alaska. Long winters and lots of rainy days created the perfect atmosphere for creativity in the home. My blog highlights some of the fun creative projects that we have done as well as family recipes and projects for Mommy!